Corning, Provider of iPhone and iPad Glass, Announces Stronger and More Scratch Resistant Gorilla Glass 3
Corning, provider of the Kentucky-made glass for the iPhone and iPad, has announced the third iteration of its Gorilla Glass panels. The glass both reduces scratches and increases overall strength significantly.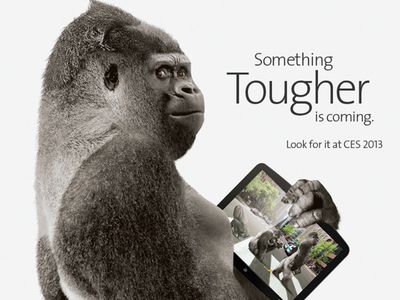 Gorilla Glass 3 has been improved at the molecular level, incorporating a proprietary feature called Native Damage Resistance (NDR). According to Corning, NDR reduces the propagation of flaws, the appearance of scratches and does a better job of maintaining the overall retained strength of the glass. As a result, GG3 claims a three-fold improvement in scratch resistance, 40 percent reduction in the number of visible scratches and 50 percent boost in retained strength after the glass becomes flawed.
Gorilla Glass was mentioned in the Steve Jobs biography with Jobs personally calling Corning Glass CEO Wendell Weeks, before the first iPhone launched, to request the company begin to scale production of Gorilla Glass for the device.
Gorilla Glass 2 was announced at CES last year. It seems likely that Apple will adopt the improved glass for future iOS devices.
Corning will also announce new optical Thunderbolt cables, available in lengths up to 30 meters. Earlier this week, Japanese firm Sumitomo Electric Industries announced its own optical Thunderbolt cables.