Another Likely Physical Mockup of Next iPhone Offers a Realistic Look
Gizmodo points to a newly-discovered product page from case manufacturer Shenzhen Coolzone Technology displaying what appears to be a high-quality physical mockup matching up with rumors and leaked parts for the next-generation "iPhone 5".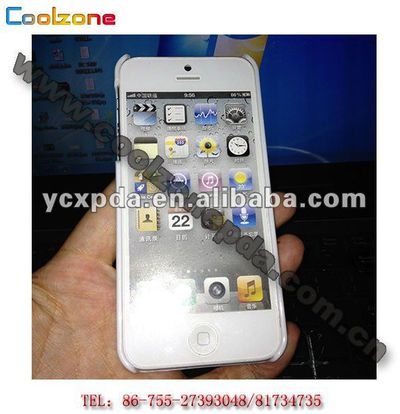 Case manufacturers have become increasingly sophisticated with their physical mockups created for design and testing of new cases, giving their mockups very realistic appearances that have led to uncertainty about whether they are genuine devices or not. While the device shown in the photos certainly does look realistic in many regards, the low-quality photos leave many details unclear and we indeed believe the item to be a physical mockup rather than a leaked genuine iPhone.


Regardless, the photo provides a reasonable glimpse of what the next iPhone may look like, albeit with iOS 5 rather than the iOS 6 that the device will undoubtedly ship with later this year.
Update, August 2: Neowin has posted photos of an identical mockup, confirming that it is a "non functional replica prototype".