Google Chrome Browser, Google Drive Coming to iOS [Now Available]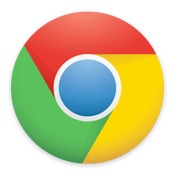 Google
announced today
that it is releasing a version of its Google Chrome for the iPhone and iPad. The company says it will go live on the App Store later today. Macquarie analyst Ben Schacter
predicted last month
that Google Chrome was coming to iOS.
While Chrome for iOS will include a number of key features, including incognito mode and tab syncing across devices, the browser will still use Apple's WebKit-based engine required by the App Store developer guidelines. It also will lack the Nitro JavaScript engine that Apple uses to speed Safari's performance. But, there is one main obstacle to Chrome on iOS, as
noted by The Next Web
:
The biggest hurdle that Chrome features, of course, is that it cannot be set to be the default browser on iOS devices, a capability that Apple also reserves for Safari. So, while you can use the browser to your heart's content, it will not be the default handler for any URLs clicked. That's a huge hurdle to overcome.
Google Drive -- the DropBox competitor
released earlier this year
-- also
gained an iOS client
. [
App Store
]
Update
: Chrome for iOS is now live on the App Store. [
Direct Link
]