New iPad Launches in 21 More Countries by End of April
Apple today officially announced two more rounds of launches for the new iPad, with the first round coming on Friday, April 20 and including twelve markets led by South Korea. The second round comes on Friday, April 27 and includes nine more countries.
Apple today announced the new iPad, the third generation of its category defining mobile device, will arrive in South Korea and 11 additional countries on Friday, April 20. [...]

In addition to South Korea, the new iPad also will be available beginning on Friday, April 20 in Brunei, Croatia, Cyprus, Dominican Republic, El Salvador, Guatemala, Malaysia, Panama, St Maarten, Uruguay and Venezuela. Beginning on Friday, April 27, the new iPad will be available in Colombia, Estonia, India, Israel, Latvia, Lithuania, Montenegro, South Africa and Thailand.
Apple has moved quickly to launch the iPad in markets around the world, beginning with a 10-country launch on March 16 and following that with debuts in 25 more countries just a week later.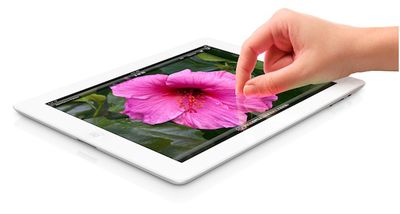 One key market that has yet to see an announcement regarding availability of the new iPad is China. Regulatory authorities have approved at least the Wi-Fi version of the device, but Apple is apparently not yet ready to launch the device in the country.