83-Year Old Suing Apple After Walking into Glass Doors at Retail Store
83-year old Evelyn Paswall is suing Apple after walking into the glass doors at the Apple Store Manhassett on Long Island reports CBS New York. She is asking for $75,000 in medical expenses plus punitive damages for negligence totaling $1 million.

Paswall claims that she didn't realize that she was walking into a wall of glass as she approached the store, and says that she broke her nose as a result of the collision.

Her suit claims that "the defendant was negligent ... in allowing a clear, see-through glass wall and/or door to exist without proper warning."
The Manhassett Apple Store has floor-to-ceiling glass walls at the front and rear of the store, with doors in the middle at both ends. It's a similar design to the Scottsdale Quarter and Lincoln Park stores.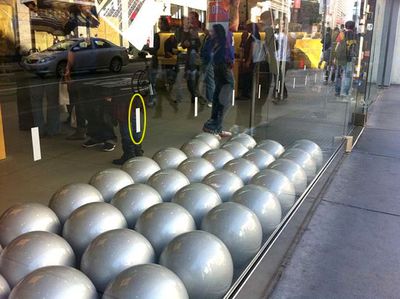 Last year, Apple had
white stickers installed
on the transparent glass of all Apple Stores to help prevent such collisions from occurring. However, the plaintiff's lawyer says that any markings that were on the glass are insufficient,
saying
his "client is an octogenarian. She sees well, but she did not see any glass."