Former Apple TV Engineer Claims New Apple TV Interface Discarded 5 Years Ago [Updatedx2]
Macgasm notes an interesting tweet by former Apple TV engineer Michael Margolis who claims that the new Apple TV interface designs were "tossed out 5 years ago because [Steve Jobs] didn't like them."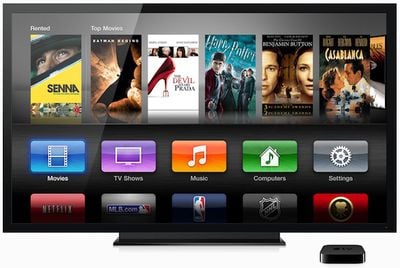 Alongside the 3rd Generation iPad, Apple also introduced a new version of the Apple TV that supports 1080P video. With it came an updated interface for the set-top box, (shown above) with icon-based category buttons and large billboard-style artwork for content. The interface was also rolled out to previous 2nd Generation Apple TV owners in a software update.
Margolis goes on to say that "now there is nobody to say 'no' to bad design", referring to Steve Jobs' passing. Some MacRumors readers have complained about the new design, and others felt it was a paving the way for Apple TV apps in the future.
Five years ago (2007), when the design was reportedly "tossed out", Apple's product landscape was quite different. Both the Apple TV and iPhone were first introduced in January of that year, and the App Store would not be launched for another year in mid-2008.
Update: Margolis clarifies what he meant to TheNextWeb:
The new UI shouldn't come as a surprise to anyone. There is a clear effort at Apple to make everything match the look and feel of their popular iOS products – starting with Lion and increasing momentum with Mountain Lion.

To be clear – he didn't like the original grid. This was before the iPhone was popular and before the iPad even existed.

Given that the iPad is far more successful than the AppleTV, migrating the AppleTV to look more like the iPad was probably a very smart move – even if some of the users of the old UI don't prefer the new one.
Update 2: TechCrunch posts a longer response from Margolis who seems to be downplaying his previous tweet:
Steve rejecting a design five years ago isn't a huge deal. Steve was well known for rejecting ideas, tweaking them, and turning them into something even better. And that's a very good thing. One of my favorite parts of working at Apple was knowing that SJ said "no" to most everything initially, even if he later came to like it, advocate for it, and eventually proudly present it on stage. This helped the company stay focused and drove people to constantly improve, iterate, and turn the proverbial knob to 11 on everything.