Apple Activates iTunes Match Setting in iOS 5, Suggesting Imminent Launch
While Apple launched iOS 5 and iCloud last week, the company pushed back the debut of its paid iTunes Match service in the United States until the "end of October". While iTunes Match had been in beta testing with iTunes 10.5 developer releases, the feature was removed from the public release and instead folded into an iTunes 10.5.1 beta that will presumably debut alongside the service.
Apple appears to be moving closer to a launch of iTunes Match in the United States, as the Music section of the Settings app in iOS 5 has now gained a toggle for turning iTunes Match on and off. That toggle had been present for developers testing the service, but had disappeared in recent days for many developers. The toggle now appears to have returned for developers and is visible to the general public as well.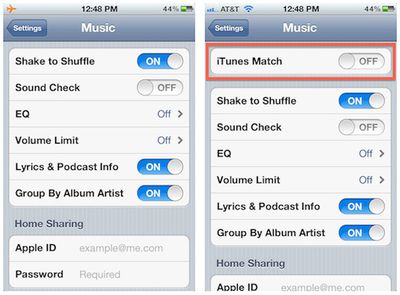 iOS 5 Music settings before (left) and after (right) addition of iTunes Match toggle
Non-developers turning on iTunes Match on their devices will not yet be able to sign up for the $24.99/year service, as iOS 5 pops up an alert instructing users to sign up through iTunes.


With iTunes 10.5.1 not yet available to the general public, signups for iTunes Match are similarly not yet functional. Apple is, however, advertising the service as "coming soon" on the front page of the iTunes Store. Interestingly, iTunes Match is reportedly only launching in the United States by the end of the month with other countries set to come later, but Apple is optimistic enough about the service's international timeline that the "coming soon" flag is showing for users in a number of other countries. So far today we have received reports of the "coming soon" flag from users in Australia, Austria, Canada, Germany, Ireland, and the United Kingdom.


iTunes Match will allow users to have their music libraries matched to Apple's database of over 20 million tracks in the iTunes Store, making those songs available for use on any iCloud-enabled device associated with the user's accounts. Songs not available in the iTunes Store can be uploaded to Apple's servers and also made available across devices.