Bono Defends Steve Jobs Against Criticism Over Lack of Public Philanthropy
Earlier this week, The New York Times published a report on the "mystery" of Steve Jobs' philanthropic contributions or potential lack thereof, noting that Jobs has not been publicly linked with any charitable giving, despite his $8.3 billion fortune.
Despite accumulating an estimated $8.3 billion fortune through his holdings in Apple and a 7.4 percent stake in Disney (through the sale of Pixar), there is no public record of Mr. Jobs giving money to charity. He is not a member of the Giving Pledge, the organization founded by Warren E. Buffett and Bill Gates to persuade the nation's wealthiest families to pledge to give away at least half their fortunes. (He declined to participate, according to people briefed on the matter.) Nor is there a hospital wing or an academic building with his name on it.
While the article acknowledges that Jobs may in fact be donating money anonymously, perhaps most notably in an anonymous $150 million gift to the cancer center at the University of California, San Francisco that he has been rumored to be responsible for, it cites Jobs' curious position as one of only a few of America's wealthiest people to not participate in publicly-acknowledged philanthropy.
Two of his close friends, both of whom declined to be quoted by name, told me that Mr. Jobs had said to them in recent years, as his wealth ballooned, that he could do more good focusing his energy on continuing to expand Apple than on philanthropy, especially since his illness. "He has been focused on two things — building the team at Apple and his family," another friend said. "That's his legacy. Everything else is a distraction."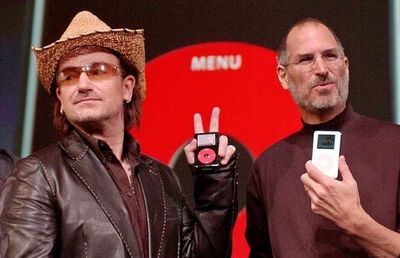 Bono and Steve Jobs at U2 iPod introduction in 2004 (Source: Paul Sakuma / Associated Press)
Jobs is not without his defenders, however, as evidenced by a
letter to the editor
written by U2 singer Bono in response to the article. In his letter, Bono points to Apple's participation in the (Product)RED campaign against AIDS co-founded by Bono that has seen the company become the program's largest contributor with "tens of millions of dollars" in donations from the sale of RED iPods and other products.
Steve Jobs said when we first approached him about (RED), "There is nothing better than the chance to save lives."

I'm proud to know him; he's a poetic fellow, an artist and a businessman. Just because he's been extremely busy, that doesn't mean that he and his wife, Laurene, have not been thinking about these things. You don't have to be a friend of his to know what a private person he is or that he doesn't do things by halves.
Apple and Bono have had a close relationship for many years, with Apple offering a U2-branded iPod from 2004 until 2007 and introducing a (Product)RED iPod nano in late 2006. Apple has continued to offer (Product)RED iPods and accessories since that time, currently offering the iPod nano and an iPad 2 Smart Cover under the program.