Apple Claims Key Android Framework 'Inspired' by Andy Rubin's Work at Apple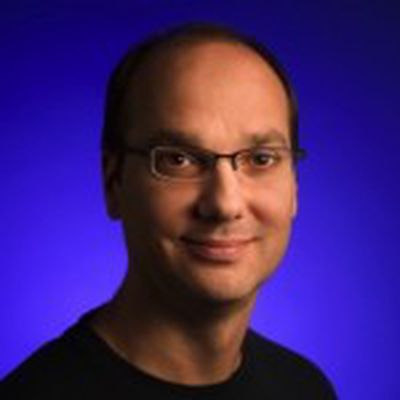 FOSS Patents reports on an interesting twist in Apple's case against HTC currently underway with the U.S. International Trade Commission. According to a recently-filed brief, Apple claims that a key patent for a "real-time signal processing" API which HTC is accused of infringing in its Android devices was developed by a team of Apple engineers, of which Android co-founder and current Google executive Andy Rubin was a member.
While the revelation is not directly relevant to Apple's case against HTC , the claim is provided primarily to bolster Apple's case that HTC has not been entirely truthful in presenting its case by omitting discussion of Rubin's time at Apple. According to Apple, Rubin was a "low-level engineer" at Apple reporting directly to the inventors of the patent in question at the time the invention. Apple suggests that Android's alleged infringing framework was the result of "Mr. Rubin's inspiration" from that work at Apple. From the legal brief:
Android and Mr. Rubin's relevant background does not start, as HTC would like the Commission to believe, with his work at General Magic or Danger in the mid-1990s. In reality, as the evidence revealed at the hearing, Mr. Rubin began his career at Apple in the early 1990s and worked as a low-level engineer specifically reporting to the inventors of the '263 [realtime API] patent at the exact time their invention was being conceived and developed. [...] It is thus no wonder that the infringing Android platform used the claimed subsystem approach of the '263 patent that allows for flexibility of design and enables the platform to be "highly customizable and expandable" as HTC touts. [...] While Mr. Rubin's inspiration for the Android framework may not be directly relevant to the pending petitions for review, that HTC felt compelled to distort this history is illustrative of the liberties it takes in attacking the ALJ's [initial determination] and the substantial evidence supporting the ALJ's findings.
Apple is of course not claiming that the entire basis of Android was actually developed at Apple, but its assertion that Rubin may have utilized some of Apple's work within Android could be problematic for Google should Apple decide to press a case directly against Google.
Rubin's behavior has already been called into question in a separate case brought by Oracle over the use of Java in Android. In that case, evidence in the form of an email written by Rubin in which he suggested that Google could use Java within Android without permission from Sun (now a part Oracle) has been introduced, leading to accusations of "willful infringement" against Rubin and Google. It seems that Apple may be at least planting the seed that Rubin could have engaged in similar activity dating back to his time at Apple twenty years ago.