Verizon iPhone Drives Increase in Ad Impressions for iOS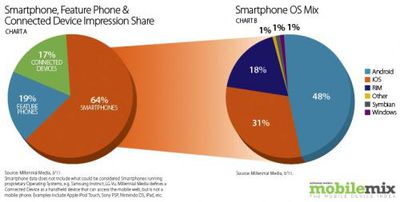 Mobile advertising firm Millennial Media today
announced
that release of its March 2011 "Mobile Mix" report, revealing that Apple's iOS has benefited from the launch of the Verizon iPhone, with its share of the smartphone/connected device operating system market for ad impressions growing by 11% to 31%. iOS continues to trail Android's 48% share, but Android's share has been falling for the last several months after having risen to over 50% of the market.
According to the report, the Verizon iPhone accounted for 8.2% of all iPhone ad impressions during the month as iOS impressions grew by 29% compared to 23% for Android.

When it comes to revenue generated by application platform, iOS holds the top spot at 47%, well ahead of second-place Android at 36%. The success of iOS has been driven in large part by the iPad, which saw its revenue double month-over-month based on increased sales and adoption of Millennial's platform.