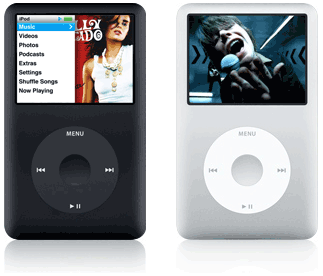 Guardian posts
a retrospective piece about the original iPod and points out that the Classic iPod design has not been updated since late 2009.
The iPod Classic, as the famous scroll-wheel design is now known, hasn't been updated now since September 2009, with a modest capacity jump from 120GB to 160GB. On the Apple Online Store, shipping times have slipped from 24 hours to 1-3 days. Across the US, several major retailers have reported short supplies, leading to speculation the device may soon be discontinued. It didn't even warrant a mention at Apple's annual Developers Conference in 2010. "The iPod's essentially finished, give or take," says Dr Alice Enders, a former senior economist at the World Trade Organisation who now reports on global music markets for media consultancy Enders Analysis.
The iPod was originally launched in 2001 and laid the groundwork for Apple's resurgence this past decade. The article gives a nice lookback at the iPod.
Reception to the original iPod launch was mixed. Our own forum responses are interesting to look back on, 10 years later.