Softbank to Release NFC Mobile Payments Stickers for iPhone 4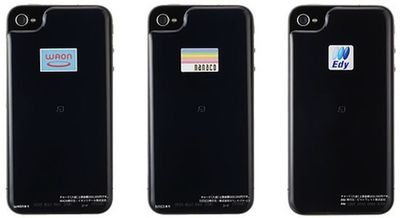 While Apple has
expressed interest
in near field communications (NFC), the short-range wireless technology used for such applications as "tap and go" credit and debit card payments and public transportation fare payments, the company has obviously yet to deploy the technology in its iPhone line.
But as picked up by Engadget, Japanese carrier Softbank is taking steps to bring limited NFC functionality to the iPhone in the form of NFC "seals" or stickers, satisfying the demands of customers in a country where NFC has seen strong adoption.
Japanese carrier Softbank has responded to complaints about the iPhone 4's NFC deficit -- the FeliCa payment system is pretty popular over in the land of sumo, sushi and sun-rising -- by introducing a new "seal" for the back of Apple's latest and greatest. It sticks on, covering almost the entire rear, but is apparently thin enough not to get in the way of using one of Apple's own Bumpers alongside it.
According to the specifications detailed in the Softbank press release, the sticker is made of polyurethane, weighs 14 grams (0.5 ounces), and covers the entire back of the device with the exception of the camera area. Stickers for three different mobile payment services will be available beginning in February and will be priced at about $36.
As Engadget notes, the sticker doesn't appear to interact with the iPhone in any way, simply acting as a traditional dumb NFC terminal, but will allow users of some of the most common mobile payments solutions in Japan to ensure that they have their payment methods as long as they have their iPhones in their pockets.