iPad Makes Its Way to the Farthest Reaches of the Earth
With the booming popularity of Apple's iPad, it is no surprise that the device is making its way to markets around the world, both as Apple expands its own distribution and as private citizens go to sometimes-great lengths to obtain the device in areas Apple hasn't yet reached.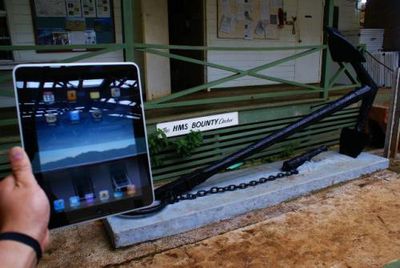 iPad with anchor of the Bounty
It is in that spirit that we share the story of Andrew Randall Christian, a seventh-generation descendant of Fletcher Christian, the leader of the famed
Mutiny on the Bounty
. Andrew is a resident of
Pitcairn Island
, the final landing spot for several of the mutineers in 1790 as they attempted to find a home where they could evade detection by the British Royal Navy.
Pitcairn Island is currently home to about 60 people and is one of the most remote and inaccessible inhabited locations in the world, with its only regular physical connection to the outside world coming from a cargo and passenger ship that makes a total of eight visits per year to the island. Rare visits from cruise ships also bring occasional visitors to the island.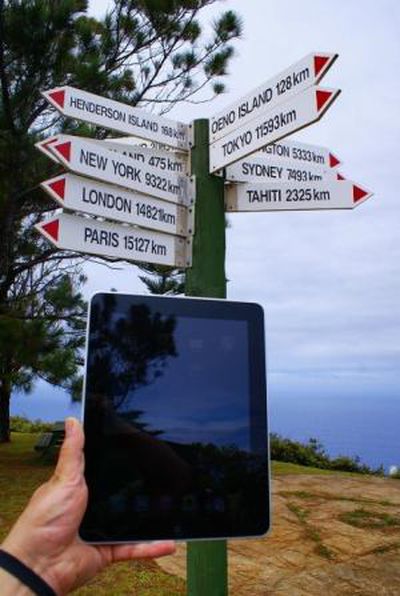 iPad at Pitcairn Island's signpost for off-island destinations
So color us a bit surprised when Andrew contacted us to let us know that he is now the proud owner of a 16 GB Wi-Fi iPad, the only one on Pitcairn Island. Andrew tells us that he made contact with a woman from New York who had arranged for a visit to Pitcairn Island on a cruise ship traveling from Tahiti to Easter Island and who asked if there was anything she could bring him. As an Apple fan with a 17" PowerBook and Power Mac G5 already in his possession, Andrew requested an iPad. Two months later, the visitor arrived and presented Andrew with his iPad.
As Andrew notes, he ordered a Wi-Fi-only iPad because there was little point in springing for the 3G-capable model with no cellular service of any kind on the island. Telephone and Internet service is provided via satellite, with residents paying NZ$100 (US$75) per month for up to 2 GB of Internet data at 256 kbps. Despite the infrastructure limitations, Andrew tells us that he is "blown away" by the iPad, noting the "beautiful design" and ease of use of Apple's tablet device.