Camping Out for the iPhone 4: The Line Starts Here
The line for the iPhone 4 has already started -- a week before its release. Justin Wagoner has set up a tent in front of the Dallas, TX Apple Store and appears to have started the first line nationwide. Wagoner was first spotted on DallasNews.com.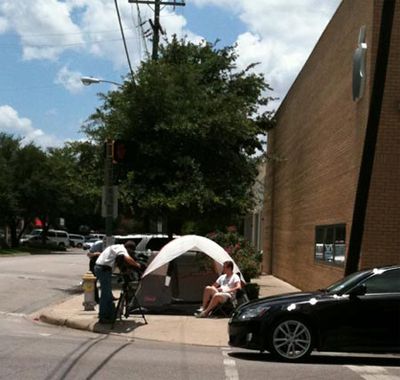 The discovery was
quickly posted
in our forums and spotted by Wagoner who posted a
greeting
to MacRumors forum readers, explaining his reasons for camping out so early:
Some would say I am crazy, but I say I'm a very determined fan. In fact I just might be one the biggest Apple fans you will actually meet. I have been the first costumer for this store since 2008 when the iPhone 3G was released.
Normally I only camp out over night, but since I do not work due to the fact I am disabled with a seizure disorder and I am not in school at the point, I figure I just make it a fun experience and do it for a week.
Yes I did reserve a phone, but again, I'm doing it for a fun experience. I haven't had a trip or vacation in past 10 years so I figured I make it a full week camping trip.
My setup and location has everything I could need to live for a week, even in the Texas heat. Tent is packed with a sleeping gear, a chair, full ice chest of drinks and food, and the Apple staff have been very nice to me treating me like a king. LOL I also brought a extension power cord for phone charging and things that need power. There is even a portable toilet around the back of the store if needed.
That been said, I'm actually doing really well out here. If anyone gets a chance, come join the fun!
As proof of his idenity, Wagoner posted a photo of himself taken in the Apple Store: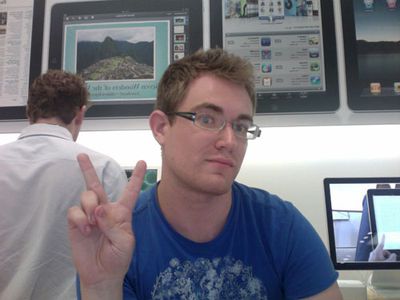 He also posted
photos
from his camping setup. Wagoner promises to continue to post updates when he can:
I'll do my best to keep everyone updated when i can. I do not have laptop so I can only operate when the store is open. I will post a pic when the next camper comes and when the line starts to get out of control.
Well wishers can post to the original thread which we kept distinct from this news story. Over the next week as iPhone 4 lines continue to form, feel free to email us photos at tips@macrumors.com. The iPhone 4 will officially launch on June 24th. While the initial allotment of pre-orders are spoken for, there should be a sizable stock available for walk-in purchases.