Apple Announces iMovie for iPhone 4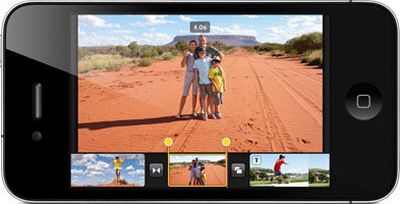 Along with the
announcement
of the new iPhone 4 at today's WWDC keynote event, Steve Jobs announced
iMovie
for iPhone 4. The new app will allow users to edit videos right on the new iPhone 4, which records 720p HD video at 30fps.
Randy Ubillos, Apple's Chief Architect of Video Applications, came on stage to give a demo of the iMovie app, which works very similarly to the desktop version of iMovie. It offers transitions, titles, and five themes. Editing is done in a timeline view and new clips and photos can be added anywhere in the timeline. Music from the iPod library can be added, and with certain themes, iMovie for iPhone uses the geolocation information recorded by the camera. Movies can be exported at 360p, 540p, or 720p.
The new iMovie app will cost $4.99, though the exact date of its availability was not announced.