Promising iPad Apps: Mixr and iMockups
We've always maintained that the excitement behind the iPad has been the introduction of large screen multi-touch platform rather than a singular Apple-defined purpose. Over the weekend, we revealed that Filemaker's personal database application will be coming to iPad on launch day.
Here are a couple of other promising upcoming iPad apps that we've run across.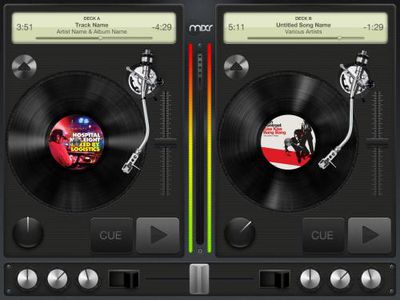 Click for full-size
Mixr
Mixr is described as the "first ever professional DJ application for iPad." The multi-touch app features cross-fading, equalizing, cue, drang & drop tracks, and full effects such as delays and auto filter.
Mixrs turntables look and feel just like real the real thing. To mix your music, all you have to do is touch the vinyl records with your fingers. You can play it, stop it, run it backwards and even control the pitch and scratch! To manipulate the sound, simply rotate the vinyl with your fingers...
No word on a release date yet but more details from the developer's site.

Click for full-size
iMockups
iMockups offers rapid creation of mock-ups, layouts and wireframes for web, iPhone and iPad projects. Designed for workflow sketches, the iPad-exclusive app includes resizable elements representing various user interface components. A video of the app in action is available here.
Endloop.ca reports that the application has been submitted to Apple already and should be available by iPad launch.