Apple Continues to Create Industry-Wide Flash Memory Shortages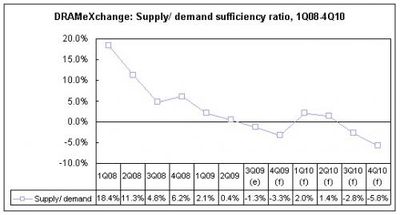 DigiTimes reports
that Apple's iPhone and iPod models have continued to put pressure on worldwide supplies of NAND flash memory, soaking up enough of the industry capacity that demand now exceeds supply. The shortage is expected to continue through the remainder of 2009, corresponding with the holiday season that should drive sales of Apple's devices.
Taiwan-based memory module houses are moving to diversify their NAND flash suppliers to minimize procurement risk, according to industry sources. NAND flash supply has reportedly become tighter as major chip producers Samsung Electronics, Toshiba, Micron and Hynix Semiconductor favor demand for Apple devices.
Taiwan's module makers have relied heavily on Samsung for NAND flash supply, but they are likely to increase their orders to IM Flash now, the sources commented.
A brief rebound is expected in early 2010 that would allow supplies to again exceed demand, but forecasts show another, larger dip into negative territory for supply/demand ratios later in 2010 as smartphone sales are expected to increase amid improving economic conditions.