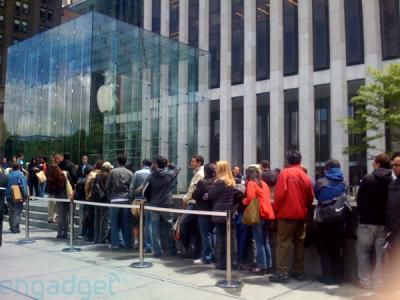 Engadget
first
posted photos
that people had mysteriously begun standing in line at the 5th Avenue NYC Apple Store, though the story sounded suspicious:
Our intrepid girl-on-the-scene reports that the group is more than 60-deep, though most people seem confused about what they're waiting for, while some believe they're actually camping out for a 3G iPhone.
This led to speculation and people claiming it was an event coordinated by Improv Everywhere, though it was denied in a blog post by the group's founder.
Meanwhile, iPhone Alley called the NYC store to find out more information and was told that the line had since extended around the block. According to the Apple employee they spoke to, while short lines do form on a daily basis for the most recent iPhone shipments, no further iPhones are expected today.
The 3G iPhone is expected to be announced at WWDC (June 9th), of course, but no official announcements have been made.
Update: DVICE reports the line has dissipated and was just the "usual" line for the current iPhone.