Apple's London Media Event Live Coverage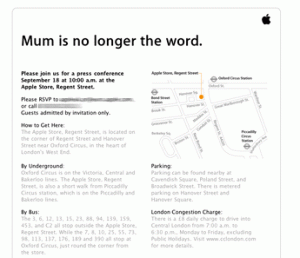 Apple's 'Mum is no longer the word" London media event is about to kick off at 10am London time (5am Eastern/2am Pacific). Live coverage can be found at the following sites:
- Engadget
- MacFormat.co.uk
- SlashGear
- Stuff.tv
- Gadgetshow
- Techztalk
- WorldofApple.net
- T3.co.uk
- Pocket-lint.co.uk
Apple is widely expected to launch the iPhone in the UK. O2 is rumored to have exclusive distribution rights in the UK. O2's online shop is currently undergoing "maintenance".
Discussion remains open in our Forums.