Apple UK Special Event: September 18th 2007
Macworld.co.uk reports that Apple has invited UK media to a special event at the London Apple Store on Regents Street next week.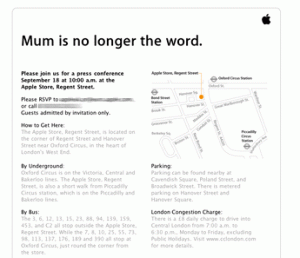 The invitation states "Mum is no longer the word" and invites media to a press conference on Tuesday, September 18th at 10am.
Macworld.co.uk speculates that this could be an announcement for the European iPhone launch or possibly UK iTunes content.
Apple had previously said that they plan on announcing details about the European iPhone launch by the end of this month.