CalDigit today
announced
that the follow-up to its popular original
Thunderbolt Station
, the
Thunderbolt Station 2
, is now available for pre-order with an expected ship date of January 26, 2015.
The new dock will retail for $199.99, but CalDigit is offering a limited pre-order price of $169.99 that runs all the way up to the day before release, January 25. The new station keeps the same functionality of connecting multiple devices with one Thunderbolt cable, but updates it with new Thunderbolt 2 and dual eSATA 6G ports. The Thunderbolt Station 2 also allows users a vertical orientation option the original lacked.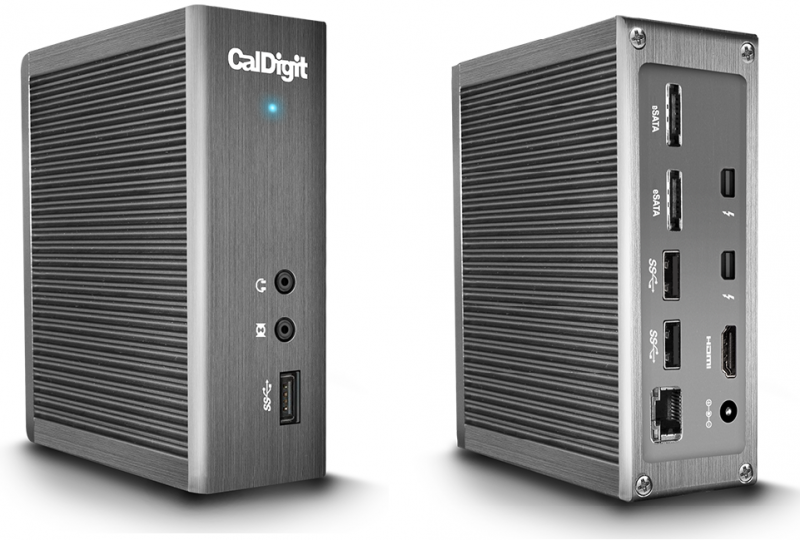 The Thunderbolt Station 2 also comes with HDMI, three USB 3.0 ports, Gigabit Ethernet, audio in/out ports, the ability to connect high-resolution 4K displays to its HDMI port, and two Thunderbolt 2 ports.
The Thunderbolt™ Station 2 allows users to connect all their devices through a single Thunderbolt™ cable. Featuring dual Thunderbolt™ 2 ports for integrating a 4K workflow, the Thunderbolt™ Station 2 allows users to connect a high-resolution 4K monitor to the HDMI port. This is ideal for professional users who need to connect modern 4K displays to their computers.

"The power of Thunderbolt™ 2 allows the Thunderbolt™ Station 2 to be the central hub of modern 4K workflows. Not only can users connect a 4K monitor, they can also daisy-chain 4K capable devices such as Thunderbolt™ storage for the ultimate 4K workflows", said Kosta Panagos, Director of Marketing at CalDigit.
The release of the Thunderbolt Station 2 sees CalDigit joining several other dock manufacturers such as
Elgato
and
OWC
who have recently caught up to the Thunderbolt 2 standard ports, which were introduced on Macs beginning late last year.
The Thunderbolt Station 2 can be pre-ordered from the CalDigit
official website
for $169.99 until January 25, 2015, after which it will retail for $199.99.

ABC has
updated
its
Watch ABC
Apple TV app to allow all Apple TV users to watch full episodes of ABC shows a week after they air without having to verify their TV provider. Previously, users had to sign in via their TV provider to watch any full episodes.
All Apple TV viewers can now access full episodes a week after they air. Like WATCH ABC for mobile devices and desktop, viewers can now watch such shows as Scandal, How to Get Away With Murder, Modern Family, black-ish, Once Upon A Time and Castle, among others, a week after they air.  Sign in is required for ABC's live network feed and its most current episodes
However, users are only allowed to watch the five TV show episodes prior to the most current one. Users who sign in to the app with their TV provider gain the ability to watch full episodes of the last five episodes of any TV show the day after they air and live TV.
The app was also updated with a brand new look and a continuous play mode that automatically starts the next episode for the viewer, similar to the system Netflix uses in its apps.
Algoriddim
has long been known for its popular DJ app
djay
, which began life on the Mac before moving to the
iPad
,
iPhone
and most recently
Android
, with the various versions winning a number of awards and contributing to making
djay
the world's best-selling DJ app with over 15 million downloads.
With
djay
having proven popular among both amateur and professional DJs, users have been asking for more from the software, and Algoriddim is delivering that today with the release of
djay Pro for Mac
. Going well beyond the previous version of
djay
for Mac,
djay Pro
takes advantage of Apple's latest hardware and software improvements to support 64-bit processing, 60 frames-per-second graphics rendering, up to four decks, seamless integration with dozens of MIDI controllers, and a variety of audio effects.
On the library side,
djay Pro
offers an all-new music library with inline search, instant preview, and song recommendations powered by The Echo Nest, as well as easy integration of iTunes libraries and, for the first time on desktop,
Spotify playlists
. Users can easily drag and drop tracks from iTunes and Spotify libraries, not only from within
djay Pro
but also from iTunes and Spotify Mac apps.

Turntable view
In our testing,
djay Pro
performed extremely well, with high-quality turntable and waveform graphics making for a pleasing user experience. And while
djay Pro
adds a number of new effects and other tools compared to the previous version, the app's thoughtful and intuitive layout makes it easy both for experts to dive right in and for beginners to keep things simple at first before growing into
djay Pro
's full capabilities.
A customizable layout allows users to choose from several modes dividing the app window between music library/queueing and the turntables or waveforms, and the library portion of the window can be easily toggled between light and dark views to match user preference for various environments. Users of both Mac and iOS versions of
djay
will also find their cue points, beat grid edits, meta data synced between the apps via iCloud.

Horizontal waveform view with four decks
All of the new features included in
djay Pro
do come at a price, however, with Algoriddim electing to offer the new app at an introductory price of $49.99 and an eventual regular price of $79.99, a significant increase over the $19.99 standard pricing of the previous version. But with
djay Pro
aimed in large part at serious DJs looking for the most powerful tools for Mac, Algoriddim believes
djay Pro
still offers a very solid value compared to traditional DJ setups.
The base package includes a set of five "Essentials" audio effects such as Echo and Flanger, and a one-time $9.99 in-app purchase adds 34 more effects from
Sugar Bytes
for use across all of the user's Mac and iOS versions of
djay
.
djay Pro
is
launching today
via the Mac App Store [
Direct Link
] and replaces the original version of
djay
for Mac, which will no longer be available.
djay Pro
requires a minimum of OS X 10.9 Mavericks, and a Spotify Premium subscription is required to access the Spotify catalog from within the app. A free seven-day trial of Spotify Premium is available for
djay Pro
users to test out the service and integration.

Apple today seeded a new Safari 8.0.3 beta for developers running OS X Yosemite, along with a Safari 7.1.3 beta for Mavericks and a Safari 6.2.3 beta for Mountain Lion.
Registered Mac developers can download the new Safari builds through the Software Update mechanism in the Mac App Store or through the Mac Dev Center. In the release notes for the new betas, Apple asks developers to focus on features like Extensions, Password AutoFill, HTML5 video playback, notifications, and more.
Focus Areas
Please focus testing on the following areas:

- General website compatibility
- Extension compatibility
- Password AutoFill
- HTML5 video playback on popular video sites
- Using the Web Inspector to debug websites
- Reading List read/unread state
- Editing bookmarks in the Favorites Bar and Bookmarks Sidebar
- Website notifications
In addition to the forthcoming Safari update, Apple is also working on another general OS X Yosemite update,
OS X 10.10.2
, which saw its second beta seeded to developers last Friday.
After numerous failed attempts at
predicting
Apple's first foray into television sets, Piper Jaffray analyst Gene Munster has not yet given up hope that the company will deliver. During an
interview
at Business Insider's 2014 Ignition Conference earlier this month, Munster made yet another prediction on the rumored Apple technology, citing a two-year wait for Apple's own television set.
Munster regarded this year's prediction as an "annual penance" for being consistently incorrect in guessing the release date for Apple's rumored television set. Instead of the usual one-year prediction Munster has been throwing out the past few years, the analyst looked into the past to further support his two-year suggestion for Apple's next big product.

"Apple takes a long time in-between products. If we look back over the last decade, it's 3-6 years between major products. And so, ultimately the Watch is what hit this year, they're gonna refine that next year along with payments. And then that probably gets us into 2016 as more of a time frame for the actual television."
Though it may seem a bit behind the game for Apple to launch a television set when connected TVs are already becoming ubiquitous and prices continue to decline, Munster looks at the lack of innovation and the true potential of Apple entering the market as significant positives for the company.
"So far the connected TV market really hasn't done much, they sell a lot of units but people don't really use the connected TV part unless they're accessing Netflix. So the concept of what the opportunity can really hold around connected TVs hasn't even been tapped, so they haven't missed out on anything."
Business Insider
went on to ask Munster about the potential market gains Apple would see if they entered into the television set space. Munster addressed the current plateauing market of around 220 million TVs sold every year, hypothesizing that if Apple captured 10 percent of that market (Apple currently has 20 percent of the smartphone market) it could possibly sell around 22 million TV sets per year. Munster thinks that that market size is "big enough that it could be a 5 or 10 percent addition to the overall size of Apple."
Finally, Munster addressed the price of the possible Apple TV set, thinking it could run around $1,500, or "about double a comparable sized TV." Rumors began
swirling
around an Apple TV set a few years ago, particularly after Steve Jobs himself
hinted at a breakthrough
in his authorized biography published shortly after his death in late 2011. Rumors have been mostly quiet in recent months, however, as attention has turned away from a TV set or even a revamped set-top box and toward the
imminent launch
of the Apple Watch.
BBC One later this week is airing a documentary,
Apple's Broken Promises
, that profiles factory conditions for overseas workers who are producing components and assembling the company's iPhone 6. Richard Bilton and his team at current affairs program
Panorama
went undercover to examine Chinese factory life and mining conditions in Indonesia.

Apple is the most valuable brand on the planet, making products that everyone wants - but how are its workers treated when the world isn't looking? Panorama goes undercover in China to show what life is like for the workers making the iPhone 6. And it's not just the factories. Reporter Richard Bilton travels to Indonesia to find children working in some of the most dangerous mines in the world. But is the tin they dig out by hand finding its way into Apple's products?
The hour-long documentary is slated to air on BBC One at 9:00 PM UK time on December 18. It will be available online for UK viewers shortly after the documentary airs later this week, and may at some point air globally on BBC World News.
This isn't the first time Apple's supply chain factories have been profiled by a major media outlet. ABC's Nightline visited Foxconn's factories in 2012 with
the permission
of Apple, which provided an inside look at its iPad and iPhone production line. The report
documented
the long shifts and low wages paid to the workers but also pointed out that Apple was being responsive to concerns that its workers were being treated unfairly.
The Nightline profile was a response to an earlier and
overwhelmingly negative report
by
The New York Times
that uncovered the poor working conditions at Apple's Chinese supplier facilities.
With the December holidays approaching, retailers are beginning to offer significant discounts off of their products in an attempt to lure shoppers into stores. Walmart has kicked off an ongoing discount on the iPhone 6 and 6 Plus, and MacMall is selling a high-end Retina MacBook Pro for an ultra low price.
We've also got deals on the iPad Air 2, iPad mini 3, and discounts on several Apple accessories in this week's Buyer's Guide deals post.
iPhone
Walmart
kicked off some new
$50 off
deals on the iPhone 6 and 6 Plus today, which will last through February. A two-year contract is required to get the discounted price, and Walmart also
offers a trade-in program
to drop the pricing even lower. Deals are available in-store only.
Walmart is selling the 16GB iPhone 6 for
$129
, down from the previous $179 price tag, and it's also offering the 16GB iPhone 6 Plus for
$229
, down from $279.

The iPhone 5s is on sale at Walmart as well, now available for
$49
instead of $79.
Retina MacBook Pro
MacMall is taking pre-orders for the 2013
2.6GHz/16GB/1TB Retina MacBook Pro
priced at
$2,599.99
, down from the regular price of $3,199, a $600 discount. Several 2014 Retina MacBook Pro models are also discounted at various retailers, as seen below:
- 13-inch 2.6GHz/8GB/256GB (
Adorama
) (
B&H Photo
) -
$1,399, $100 off
- 13-inch 2.8GHz/8GB/512GB (
Best Buy
) (
B&H Photo
) -
$1,599, $200 off
- 15-inch 2.2GHz/16GB/256GB (
Adorama
) (
B&H Photo
) -
$1,699, $200 off
- 15-inch 2.5GHz/16GB/512GB (
Adorama
) (
B&H Photo
) -
$2,199, $300 off

Mac Pro
- 6-core 3.5GHz/16GB/256GB (
B&H
) (
Adorama
) -
$3,499, $500 off
iMac
- 21.5-inch 2.9GHz/8GB/1TB (
Adorama
) -
$1349, $150 off
- 27-inch 3.2GHz/8GB/1TB (
Adorama
) (
B&H
) -
$1,649.99, $150 off
- 27-inch 2.4GHz/8GB/1TB (
Adorama
) (
B&H
) -
$1,799.99, $200 off

MacBook Air
- 11.6-inch 1.4GHz/4GB/128GB (
Best Buy
) (
B&H Photo
) (
MacMall
) -
$799, $100 off
- 11.6-inch 1.4GHz/4GB/256GB (
B&H Photo
) (
Adorama
) -
$999, $100 off
- 13.3-inch 1.4Ghz/4GB/128GB (
Best Buy
) -
$899, $100 off

iPad Air 2
Best Buy is offering $50 off its
entire selection of iPad Air 2 models
, including both Wi-Fi and Cellular in all colors and capacities. The prices aren't quite as good as the deals the company offered on Black Friday, but the pricing is better than Apple's.

With the price drop, the
entry-level 16GB Wi-Fi only iPad Air 2
is available for
$449.99
instead of $499, and the
entry-level cellular model
is available for
$579.99
instead of $629.
iPad mini 3
Best Buy is also
offering $50 to $100 off
its entire stock of iPad mini 3 models, offering deals that are nearly as good as the discounts the retailer offered on Black Friday.

The
entry-level Wi-Fi only 16GB iPad mini 3
is available for
$349.99
instead of $399, and the deals are even better on the higher-capacity models. The
128GB Wi-Fi only iPad mini 3
, for example, is available for
$499
instead of $599.
Original iPad Air
Best Buy is offering modest discounts of $30 to $60 off some remaining higher-capacity original iPad Air models, dropping the prices below similar iPad Air 2 models.
-
iPad Air Cellular Silver 64GB
(AT&T) -
$597.99
-
iPad Air Cellular Space Gray 64GB
(AT&T) -
$597.99
-
iPad Air Cellular Silver 64GB
(Verizon) -
$597.99
-
iPad Air Cellular Space Gray 64GB
(Verizon) -
$566.99
-
iPad Air Cellular Silver 128GB
(AT&T) -
$787.99
-
iPad Air Cellular Space Gray 128GB
(AT&T) -
$787.99
-
iPad Air Cellular Silver 128GB (Verizon)
-
$787.99
-
iPad Air Cellular Space Gray 128GB (Verizon)
-
$787.99
iPad mini 2
Best Buy is also offering discounts of $30 to $60 off some remaining higher-capacity iPad mini 2 models, dropping the prices below similar iPad mini 3 models. The iPad mini 2 can be a particularly good deal compared to the iPad mini 3, as the only difference is Touch ID.
-
iPad mini 2 WiFi-only Silver 64GB
-
$395.99
-
iPad mini 2 WiFi-only Space Gray 64GB
-
$395.99
-
iPad mini 2 WiFi-only Silver 128GB
-
$494.99
-
iPad mini 2 WiFi-only Space Gray 128GB
-
$494.99
-
iPad mini 2 Cellular AT&T Silver 64GB
-
$476.99
-
iPad mini 2 Cellular AT&T Space Gray 64GB
-
$502.99
-
iPad mini 2 Cellular Verizon Silver 64GB
-
$476.99
-
iPad mini 2 Cellular Verizon Space Gray 64GB
-
$502.99
-
iPad mini 2 Cellular AT&T Space Gray
128GB -
$629.99
-
iPad mini 2 Cellular Verizon Silver 128GB
-
$629.99
-
iPad mini 2 Cellular Verizon Space Gray 128GB
-
$597.99
Apple Accessories
PayPal Digital Gifts on eBay
is selling a
$100 iTunes card for $80
for a limited time.

The
Spigen iPhone 6 CS Slim Armor Bundle
is available for
$34.99
(down from $85) from StackSocial. A refurbished
4,000mAh Mophie portable battery charger
is available from groupon for
$29.99
, down from $79.95.

Best Buy is selling the
Pebble Smart Watch
for
$79.99
, $20 off its standard $99 price. Best Buy is also selling the
AirPlay iHome Speaker System
for
$99.99
, $200 off its regular $299 price. Select
Beats headphones purchases
at Best Buy totaling $398 or more are eligible for a
$50 Best Buy gift card
.

Beats by Dre Pro Over-Ear headphones
are available for
$299
from Groupon, down from $399. Groupon is also selling
Printerpix custom cases
for iPhone 5s/6/6 Plus for $7.99, down from the $19.99 to $29.99 regular price.
MacRumors is an affiliate partner with some of these vendors.
Apple today seeded the third beta of OS X 10.10.2 Yosemite to developers, just over two weeks after seeing the
second 10.10.2 beta
and over a month after releasing OS X 10.10.1 to the public.
The new beta, build 14C81f, is available through the Software Update mechanism in the Mac App Store and through the Mac Dev Center.

Like OS X 10.10.1, as a minor update, OS X 10.10.2 is likely to bring bug fixes and performance improvements to the operating system. OS X 10.10.1 introduced several reliability enhancements, including improvements to Wi-Fi, but many users have still been reporting issues with
Wi-Fi stability in Yosemite
.
In the release notes for the third 10.10.2 beta, Apple asks developers to focus on Wi-Fi, indicating the update may fix some of the lingering Wi-Fi problems. Apple also asks developers to focus on Mail and VoiceOver.
A rare fully functional Apple-1 Personal Computer sold for $365,000 at an auction in New York today, reports
Reuters
. The computer, which Steve Jobs originally sold out of his parents' garage in 1976 for $600, was expected to sell for much more, with
initial estimates
placing its value at $400,000 to $600,000.
In 1999, the machine auctioned off today was purchased by Bruce Waldack, an entrepreneur who had funds after selling his company, DigitalNation. Following his death in 2007, the Apple-1 went on to be auctioned at a storage facility in Virginia, where Robert Luther purchased it, along with the original buyer's canceled check from 1976.

The Apple-1 was sold alongside that canceled check, which was made out to Apple Computer from Charles Ricketts, who labeled it "Purchased July 1976 from Steve Jobs in his parents' garage in Los Altos." A second accompanying check for $193 was labeled "Software NA Programmed by Steve Jobs August 1976."
An expert tested the Apple-1 to ensure that it was fully operational and able to run the standard original software program, Microsoft BASIC, along with an original Apple-1 Star Trek game.
Other working Apple-1 computers have sold for far more in the past. Recently, the Henry Ford Museum
paid $905,000
for an original Apple-1, and in 2013, an auction that included
a working Apple-1
and a letter written by Steve Jobs went for $671,400. Less than 50 Apple-1 computers are believed to be in existence today, of the few hundred that were originally constructed by Steve Jobs and Steve Wozniak.
Other World Computing (OWC)
today announced
new 1TB and 2TB Aura SSD upgrades designed for the Mac Pro, offering Mac Pro owners a way to upgrade the storage in their machines without needing to purchase upgrades directly from Apple.

Apple's 1TB upgrade option costs $800 over the base 256GB SSD option, and while OWC's 1TB upgrade option is priced slightly higher at
$899
, it gives users an option to convert their existing SSD into an external USB 3.0 drive.
Apple offers a maximum of 1TB of storage, so OWC's 2TB solution, priced at
$1,479
, is a good solution for users who are looking for additional storage for their Mac Pros. The 2TB option also comes with a kit for converting an existing SSD into an external USB 3.0 drive.
The kits, which are
available for pre-order
, come equipped with the tools needed for a do-it-yourself storage upgrade, a step-by-step installation video, and tech support provided by OWC. The kits are expected to ship in two to three weeks.
Apple's OS X faced an increasing number of malicious attacks in the past year with antivirus firm Kaspersky Lab noting roughly 3.7 million infection attempts blocked by its software, the firm reports in its
2014 Security Bulletin
(via
The Telegraph
). The annual report quantifies malicious activity by analyzing attacks blocked by Kaspersky's anti-malware products.
According to the 2014 report, the average Mac user faced nine threats in the past year. The study tracked nearly 1500 new malware programs targeting OS X over the past year, 200 more than in the previous year. More than half of the detected malicious threats were AdWare modules that add links to default browser bookmark lists, change the default browser search engine, and insert advertising links in order to generate ad revenue.

Other more serious but less prevalent threats include a Trojan keylogger, a screenshot capture program, and the
Wirelurker malware
that attempts to steal data from iOS devices connected to a Mac. Though increasing, the number of malicious programs on OS X is lower than what is recorded on competing platforms such as Windows. Overall, Kaspersky Lab says its software blocked over six billion malware installation attempts over the past year, meaning that OS X remains a tiny fraction of devices being targeted.
As an antivirus vendor, Kaspersky Lab naturally has a vested interest in convincing customers to adopt its products, but it also puts the company in a good position to monitor threats and collect data from those using its tools.
Following in the footsteps of
Dashlane
, popular password management app
LastPass
has also
debuted
a new "Auto-Password Change" feature that is designed to let users enable a setting for automatic password changes.
Introduced last week to the company's Pre-Build Team, the new Auto-Password Change in
LastPass
is now available for all beta users in Chrome, Safari, and Firefox at no charge.
According to
LastPass
, Auto-Password Change has been developed to help its users initiate frequent password changes following major security incidents like
Heartbleed
, an OpenSSL vulnerability that left hundreds of thousands of machines open to malcious attacks.

We're excited to announce that the Auto-Password Change feature we released to our Pre-Build Team last week is now available for all users in beta. LastPass can now change passwords for you, automatically. We're releasing this feature for free to all our users, on Chrome, Safari, and Firefox (starting with version 3.1.70).

Maintaining your privacy and security is our top priority. That's why we're doing this differently. We've implemented this feature to make password changes locally on your machine, ensuring we stay true to our mission and never have access to your data. All of your sensitive information is encrypted on your computer before syncing, and your encryption key is never shared with LastPass.
Auto-Password Change supports 75 popular websites, like Facebook, Twitter, Amazon, Pinterest, and Dropbox. In
LastPass
, users can turn on the feature by clicking "Edit" for a supported site and then clicking on "Change Password Automatically."
After choosing the password update option,
LastPass
will open a new tab, log into the site and create a new password, updating the information both on the site and within
LastPass
.
Earlier today, competing password management app
Dashlane
unveiled
a similar "Password Changer" feature
, which also allows users to implement easy password changes.
Dashlane
's new password changing functionality is somewhat more comprehensive than
LastPass
's password-by-password solution, as it can allow users to change all of their passwords with a single click.
LastPass
is available for free on iOS and Mac with ads, but a $12 per year subscription gets rid of the ads, adds priority tech support, and multi-factor authentication. The browser extension can be downloaded
from the LastPass website
while
the iOS app
can be downloaded from the App Store. [
Direct Link
]