In iOS 14 and later, your iPhone or iPad can use a different MAC address with each Wi-Fi network to prevent network operators from tracking your phone across different WiFi networks.
To communicate with a Wi-Fi network, a device has to identify itself to the network with a unique network address called a media access control (MAC) address.
If your iOS device always uses the same Wi-Fi MAC address across all networks, it means network providers and other network observers can more easily relate that address to the device's network activity and location over time.
This allows a kind of user tracking or profiling, but you can prevent it from happening by getting your iOS device to use a different MAC address for each Wi-Fi network that it connects to. Here's how.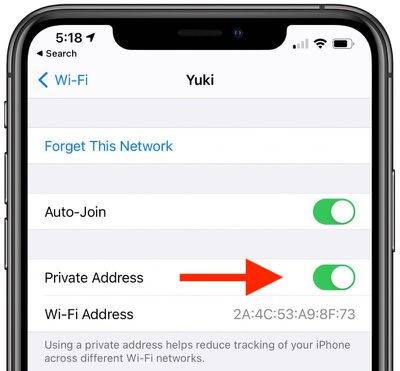 Launch the Settings app on your ‌iPhone‌ or ‌iPad‌.
Tap Wi-Fi.
Tap the circular Info (i) button next to the Wi-Fi network that you want to use.
Toggle the switch next to Private Address to the green ON position.
If you have an Apple Watch, you can enable the same function in your watch's Settings app: Tap through to Wi-Fi, tap the network you joined (if you haven't joined it yet, swipe right on it and tap the three dots), then tap Private Address.
Note that Apple will provide you with a warning when connecting to a Wi-Fi network that doesn't use the Private Address feature.