iPhone 7 Mockups Revive Rumors of 'Plus' and 'Pro' 5.5-Inch Models
Two months before the prospective launch date of the iPhone 7 and the iPhone 7 Plus, there are dozens of images of the two devices floating around on the internet. Some of those images are likely showcasing real parts, while others are dummy models used by case makers to get a head start on designing accessories for the new devices.
Dummy units are often accurate representations of what we can expect to see in new iPhones, but because they're constructed based on rumors, early leaks, and other third-party information, they can't always be trusted. That's the case with a new set of images shared by French site Nowhereelse.Fr, depicting front and back of an "iPhone 7 Pro" dummy model alongside iPhone 7 Plus and an iPhone 7 dummies.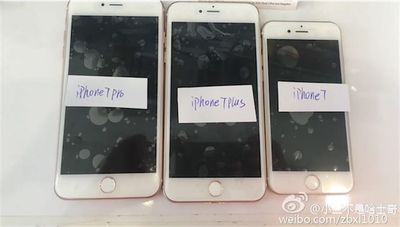 The iPhone 7 Pro features a dual-lens camera and a Smart Connector, while the iPhone 7 Plus and the iPhone 7 feature single-lens cameras and no Smart Connector. Early rumors did indeed suggest Apple was working on two versions of the 5.5-inch iPhone for release in 2016, but those rumors were later retracted and information has solidified around a single 5.5-inch iPhone 7 Plus with a dual-lens camera.
It is not clear why those rumors were circulating in the first place, but Apple may have been working on two separate prototypes with a single-lens version of the iPhone 7 Plus on the sidelines in case of production or supply issues with the dual-lens camera.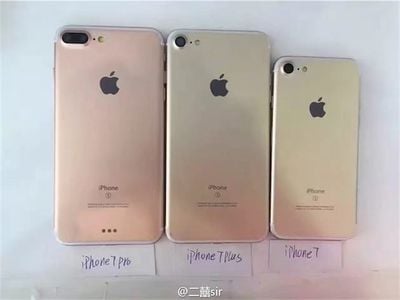 In any case, it seems the iPhone dummies in the images above are based on outdated specifications and we do not believe them to be entirely representative of what Apple will release in the fall. This assumption is based both on the inclusion of two 5.5-inch iPhone models and the curious "S" designation on the back of each dummy.
We do not expect to see a 5.5-inch iPhone with a single-lens camera, but a 5.5-inch iPhone 7 Plus with a dual-lens camera and a 4.7-inch iPhone 7 with a larger single-lens camera are in the works, so the dummies are not entirely inaccurate. When it comes to design, the three dummies do match up with rumors pointing towards relocated antenna bands, prominent camera bumps, and a look that's similar to the iPhone 6s, but one design element - the Smart Connector - is still in question.
We've seen several iPhone 7 Plus dummy models with a Smart Connector, but it continues to be unclear as to whether this is a feature we'll see in the finished device. Details surrounding the iPhone 7 and the iPhone 7 Plus will become clearer as we start seeing actual shell leaks - iPhone 7 shells have been spotted, but we still have yet to come across an actual iPhone 7 Plus shell.
Apple plans to release the iPhone 7 and iPhone 7 Plus this fall. Aside from the aforementioned design changes, the two devices are also expected to feature no headphone jack, an A10 processor, and improved water resistance.