More iPhone 5 Parts Leak Ahead of Official Launch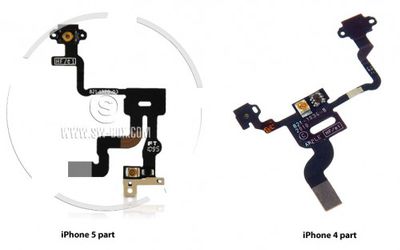 As noted by @chronic, at least one reseller has managed to get their hands on another iPhone 5 part. This time it's a iPhone 5 proximity light sensor flex cable, pictured above.
We asked iFixit's Kyle Wiens about the differences. He noted that the corresponding iPhone 4 part (pictured above/right) contains the power button, noise canceling mic and proximity/ambient light sensors. The new iPhone 5 part doesn't contain the mic, so it must be placed elsewhere on the iPhone 5.
Previously, we also saw the dock connector to the iPhone 5 leaked. So, while we can't build an iPhone 5 yet, the leakage of individual parts is likely a sign that we're getting closer and closer to launch.
The most recent rumors have the iPhone 5 launching in October.
Update: Kyle has also pointed out to us that the noise-canceling microphone is also missing from this part on the CDMA version of the iPhone 4, having instead been integrated into the headphone jack assembly. There are still, however, some differences in the relative orientations of the different components included on the iPhone 5 part compared to either the GSM or CDMA iPhone 4 part.