Camera+ Reaches Over 78,000 Sales on Christmas Day Alone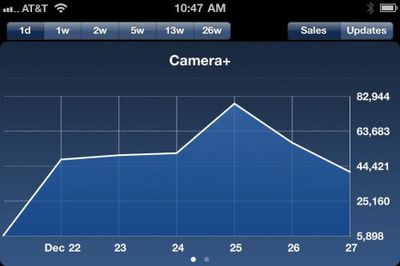 Sales of Camera+
Yesteday, we
reported
on a boost in App Store downloads that some third-party developers had seen coinciding with the Christmas holiday. This annual boost in downloads and sales has been
documented
in previous years and has been attributed to the gifting of new iOS devices and iTunes gift cards for Christmas.
With the iTunes developer portal now back open, developers are finally seeing the sales numbers from Christmas weekend. TapTapTap has provided us with exclusive details of the sales of their Camera+ app [App Store], which re-launched just prior to the holiday and held the #6 ranking on Christmas Day.

Camera+
reached an impressive 78,995 downloads on Christmas Day alone, which represents $54,743 for the developer after Apple's 30% cut. While the sales graph seems to suggest that the sales have returned to pre-Christmas levels, the graph is somewhat misleading, as
Camera+
had been ranked as high as #2 in Top Paid Apps before Christmas but today holds a rank of #13. Therefore, it seems that there has been a sustained boost in overall App Store sales since Christmas Day.
The download statistics showed improvement from last year's numbers, which revealed a similar data point of over 79,000 downloads on Christmas Day for the #3 ranked app, compared to Camera+ at #6 this year with a similar number of downloads. Historically, each rank position near the top of the charts represents a large difference in downloads Consequently, this year's #3 ranked app likely sold significantly more than 79,000 units.