iPhone 4 Sold Out for Launch Day at AT&T and At Least Parts of Europe
BoyGenius reports that all of the AT&T pre-order iPhones have been allotted already. Engadget received a statement from AT&T confirming the sellout:
"Because of the incredible interest in iPhone 4, today was the busiest online sales day in AT&T history. As of Tuesday afternoon, customers who preorder iPhone 4 moving forward will receive their device on June 25 or later, depending on when the order is placed. We'll email customers with confirmation once their order is placed, and again when it ships. In addition, we will have devices available on a first-come, first-serve basis in our stores beginning on June 24."
Apple's own U.S. website still shows ship dates of June 24th if you pre-order now.
We've also heard reports from international customers that local Apple Stores in the UK and Germany's T-Mobile are also sold out of the launch day iPhone 4s.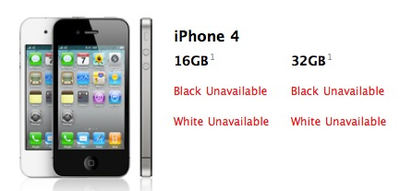 UK Apple Store for pickup at Regent Street