OS X 10.12
OS X 10.12 should be previewed in June at WWDC ahead of a fall 2016 release.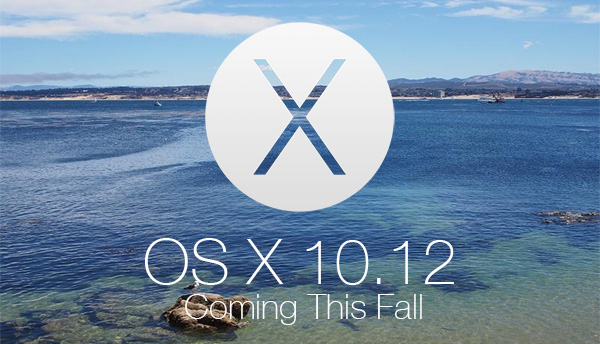 At A Glance
The next update to Apple's OS X operating system for Macs.
What We Know
June preview at WWDC
Fall 2016 release date
Siri integration
Photos integration
What We Expect
The next major update to Apple's OS X operating system, OS X 10.12, is expected to be previewed this June at Apple's Worldwide Developers Conference. We don't know much about OS X 10.12, but given that OS X El Capitan 10.11 was a followup update to OS X Yosemite 10.10 with a focus on performance improvements and bug fixes, it stands to reason we will see some design tweaks and new features in 2016.
Rumors we've heard so far about OS X 10.12 suggest one of the headline features may be Siri integration. Siri has been available on iOS devices since 2011, but until now, Apple hasn't considered bringing the feature to the Mac, despite the fact that it's been talked about and desired by Mac users for several years.

Siri may be accessible using an icon in the OS X Menu bar, an app icon, or through a user-specified keyboard shortcut, specified using the System Preferences. A hands-free "Hey Siri" command to bring up voice searches will also be available when a Mac is connected to power.
In the menu bar, there's a simple Siri black and white icon that features the word "Siri" surrounded by a box, while the full dock icon is more colorful and features a Siri waveform in the style of other built-in app icons.


Siri functionality on the Mac is likely to mirror much of the functionality on iOS, with Siri able to conduct searches, open apps, tweak system settings, answer simple queries, play music from iTunes, and more. Apple may also be planning to expand Siri's capabilities as it has recently made several AI and speech-related acquisitions.
OS X 10.12 may include an updated version of iTunes that includes a redesigned Apple Music experience with a simpler, more intuitive interface. It is not clear if the iTunes update will be bundled into OS X 10.12 or released separately ahead of the operating system's official fall launch.
Apple is working on an auto unlock function that would allow an iPhone to unlock a mac when in close proximity, alleviating the need to enter a password on a password-protected Mac in OS X 10.12.
The feature, which uses Bluetooth LE frameworks, will presumably work similarly to the automatic unlocking function on the Apple Watch, which allows an unlocked iPhone to bypass the passcode restriction on a connected Apple Watch. In this scenario, an iPhone's Touch ID button would likely be used as a verification method for simpler logins.
It's also possible that a connection with an Apple Watch could be used to unlock the Mac even when an iPhone isn't present, making the process even simpler. The unlocking function may also be tied to an upcoming Apple Pay integration for web browsers, also rumored for OS X 10.12. With Apple Pay built-in, Mac and iPhone users could make purchases in online stores via Safari, with the purchases confirmed via Touch ID. On the iPhone, the process would be similar to Apple Pay payments in apps, while on the Mac, it Safari payments would be confirmed via a connection to an iPhone or Apple Watch.
Another OS X 10.12 feature improvement may come in the form of improvements to the Photos app. Rumors suggest 10.12 will gain some features that were removed during the transition from iPhoto to Photos, but there are no specific details on what those features will be.
We'll likely find out more about OS X 10.12 in the weeks leading up to its unveiling at the Worldwide Developers Conference.
Potential Name
Starting with OS X 10.9 Mavericks, Apple stopped naming Mac operating system updates after large cats and started naming them after major California landmarks. Since then, Apple has used the following names: Mavericks, a popular surfing location; Yosemite, a national park; and El Capitan, a large and well-known rock formation within Yosemite National Park.
We don't know the next version of OS X will be called, but in 2014, Apple trademarked a long list of landmark names that could be used for future OS X updates. Names range from popular beaches to well-known cities to notable mountains and deserts. Apple even included a few names highlighting iconic California animals, including Condor, Grizzly, and Redtail.
Here's the full list of known trademarked names that have yet to be used: Redwood, Mammoth, California, Big Sur, Pacific, Diablo, Miramar, Rincon, Redtail, Condor, Grizzly, Farallon, Tiburon, Monterey, Skyline, Shasta, Sierra, Mojave, Sequoia, Ventura, and Sonoma.

Photo of Monterey, California, one of the potential names for future versions of OS X
Apple may be choosing names from the list randomly, but with a water name and two-land based names having been used in 2013, 2014, and 2015, we may potentially be due for another water-based name. If that's the case, ocean oriented names like Pacific, Monterey, Farallon, or Rincon could be in the running, but it is not clear if Apple is following a specific naming scheme. Apple may also have unknown trademarks, so there's always the possibility we'll see a name that's not even on the list for OS X 10.12.
OS X 10.12 is reportedly being developed under the code name "Fuji." Codenames do not appear to have any relation to final operating system names, as Mavericks was code named Caberet, Yosemite was codenamed Syrah, and El Capitan was codenamed Gala.
There is some speculation that Apple will revamp the naming scheme it uses for the Mac operating system, transitioning from "OS X" to "MacOS," a name that better fits in with the company's other operating systems, tvOS, watchOS, and iOS. A recent update to Apple's environmental webpage includes a mention of "MacOS" instead of OS X, suggesting the name change is potentially in the works.
Discuss OS X 10.12
What do you hope to see in OS X 10.12? Our readers have shared a long list of the features they're wishing for in OS X 10.12, so check out our forums to read what people are hoping for and join in on the discussion yourself.
Some of the desired features include a system-wide dark mode, picture-in-picture capabilities, expanded Continuity features, Siri integration, options for uninstalling stock apps, and more.
Testing
The number of visits we see to MacRumors running pre-release software often gives us an idea of how development is progressing on upcoming updates.

Visitors to MacRumors.com from devices running OS X 10.12
Visits we're receiving from Macs running OS X 10.12 have been picking up steadily since the beginning of the year as Apple's engineers ready the operating system update for the June Worldwide Developers Conference.
Release Date
OS X 10.12 will likely be previewed in June, at Apple's Worldwide Developers Conference. Apple has not yet announced dates for the conference, but based on scheduling information at the Moscone Center where Apple holds the event, it could take place from June 13 to 17.
New software updates are often highlighted on the first day of WWDC, with developers provided with access to the new operating system shortly after to begin work on compatible apps taking advantage of new features.

May2016
April2016
March2016
February2016