Apple to Issue Mac OS X Update to Remove 'MacDefender' Malware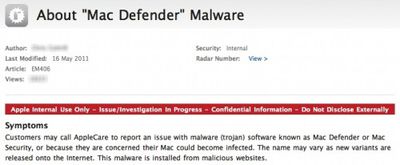 Apple has
posted
a Knowledge Base article that addresses the recent MacDefender malware issue and also reveals they will be addressing it in the next few days through a software update
In the coming days, Apple will deliver a Mac OS X software update that will automatically find and remove Mac Defender malware and its known variants. The update will also help protect users by providing an explicit warning if they download this malware.
Apple describes "MacDefender" as a recent phishing scam that has targeted Mac users by redirecting them from legitimate websites to fake websites which tell them that their computer is infected with a virus. The user is then offered Mac Defender "anti-virus" software to solve the issue.
Apple also offers instructions and tips for avoiding installation of the malware and how to remove the malware. Apple had previously been criticized for not allowing their support staff from addressing the issue in retail stores.