Live Coverage of Apple's October 2013 iPad and Mac Event [Event Ended]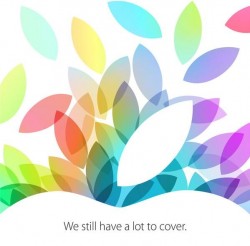 Apple's highly anticipated October media event is being held today at the Yerba Buena Center for the Arts in San Francisco. The event begins at 10:00 AM Pacific Time / 1:00 PM Eastern Time, and Apple is expected to unveil a number of new products including updated iPads, new Retina MacBook Pros, and new iLife and iWork offerings.
The company should also be providing final looks at the redesigned Mac Pro and OS X Mavericks before their public launches in the coming weeks. Our expectations for these updates are summarized in the
Roundups
section of our site.
Apple will be providing a
live video stream
on its website for Mac and iOS users and via Apple TV.
Live Video Stream of Apple's October 2013 iPad and Mac Media Event
In addition, we will be updating this article with summary coverage and issuing Twitter updates through our
@MacRumorsLive
account as the event unfolds. Separate news stories regarding the event announcements will go out through our
@MacRumors
account.
Apple's online stores around the world are currently down in advance of the event.
Email Newsletter
We are also starting a regular email newsletter recapping Apple, Mac and iOS news, and this week's media event offers a good reason for those interested to get signed up. The newsletter will provide a less frequently updated but more curated view of the Apple world. You can unsubscribe at any time.