Google
released Chrome 71
earlier this week, but the latest version of the web browser still lacks support for Dark Mode on macOS Mojave. Fortunately, it appears that will change by early next year.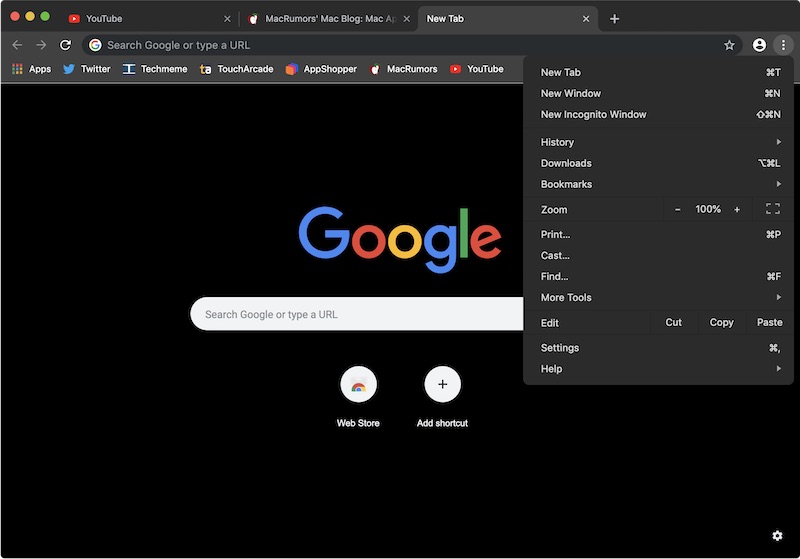 Dark Mode in Canary, a developer build of Chrome
As mentioned
on Reddit
, a Google developer recently
submitted a code change
that implements system-level Dark Mode in
Chromium
, the open source web browser that serves as the foundation of Chrome. The code change passed the review process and will make its way into a future release of Chrome.
For those unaware, there are
several different builds of Chrome
that Google uses to slowly test and roll out new features. All code changes begin in Chromium and then work their way from Canary to Chrome Dev to Chrome Beta to Chrome, the stable version released to all users roughly every six weeks.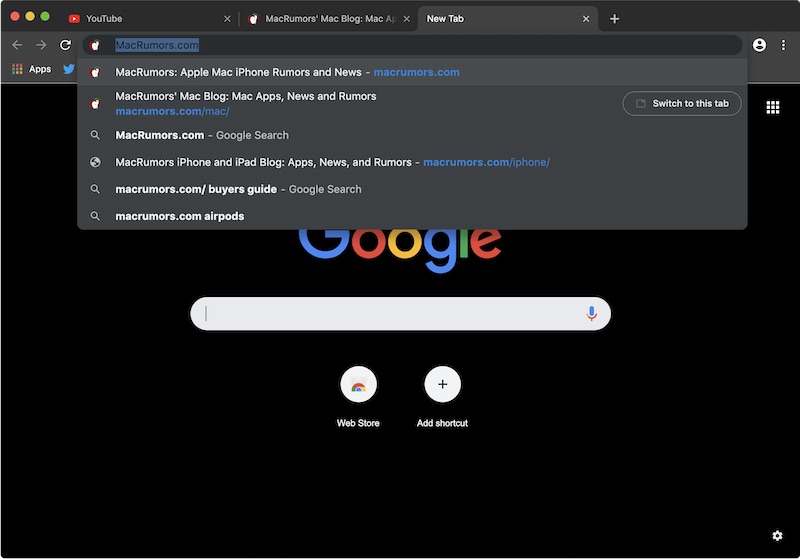 Dark Mode in Canary, a developer build of Chrome
Dark Mode in Chromium remains hidden behind
feature flags
, which are essentially code-level toggle switches, but we were able to run a Terminal command to force the darker appearance into action and took screenshots.
The system-level Dark Mode applies a dark appearance to much of the Chrome interface, including the omnibox, tabs, menus, bookmark bar, status bar, and dialog boxes. The startup page with Google search and shortcuts will also have a black background when the Dark appearance is enabled in System Preferences.
Most of the current Dark Mode colors in Chromium are placeholders, according to one developer working on the project, so there may be slight changes to come. One challenge the developers face is ensuring that the Dark Mode is distinguishable from Chrome's private-browsing Incognito Mode, which is also dark.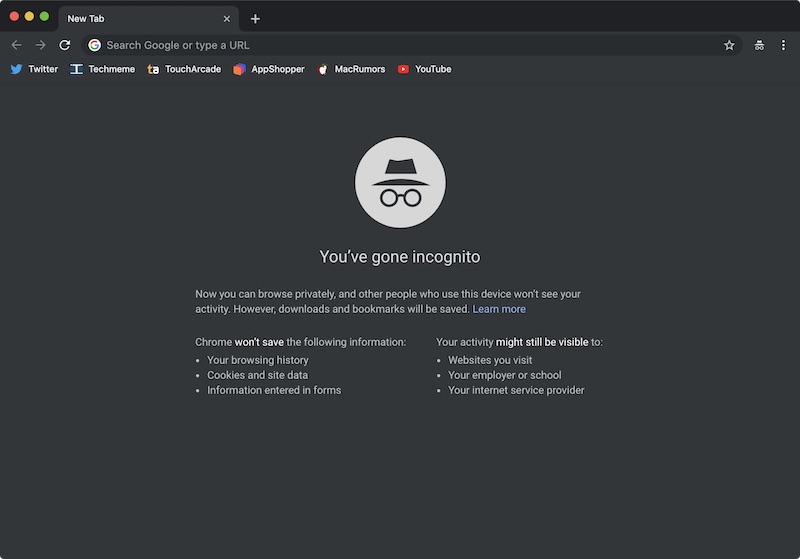 Incognito Mode in Canary, a developer build of Chrome
We're not entirely sure if Dark Mode will make the cut for Chrome 72, which has already been branched and will likely be released in mid-to-late January. Chrome 73 will likely follow in March, so it looks like early 2019 either way.
In the meantime, a variety of
third-party dark themes
are available for Chrome, but the omnibox always remains white since it is not allowed to be themed. Third-party dark themes are
also available for websites
such as Facebook, Google, YouTube, Gmail, Reddit, and Twitter to complete the experience.
Apple celebrated the holiday season today with a live performance by award-winning singer Idina Menzel, who sang a handful of songs from the Disney animated film
Frozen
, including the soundtrack
Let It Go
.
A big thank-you from our Apple family to the phenomenally talented @idinamenzel. Your voice is a gift — thank you for sharing it with us. What a wonderful way to celebrate the holidays! ☃️ pic.twitter.com/nc9SOpVmMj

— Tim Cook (@tim_cook) December 8, 2018
"A big thank-you from our Apple family to the phenomenally talented Idina Menzel," tweeted Apple CEO Tim Cook. "Your voice is a gift — thank you for sharing it with us. What a wonderful way to celebrate the holidays!"
The concert took place at Apple's Infinite Loop campus in Cupertino, California during its recurring Beer Bash employee gathering today.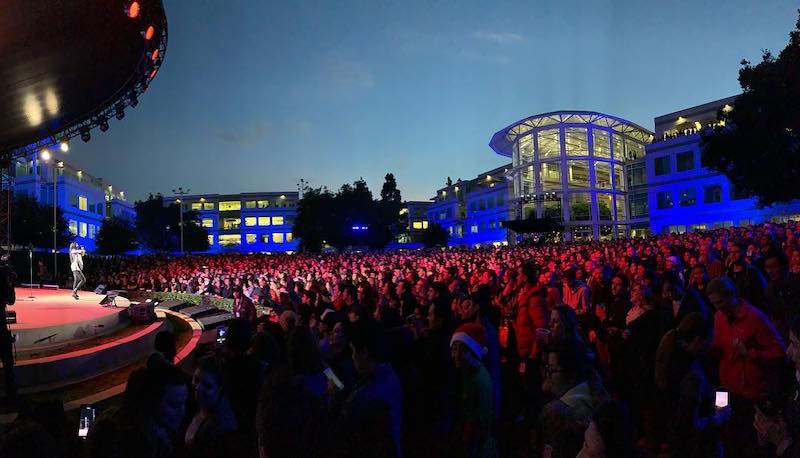 Idina Menzel performing at Apple Infinite Loop via Elton
Apple today also hosted its annual celebration of Toys for Tots, a program run by the United States Marine Corps Reserve, which distributes toys to children whose parents cannot afford to buy them gifts for Christmas.
One of my favorite holiday traditions — our annual @ToysForTots_USA celebration. Thanks @USMC for your service to our country and for spreading holiday magic to children in need. pic.twitter.com/P7syRpP14v

— Tim Cook (@tim_cook) December 8, 2018
Last year, Apple's holiday Beer Bash featured a live performance by singer Gwen Stefani.
Note: Due to the political nature of the discussion regarding this topic, the discussion thread is located in our
Politics, Religion, Social Issues
forum. All forum members and site visitors are welcome to read and follow the thread, but posting is limited to forum members with at least 100 posts.
Apple appears to be readying the release of a new Smart Battery Case for the iPhone XS, and possibly versions for the iPhone XS Max and iPhone XR too, based on information uncovered by
9to5Mac
's Guilherme Rambo.

Rambo uncovered references to three model identifiers for the case in iOS code, including A2070, A2071 and A2171, suggesting that Apple could release the case in three different sizes for the iPhone XS, iPhone XS Max, and iPhone XR. Another identifier found in the iOS code reportedly points towards a 2018 release.
Apple's first Smart Battery Case was
for the iPhone 6 and iPhone 6s
, and was equipped with a 1,877 mAh battery that protruded out of the back of the case. Apple later released an
iPhone 7 version
with a similar design but larger 2,365 mAh battery. Both cost $99 in the United States, with the latter still available.
9to5Mac
earlier
found an icon in the watchOS 5.1.2 beta
that appears to correlate to the new Smart Battery Case. The icon suggests the case will have a Lightning connector, but it's unclear if wireless charging will be supported. It also looks like the new cases might not have a "chin" extending past the bottom of the iPhone.
It's not out of the ordinary for Apple to release new accessories in December, with the original Smart Battery Case
launching this month in 2015
and AirPods launching in December 2016 after a multi-month delay.
Apple today began
selling a new Beddit sleep monitor
on its online store after
receiving FCC clearance for the product
earlier this week.

The new version has a model number of 3.5 and retails for the same $149.95 price as the previous model 3.0. The new version looks similar to the previous one, but it is ever so slightly smaller and lighter. It remains 2mm thin.
This represents Apple's first update to the sleep monitor since it
acquired Beddit in May 2017
. It remains an ultra-thin 2mm flexible sensor strip that is designed to be placed under the sheet on top of the mattress and automatically begins tracking sleep-related data when you lie down for sleep.
The data collected includes sleep time and efficiency, heart rate, respiration, temperature, movement, snoring, room temperature, and room humidity. The data can be viewed in the
new Beddit 3.5 app
or Health app on an iPhone or iPad. The old Beddit app is
now designated for model 3.0
.
The new version is also
listed on Beddit's website
. It is compatible with the iPhone 5s or later with iOS 12 or later and all Apple Watch models with watchOS 4.3 or later.
(Thanks, Jordan!)
Bluesound today announced that its Generation 2i line of high-fidelity wireless speakers and home theater systems will each
receive a software update on December 11
that will enable
AirPlay 2
, including the Pulse 2i, Pulse Mini 2i, Pulse Flex 2i, Pulse Soundbar 2i, Node 2i, Powernode 2i, and Vault 2i.

With the AirPlay 2 update, multi-room audio playback will be possible between multiple Generation 2i speakers or systems and other AirPlay 2-enabled devices, including the HomePod, Apple TV,
select speakers from Sonos
,
Libratone
, and
Bang & Olufsen
, and
select audio receivers from Denon and Marantz
.
AirPlay enables users to easily stream audio from Apple devices to Generation 2i speakers, including music, movies, videos, news, podcasts, radio, audiobooks, and more from apps such as iTunes, Netflix, and YouTube on a Mac or iOS device.
AirPlay also allows for Siri control of Apple Music or Podcasts playback via iPhone, iPad, iPod touch, HomePod, and Apple TV.
Generation 2i speakers and systems will appear in the AirPlay Picker within most apps and in Control Center on devices running iOS 11.4 or later. With AirPlay 2, the speakers can also be added to the Home app on iPhone, enabling users to control all of their HomeKit and AirPlay-enabled products from one place.
Using the
BluOS Controller app
for iPhone or iPad, it will be possible to group older Bluesound speakers and systems with a Generation 2i speaker or system, allowing them to stream the same AirPlay 2 content throughout the home.
AirPlay 2 is Apple's latest wireless streaming protocol, released in May. Apple maintains a
list of supported speakers
on its website.
Apple has acquired
Platoon
, a London-based A&R startup focused on discovering rising music artists, according to
Music Business Worldwide
.

Platoon was founded in 2016 by Saul Klein, co-founder of defunct British video-on-demand service LoveFilm, and
Denzyl Feigelson
, who is a 40-year music industry veteran and has been advisor to Apple about matters related to iTunes and later Apple Music since 2003, according to his LinkedIn profile.
The startup reportedly worked with California singer Billie Eilish before she signed to Interscope in 2017. The 16-year-old recently debuted a new song "Come Out And Play" as the backdrop to
Apple's "Share Your Gifts" holiday ad
.
Feigelson will lead Platoon's team of 12 full-time employees from its London headquarters, where it has two recording studios, according to the report. Platoon is expected to continue supporting artists across areas including tour support, original content, social media marketing, and global expansion strategies.
A&R
, for those unaware, is all about talent scouting and overseeing the artistic development of recording artists and songwriters. A&R representatives often act as a liaison between artists and record labels or publishing companies.
Typically when Apple makes an acquisition, it issues a statement that reads "Apple buys smaller technology companies from time to time, and we generally don't discuss our purpose or plans." Apple has yet to confirm the Platoon acquisition, however, and some acquisitions turn out to be acqui-hires instead.
If the acquisition did happen, though, it will likely aid the Apple Music team's ability to continue discovering original music from up-and-coming artists. Apple Music already highlights emerging artists through its
"Up Next" program
.
Update:
British newspaper
The Telegraph
also reports that Apple has acquired Platoon, citing a source close to Apple.
DxOMark
today published the results of its in-depth analysis of the iPhone XR's single-lens rear camera. Apple's flagship smartphone achieved an overall score of 101 points, surpassing Google's Pixel 2 to make it the top-ranked single lens phone in the site's rankings.

In its testing, DxOMark found the iPhone XR to offer "a very similar proposition for image quality as the flagship iPhone XS Max," across key photo attributes like exposure, color, detail, noise, and artifacts.
Both devices also achieved the same overall score for video, but the dual lenses of the iPhone XS Max meant the XR fell behind on zoom and bokeh shots, although DxOMark noted that Apple had managed to improve the flash on the more affordable single-lens iPhone.

Colored panels shot on iPhone XR
The review adds that the iPhone XR has very good exposure and dynamic range in bright light and indoor conditions, while detail is well-preserved in all lighting conditions with "vivid and pleasant colors in most situations."

Apple iPhone XR, HDR test scene
The few cons the review noted included the visibility of fine grain luminance noise in indoor and low-light conditions, while video was criticized for instabilities in white balance when filming indoors.

Apple iPhone XS Max, HDR test scene for comparison
DxOMark concludes that the photographic capabilities of the iPhone XR are "broadly similar to those of the XS/XS Max" which should make the less-expensive model "desirable to many Apple enthusiasts looking to upgrade their smartphone."
"Compared to the Google Pixel 2, which is the best single-cam smartphone we'd tested up until now, the results are very comparable in many areas, but thanks to improved results for noise and particularly for artifacts, the iPhone XR just nudges it out of first place to become our top-ranked single-cam smartphone."

For its
scoring and analysis methodology
, DxOMark says its engineers capture and evaluate over 1,500 test images and more than two hours of video both in controlled lab environments and in natural indoor and outdoor scenes, using the camera's default settings.
DxO is a well-known French image lab that has been reviewing smartphone cameras for several years, but they aren't immune to
criticism
, which just goes to show how subjective image quality can sometimes be.
The Australian parliament on Thursday passed controversial encryption legislation that could result in tech companies being forced to give law enforcement access to encrypted customer messages.
As we
reported
in October, Apple opposed the legislation in a
seven-page letter
to the Australian parliament, calling the encryption bill "dangerously ambiguous" and wide open to potential abuse by authorities.

Advocates of the bill, officially titled "
Assistance and Access Bill 2018
," argue it is essential to national security because encrypted communications are used by terrorist groups and criminals to avoid detection.
CNET
provided a breakdown on the Australian bill and the three tiers of law enforcement and state agency assistance it covers:
Technical assistance request: A notice to provide "voluntary assistance" to law enforcement for "safeguarding of national security and the enforcement of the law."
Technical assistance notice: A notice requiring tech companies to offer decryption "they are already capable of providing that is reasonable, proportionate, practicable and technically feasible" where the company already has the "existing means" to decrypt communications (e.g. where messages aren't end-to-end encrypted).
Technical capability notice: A notice issued by the attorney general, requiring tech companies to "build a new capability" to decrypt communications for law enforcement. The bill stipulates this can't include capabilities that "remove electronic protection, such as encryption."
The Australian government insists that the laws don't provide a backdoor into encrypted communications, however Apple says says the language in the bill permits the government to order companies who make smart home speakers to "install persistent eavesdropping capabilities" or require device makers to create a tool to unlock devices.
Likewise, the joint industry lobby group DIGI, which includes Amazon, Facebook, Google, Oath, and Twitter, said they were willing to work with the government to promote public safety, but the laws could "potentially jeopardize the security of the apps and systems that millions of Australians use every day."
Apple has fought against anti-encryption legislation and attempts to weaken device encryption for years, and its most public battle was against the U.S. government in 2016 after Apple was
ordered
to help the FBI unlock the iPhone owned by Syed Farook, one of the shooters in the December 2015 attacks in
San Bernardino
.
Apple opposed the order and claimed that it would set a "dangerous precedent" with serious implications for the future of smartphone encryption. Apple ultimately held its ground and the U.S. government backed off after finding an alternate way to access the device, but Apple has continually had to deal with further law enforcement efforts to combat encryption.
Note: Due to the political nature of the discussion regarding this topic, the discussion thread is located in our
Politics, Religion, Social Issues
forum. All forum members and site visitors are welcome to read and follow the thread, but posting is limited to forum members with at least 100 posts.
Apple today
released the watchOS 5.1.2 update
to the public, and the update implements a much-anticipated ECG feature for all Apple Watch Series 4 users in the United States.
Following the launch of the new update, we installed the software and went hands-on with the ECG function to see just how it works.
Subscribe to the MacRumors YouTube channel for more videos.
An ECG, or electrocardiogram, is designed to measure the electrical activity of the heart to detect abnormal rhythms and diagnose serious heart conditions.
The Apple Watch Series 4 allows users to take a single-lead electrocardiogram to keep an eye on heart health. This isn't as informative or as sensitive as the multi-lead ECGs you might get in a doctor's office or hospital, which use several points of contact, but it provides valuable information for those who might not even be aware of a heart condition.
The ECG feature in the Apple Watch uses electrodes built into the sapphire crystal of the Apple Watch (where the heart rate sensor is located) and the Digital Crown that work together to detect the electrical impulses from your heartbeat and route the data to the S4 processor in the device, where it is converted into a signal for Apple's algorithms.

You can take an ECG using the built-in ECG app on the Apple Watch, which walks you through the steps. You'll need to place a finger on the Digital Crown of the Apple Watch and wait for approximately 30 seconds while the measurement is taken.

You'll see a countdown on your wrist, which is designed to let you know just how long your finger needs to stay in place before you can move it.

Following the conclusion of the ECG, Apple will provide a heart rhythm classification that can be shared with your doctor. If your heart is beating in a normal rhythm, Apple will let you know that a standard sinus rhythm has been detected. If your heart is not beating normally, however, the app will let you know that atrial fibrillation has been detected.
If atrial fibrillation is detected, Apple will suggest that you get in touch with your doctor for further testing.
All ECG results captured with the Apple Watch Series 4 are stored in the Health app in a format that's easy to export and share with your doctor.

Apple has received de novo FDA clearance for the ECG feature in the Apple Watch Series 4, but FDA clearance is not the same as full FDA approval. The FDA does not recommend that the ECG feature be used by those under 22 or those who have already been diagnosed with atrial fibrillation.
The Apple Watch Series 4's ECG function is not designed to replace traditional methods of diagnosis or treatment, and Apple intends for it to be used for informational purposes.
At the current time, Apple Watch Series 4 owners in the United States are the only Apple Watch customers who can take an ECG because the feature needs regulatory approval to be made available in other countries. Apple is working to expand the feature to additional countries.
While the ability to take an ECG is limited to Apple Watch Series 4 users, Apple is implementing a secondary feature designed to send Apple Watch Series 1, 2, 3, and 4 users a notification if an irregular heartbeat is detected via the normal heart rate sensor in the device.
What do you think of the ECG option in the Apple Watch? Let us know in the comments.
Apple today
released watchOS 5.1.2
, which enables the ECG app on Apple Watch Series 4 models. However, as Apple made clear, the ECG app is currently only available in the United States and its territories of Puerto Rico, Guam, and the U.S. Virgin Islands, preventing it from being used internationally at this time.

Many software features on Apple devices are initially limited to the United States, but international users have often been able to simply change their iPhone or Apple Watch region to the United States to gain access.
That's not the case with the the ECG app on the Apple Watch Series 4, though, as it only functions on models purchased in the United States. Those who live in and bought an Apple Watch in Canada, the UK, or elsewhere abroad can't use the region-switching trick to enable the ECG app — it doesn't work.
Note that the ECG app requires an Apple Watch Series 4 with watchOS 5.1.2, paired with an iPhone 5s or newer with iOS 12.1.1.
Both the ECG app and irregular heart rhythm notifications are regulated features on the Apple Watch. Both features have been granted De Novo classification by the FDA for users 22 years and older in the United States. Apple says people already diagnosed with atrial fibrillation should not use the app.
It's unclear when the ECG app will expand to additional countries, but Apple Watch Series 4 models sold internationally do have the necessary electrical heart sensor. Apple is
likely in the process of gaining clearance for the ECG app in other countries
, but it has yet to comment on wider availability.
Apple is reportedly in negotiations to purchase the rights to Israeli drama series "Nevelot" (or, "Bastards"), which is described as a violent and mature drama series (via
CNBC
). Richard Gere could star in the adaptation, which is being written and created by "Homeland" creator Howard Gordon and "Law and Order: SVU" showrunner Warren Leight.

Image via Variety / Rex Features
Apple is said to be in a bidding war with Showtime, FX, and Amazon for the show, which revolves around two military veterans who go on a killing spree targeting young people, "because they believe today's kids don't understand the sacrifices of their generation." Gordon and Leight would reformat the show for the American market, and potentially change the title.
Right now, all sides are said to still be in talks, and nothing is finalized. If certain agreements can't be reached -- like the budget -- then it has a risk of falling through.
Apple's interest in such a mature-themed series comes in stark opposition to previous reports we've heard about its upcoming string of TV shows. Most notably,
in a September report
The Wall Street Journal
claimed that Apple would be unlikely to produce original content that contains gratiuitous sex, violence, profanity, or risqué storylines in an effort to avoid tainting its wider brand image.
Unless the entire concept of "Bastards" is changed, it appears like the show would include most, if not all, of those adult pieces of content.
CNBC
's report today suggests that Apple is on the hunt for its own "Breaking Bad", a show with a Mature Audiences rating that aired on AMC from 2008 through 2013.
Additionally, Apple is said to be looking for "different" content, as long as it has substance and isn't gratuitous. The search is said to be emphasizing unusual formats that won't fit in the traditional 30-minute and 60-minute time slots. The company is also experimenting with more advanced interactive and immersive content of some kind, but these plans are painted as a "long-term vision" for Apple's original content efforts, and not indicative of the more straightforward shows we'll see when everything first launches next year.
In one final tidbit from today's report, the long-in-production morning show drama starring Reese Witherspoon and Jennifer Aniston is said to be called "Top of the Morning," the same as the book it's based on. For a list of every show coming from Apple, check out our full
Apple TV Roundup
.
Apple today shared a pair of heartfelt videos titled
Real Stories
and
Real Stories: Michael
on its YouTube channel.

The first video focuses on the Apple Watch's potential to save lives, including a man who crashed while kitesurfing and used his Apple Watch to call his son, a 13-year-old boy whose Apple Watch alerted him to an elevated heart rate, a mother in a car crash who called 911 from her Apple Watch, and a man with blood clots.
"People reach out to Apple all the time to share how Apple Watch has become an indispensable part of their lives," said Apple in the Real Stories video description. "Here are some of their stories."
The second video highlights the story of Michael Jackson, from Duluth, Minnesota, who was born with spastic quadriplegia cerebral palsy. One night, he was woken up by an Apple Watch notification about an elevated heart rate, rushed to the emergency room, and found to have sepsis, a potentially fatal condition.
"Many people reach out to Apple to share how receiving heart rate notifications on Apple Watch has helped them recognize and react to serious conditions," the second video description reads. "Here is Michael's story."
The videos coincide with
today's release of watchOS 5.1.2
, which enables the ECG app on the Apple Watch Series 4 in the United States.