Apple will remove the ability to enter and monitor blood glucose data in its Health app because of reported issues with measurement from users in the UK and Australia, reports CNET.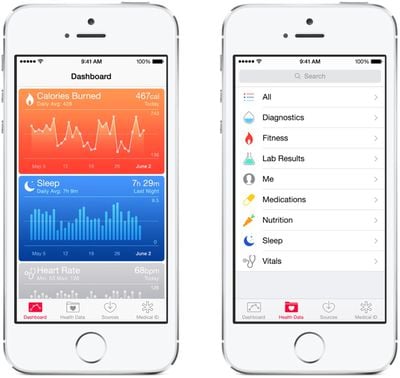 Currently, the app allows users to manually enter view blood glucose values in mg/dL (milligrams per deciliter) or mmol/L (millimoles per liter). However, Apple notes that the Health app has an issue with devices that display mmol/L, as those values cannot be entered or displayed in the Heath app.
An Apple support page published on the matter states that the company will soon release a software updated that will temporarily remove the ability and states that data will not be deleted:
If you have previously entered values manually in the Health app, you'll no longer see this data in the Health app after the update. However, your data won't be deleted, and other apps with permission to read health data will still have access to blood glucose values that you previously entered.

Third-party apps will continue to be able to support both units of measurement and can continue to use HealthKit APIs to store blood glucose data.
It is unknown if a fix will come Apple's forthcoming iOS 8.1 software update or through a potential iOS 8.0.3 update. Before the public launch of iOS 8, Apple confirmed that it had discovered a "bug" in HealthKit and pulled HealthKit-related apps from the App Store. Apple eventually released iOS 8.0.1 with fixes for HealthKit, and once again allowed HealthKit-enabled apps to be on the App Store.