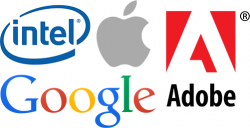 U.S. District Judge Lucy Koh in a San Jose, California courtroom on Monday raised no objections about a
$415 million settlement
that would end an ongoing anti-poaching class-action lawsuit involving Apple, Google and other large tech companies. Koh rejected a previous
$324.5 million settlement
last August after one of the plaintiffs in the case objected because the deal was too low, according to
Reuters
.
Tech workers filed the antitrust class-action lawsuit in 2011 against Apple, Google, Adobe and Intel, alleging that the four companies reached anti-poaching agreements that resulted in less job mobility and lower salaries. Apple and Google were accused of signing one of the earliest wage-fixing deals in 2005, although the anti-poaching agreements
extended far beyond
those companies. According to court documents, up to one million tech employees may have been affected by the agreements.
Apple has launched a worldwide "Shot on iPhone 6" advertising campaign involving 77 photographers, 70 cities and 24 countries, with iPhone 6 photography to be featured in magazines, newspapers, billboards, transit posters and more. The large-scale marketing initiative has started rolling out in several countries across the world this week, including the United States, Canada, United Kingdom, Thailand, Malaysia, Tokyo and United Arab Emirates.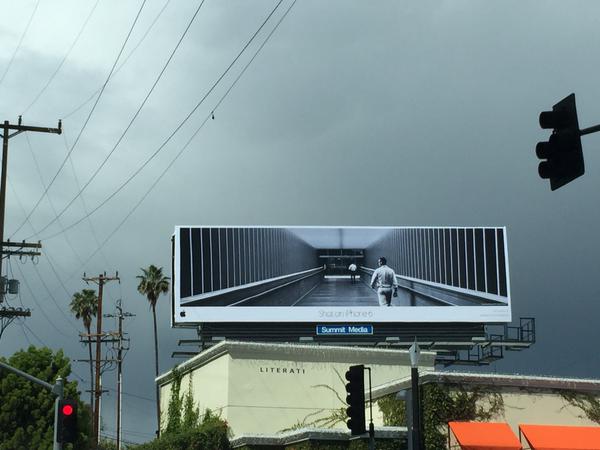 "Shot on iPhone 6" photo on billboard in Los Angeles (via Twitter)
A number of "Shot on iPhone 6" advertisements have begun surfacing on Twitter and Instagram over the past few days, with spots appearing on the
back cover of The New Yorker
magazine, horizontal posters in London's
Euston Square
subway station and in the Malaysian city of
Bangsar
, billboards in
Los Angeles
and
Toronto
, the side of a tall skyscraper in
Dubai
and more.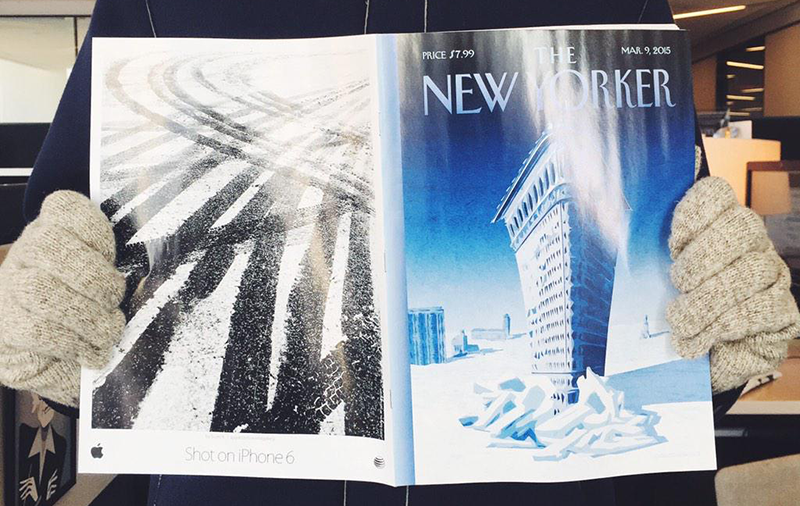 "Shot on iPhone 6" photo on back cover of The New Yorker (via Twitter)
The photography campaign began with Apple promoting a
world gallery of photos
taken with the iPhone 6 on its homepage over the weekend, including photo apps such as
Instagram
,
Snapseed
,
VSCO Cam
,
Filterstorm Neue
,
Camera+
and
Adobe Photoshop Express
used for editing and filtering. The majority of photos shown provide scenic views of the outdoors, ranging from mountains and deserts to lakes and waterfalls.

There's a new Steve Jobs book set to be published later this month, penned by Brent Schlender, a reporter who interviewed Jobs several times throughout his life and became close to him, and Rick Tetzeli, Executive Editor at Fast Company. Called
Becoming Steve Jobs
, the book aims to go beyond existing myths and stereotypes about Jobs, giving a look at a man who was only human, who "wrestled with his failings and learned to maximize his strength over time."
The book explores the story of how Steve Jobs made the transformation from an arrogant young man exiled from Apple to the visionary leader that skyrocketed Apple to fame. Schlender and Tetzeli interviewed many of Steve Jobs' friends, family, and inner circle, to get access to never-before-told stories. Tim Cook, Jony Ive, Eddy Cue, Ed Catmull, John Lasseter, and Robert Iger all contributed to the book. It also draws on the experiences Schlender had with Jobs in interviews across many years.
Schlender and Tetzeli make clear that Jobs's astounding success at Apple was far more complicated than simply picking the right products: he became more patient, he learned to trust his inner circle, and discovered the importance of growing the company incrementally rather than only shooting for dazzling game-changing products. .
Daring Fireball
's John Gruber received an advanced copy of
Becoming Steve Jobs
and called it "the book about Steve Jobs that the world deserves." According to Gruber, it's an accurate retelling of the life of Jobs, with a "significant amount of new reporting. Some stories, he writes, "are going to be sensational."
The book is smart, accurate, informative, insightful, and at times, utterly heartbreaking. Schlender and Tetzeli paint a vivid picture of Jobs the man, and also clearly understand the industry in which he worked. They also got an astonishing amount of cooperation from the people who knew Jobs best: colleagues past and present from Apple and Pixar -- particularly Tim Cook -- and his widow, Laurene Powell Jobs.
A hardcover copy of
Becoming Steve Jobs
can be
pre-ordered on Amazon.com
for $21.78. There's also an iBooks version available for $14.99. [
Direct Link
]
Apple today made a pre-release version of OS X Yosemite 10.10.3 available to those who are signed up for the company's OS X public beta program, giving them early access to the new update and the new Photos for OS X app.
The public beta carries a build number of 14D87p, a slightly later build number than the 14D87h from the second developer beta of the software,
released last week
.
All registered public beta test members should be able to download OS X Yosemite through the Mac App Store.
OS X 10.10.3 includes access to the new Photos app, which is designed to serve as a replacement for Aperture and iPhoto.
Early reviews have suggested
the new software improves upon iPhoto, but leaves out many power features Aperture users have become accustomed to.
Along with the Photos app, OS X 10.10.3 also includes a redesigned single-page emoji picker that's organized into categories, and it introduces
new diversified emoji and emoji skin tone modifiers
. There are also new flag emoji for many countries, and some updates to existing emoji to better reflect Apple products -- the watch emoji is now an Apple Watch, the cell phone resembles an iPhone 6, and the computer is an iMac.
Smaller additions in OS X 10.10.3 include support for Google 2-step verification when setting up accounts in System Preferences.

Following several weeks of rumors about Apple's car-related projects, a recent move by the company to expand trademark coverage of the
"Apple" name
and iconic
Apple logo
in Switzerland to include vehicles is gaining attention, as noticed by
ApfelBlog.ch
[
Google Translate
] (via
Cult of Mac
).
While the expansion, which also
occurred
in
Mexico
on the same date last month, is unsurprisingly sparking discussion about Apple's efforts in the automotive industry, it is not exactly a new development. Various other Apple trademark applications over the years have included protection under International Class 12, which covers vehicles and their accessories. A
European Union filing
from October 2003 describes a similar vehicle-related corporate trademark, and others such as a
United Kingdom filing
from last year have been filed since that time.
Each trademark filing goes through the same basic motions in mentioning various types of vehicles and vehicle-related devices to be covered.
Vehicles; Apparatus for locomotion by land, air or water; electronic hardware components for motor vehicles, rail cars and locomotives, ships and aircraft; Anti-theft devices; Theft alarms for vehicles; Bicycles; Golf carts; Wheelchairs; Air pumps; Motorcycles; Aftermarket parts (after-market parts) and accessories for the aforesaid goods.
One issue with interpreting trademark applications is the common strategy of trying to cover as broad a base as possible in order to maximize protection, and thus it is difficult to tell whether Apple's new vehicle-related applications are related to the rumored projects or something simpler such as CarPlay. Apple also currently holds "iPhone," "Mac," and "iPod" trademark protection under Class 12 in several countries.
The Swiss and Mexican filings come on the heels of a recent deluge in Apple car-related news that began when a
mysterious van
leased to the company was seen on Bay Area streets. Further news on the company
hiring employees
from Tesla, Ford and GM, and reports stating the so-called "Project Titan" is
aiming to launch
in 2020 have led some to believe the vans are related to Apple's vehicle project, but they appear more likely to be an
attempt
to beef up Apple's Maps offerings with imagery similar to Google's Street View.

Apple CEO Tim Cook reportedly said at the company's flagship Apple Store in Berlin that the Apple Watch launch in April will not be limited to the United States, according to retail employees in attendance that spoke with
9to5Mac
.
Cook specifically confirmed that the Apple Watch will launch in Germany during the month of April, indicating that a wider international launch in other countries could be on the horizon.
MacRumors
previously reported that Apple is
targeting an early April release dat
e for the Apple Watch based on a source that has proved reliable.
The report corroborates that the Apple Watch may be released in the United States in early April, followed by Germany and other countries later in the month. The first wave of countries that Apple has often launched previous iPhones and iPads in typically includes the United States, Canada, United Kingdom, France, Germany, Australia, Hong Kong, Singapore and Japan. Cook did not confirm that the Apple Watch would launch in April in all of those countries.
Apple Watch starts at $349 and will be available in three models: Apple Watch Sport, Apple Watch and Apple Watch Edition. Apple is expected to provide more details about the wrist-worn device at its highly-anticipated
"Spring Forward" media event
on March 9th at the Yerba Buena Center for the Arts in San Francisco.
MacRumors
will be providing live coverage of the event, which should provide more specific pricing and release date information about Apple's first wearable device.

Apple Watch continues to make its international debut in magazines worldwide with a new
cover appearance
and
multi-page spread
in Hong Kong street fashion and lifestyle magazine
East Touch
this month. The latest March issue of the Chinese-language magazine features the Apple Watch and Apple Watch Sport being worn by several models in various lifestyle shots.
In the past few months, the Apple Watch has made magazine debuts in a range of other publications such as on the cover of
Self
magazine,
Vogue
in the United States, Paris, and China, and London-based fashion magazine
Style
, as part of a marketing campaign leading up to the wrist-worn device's launch in April.
To further market the Apple Watch in the fashion industry, Apple is planning to open dedicated pop-up shops at
Selfridges in London
,
Galeries Lafayette in Paris
and other high-end department stores across Europe. The stores will provide customers with a personalized shopping experience, potentially including One to One service for visitors to learn more about all of the different editions, sizes and bands available.

Apple is expected to provide more details about the Apple Watch at its highly-anticipated
"Spring Forward" media event
on March 9th at the Yerba Buena Center for the Arts in San Francisco. We will be providing live coverage of the event, which should provide more specific pricing and release date information about Apple's first wearable device.
Apple has refreshed its homepage to showcase a
gallery of photos
taken with iPhone 6 across the world, unsurprisingly coinciding with today's announcements of the
Samsung Galaxy S6
and HTC One M9 at Mobile World Congress in Barcelona. The gallery shows photos taken by iPhone 6 users in several countries, including the United States, Canada, Japan, Iceland, South Korea, China, Scotland, Indonesia, Thailand and New Zealand.

Some of the photos have been filtered, enhanced or shared with apps such as Instagram, Snapseed, VSCO Cam, Mextures, Filterstorm Neue, Camera+ and Adobe Photoshop Express. "People take incredible photos and videos on iPhone 6 every day," writes Apple. "And here are some of our favorites. Explore the gallery, learn a few tips, and see what's possible with the world's most popular camera."
Update 2:00 PM PT:
Rene Ritchie at
iMore
reports that this is just the beginning of an iPhone 6 photography campaign involving 77 photographers, 70 cities and 24 countries. Apple will be featuring photos taken with an iPhone 6 in print media, transit posters and billboards across the world.
"From Sydney to Beijing to San Francisco to New York City to London and more, Apple will feature the iPhone photographers and their work on posters at transit stops and stations and in newspaper ads and on billboards. Not the iPhone 6. Not its camera. Not product shots. But shots taken by the product — by the iPhone 6 camera."
Samsung at Mobile World Congress on Sunday announced its latest flagship smartphones, the Galaxy S6 and Galaxy S6 Edge, each compatible with a new mobile payments service called Samsung Pay. The smartphones are a significant refresh to the Galaxy lineup, featuring a slimmer and lighter metal and glass design, all-new front and rear cameras, improved hardware specifications under the hood and more.

Samsung Galaxy S6 and Galaxy S6 Edge (via The Verge)
The Galaxy S6 Edge is notable in that it is the first smartphone to feature a curved display on both sides of the device, constructed from Gorilla Glass 4. Both smartphones have 16-megapixel rear-facing cameras and 5-megapixel front-facing cameras with f/1.9 lenses for improved low-light photos, Auto HDR, optical image stabilization, IR white balance and a "Quick Launch" feature for accessing the camera from any screen in less than one second.
Samsung's Galaxy S6 and Galaxy S6 Edge have improved hardware specifications in most areas, each featuring a 5.1-inch 2560×1440 Super AMOLED display at 577 ppi, Exynos 8-core processor, 3GB of RAM up, 32GB to 128GB of internal storage, Category 6 LTE, 802.11/a/c Wi-Fi, Bluetooth LE, NFC and 2,550 mAh and 2,600 mAh batteries respectively. The devices will run Android 5.0 Lollipop out of the box.
Notably absent from the Galaxy S6 and Galaxy S6 Edge is a MicroSD slot for expandable storage, waterproofing and a removable battery, three features that Samsung often promoted over the iPhone in the past. The smartphones do gain a feature that the iPhone does not have in wireless charging with support for WPC and PMA standards, allowing you to charge the device at Starbucks or using Qi-enabled chargers.
Samsung introduced a new fingerprint scanner on the Galaxy S6 and Galaxy S6 Edge, to be used for Samsung Pay, that functions like Touch ID on iPhone by no longer requiring swiping. Samsung Pay will be available this summer and rival Apple Pay with NFC and magnetic secure transmission (MST) technologies that make the service compatible with both NFC-enabled payment terminals and older magnetic swipe readers.
The Galaxy S6 and Galaxy S6 Edge will be available April 10 across several countries worldwide in White Pearl, Black Sapphire, and Gold Platinum color options. A special Blue Topaz edition will be exclusive to the Galaxy S6. The smartphones will be available on AT&T, Verizon, Sprint and T-Mobile in the U.S., and will also be on sale through Amazon, Best Buy, Costco, Target, Walmart and Sam's Club.

With Apple's
media event
just a week away and the company expected to offer final details there on the Apple Watch ahead of its April debut,
The New York Times has a new report out
sharing a few new tidbits on the device.
Among the interesting details is the existence of an unannounced "Power Reserve" mode for the watch that will display only the time and cut off all other functions as the battery begins to run critically low, preserving the most basic functionality of the watch. The report also notes that while the Apple Watch has been widely tested by Apple employees, the company did work to conceal many of those prototypes by disguising them to resemble Samsung smartwatches.
Sources have also provided more context to a
Wall Street Journal article
from last month that discussed how many of the originally planned health features for Apple Watch were dropped due to consistency issues. According to
The New York Times
' sources, the decision to drop many of those features came more than 18 months ago, refuting
off-target reports
in recent weeks claiming the cuts have come at the last minute.
Nearly two years ago, the company experimented with advanced health monitoring sensors that tracked blood pressure and stress, among other variables. Many of those experiments were abandoned more than 18 months ago after the sensors proved unreliable and cumbersome, these people said.

Apple long ago decided that for the first version of the product, it would include a heart rate sensor and a sensor for tracking movement, to market the device as a fitness-tracking companion to the iPhone.
Previous reports have indicated Apple is still working on those technologies, and they could appear in future versions of the Apple Watch.
Today's report reveals some additional insight into the development process, noting that the Apple Watch is coming a bit later than originally hoped due to technical challenges that were likely exacerbated by the loss of several engineers working on the project. Google's Nest Labs, headed by iPod pioneer Tony Fadell, was responsible for poaching several of the key Apple Watch employees.
Apple's media event will take place at 10:00 AM Pacific Time on Monday, March 9 at the Yerba Buena Center for the Arts in San Francisco. The company will offer a
live video stream
of the event, and
MacRumors
will provide full coverage of the event.
Apple is planning to open a dedicated pop-up shop for the Apple Watch at high-end department store Selfridges in London, according to sources. The shop will likely be located near the entrance of the iconic Wonder Room, a 19,000-square-foot shopping hall that houses a wide selection of luxury jewelry and watch brands alongside a concept store and mezzanine wine bar.

Wonder Room at Selfridges in London houses fine jewelry and watches
A section of Selfridges located near the Wonder Room was boarded up earlier this month to allow for construction of the expected Apple Watch pop-up shop, sources say. The store-within-a-store concept will display various Apple Watch models and provide customers with a personalized shopping experience, potentially including One to One service for those interested in learning more about the wrist-worn device.
Apple is recruiting retail employees from nearby Apple Stores in London to fill Specialist vacancies at an upcoming Central London location, which is likely to be this Selfridges boutique. The pop-up shop is expected to be readied in time for the Apple Watch launch in April and will likely join
Galeries Lafayette
as one of multiple standalone Apple Watch stores that Apple plans to open throughout Europe.
Selfridges has the second-largest retail space in the United Kingdom behind competing high-end department store Harrods. The store offers a myriad of designer jewelry and accessories, such as watches, bracelets, earrings, necklaces, pendants and rings. With the Apple Watch positioned at least partially as a fashion item, the department store offers an ideal setting for the wrist-worn device to be displayed.
Apple is working on construction of an outdoor extension at the Yerba Buena Center for the Arts in San Francisco, as first reported by
9to5Mac
. The tented space will likely serve as an Apple Watch demo area at the upcoming
"Spring Forward" media event
on March 9th, where Apple is widely expected to provide further details about the Apple Watch's features, pricing and release date.

According to the tipster that submitted the original photo, there are security guards wearing "Apple Security" shirts monitoring the construction site, all but confirming that the external addition belongs to Apple. The company previously built a similar structure
outside of the Flint Center
as a demo area for the iPhone 6, iPhone 6 Plus and Apple Watch, so an exterior demo area would not be unprecedented.
Apple
sent out invites
for its "Spring Forward" media event earlier this week, and will also be providing a
live stream of the event
on its website for Mac, iPhone and iPad. The media event will take place at the Yerba Buena Center for the Arts in San Francisco on March 9th at 10:00 AM Pacific and should be focused on the Apple Watch ahead of the wrist-worn device's launch in April.