Xiaomi surprised at its Beijing event today by announcing the Mi Mix, the "world's first edgeless display" phone, alongside the company's new
Mi Note 2
.
Designed by French designer Philippe Starck, the Mi Mix is a 6.4-inch device that features a 2040x1080 pixel, 17:9 aspect ratio borderless display that takes up 91.3 percent of the front of the handset. The only significant bezel sits at the bottom of the screen, but it doesn't have a physical button, with all the controls existing onscreen.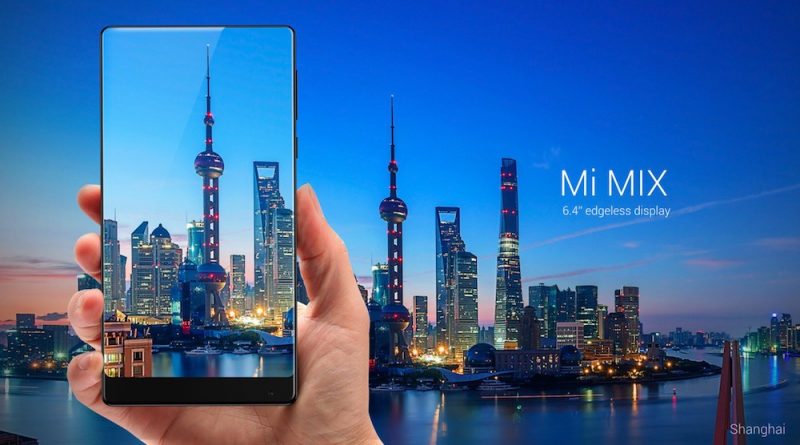 The all-ceramic phone uses a piezoelectric ceramic driver for the earpiece which uses the metal frame to generate sound, while the proximity sensor has been replaced by ultrasound. Both innovations are hidden under the display. The design also uses a mortise and tenon joint for attaching the display to the body, rather than glue or other adhesives.
Powering the phone is a Qualcomm Snapdragon 821 processor, with 4GB RAM for the 128GB capacity model and 6GB RAM for the 256GB model, which also features gold trim, with 18K gold accents on the camera lens and fingerprint sensor on the back.
The rear camera boasts a 16-megapixel resolution and 4K video, while the front camera is 5 megapixels. The phone is also said to have dual SIM connectivity and a 4,400mAh battery with Qualcomm Quick Charge 3.0 support.
#MiMIX Edgeless display (world's 1st), 93% screen-body ratio, piezoelectric ceramic earpiece speaker, behind-display ultrasonic proc sensor pic.twitter.com/33dywzDxKG

— Hugo Barra (@hbarra) October 25, 2016
Depicting the Mi Mix in
promotional videos
reminiscent of the Monolith from
2001: A Space Odyssey
, Xiaomi called the device a "concept phone", and yet offered both a price and a release date. The 4GB/128GB model costs RMB 3,499 ($515) and the 6GB/256GB model is RMB 3,999 ($590), with both handsets set to launch on November 4th in China.
The phone may give us some idea of what Apple's next phone could look like. Apple has a major iPhone redesign planned for 2017, with a glass body and
edge-to-edge OLED display
that includes an integrated
Touch ID
fingerprint sensor and front-facing camera. The handset is expected to lack bezels, meaning there will be no Home button. Jony Ive is said to have wanted to introduce an iPhone that looks like a single sheet of glass for several years, and 2017 may be the year that becomes possible.
Apple today released macOS Sierra 10.12.1, the first update to the macOS Sierra operating system that
first launched on September 20
. macOS Sierra 10.12.1 has been in beta testing since
September 21
, with Apple seeding
five betas
before releasing the final version to the public.
macOS Sierra 10.12.1 is available for free to all customers who are running macOS Sierra. It can be downloaded from the Software Update function in the
Mac App Store
.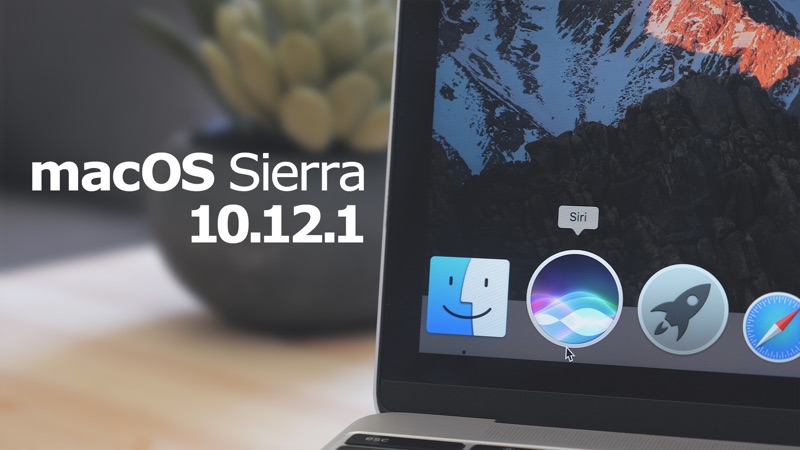 macOS Sierra 10.12.1 features few outward-facing changes, instead focusing on bug fixes and improvements to address issues that have surfaced since the release of the operating system. It does include Photos support for the new
iPhone 7 Plus Portrait feature
introduced with
iOS 10
.1, and it also includes features designed for
next-generation MacBook Pro models
that are set to be released later this year. Here's a full list of changes:
This update:

- Adds an automatic smart album in Photos for Depth Effect images taken on iPhone 7 Plus
- Improves the compatibility of Microsoft Office when using iCloud Desktop and Documents
- Fixes an issue that may prevent Mail from updating when using a Microsoft Exchange account
- Fixes an issue that caused text to sometimes paste incorrectly when using Universal Clipboard
- Improves reliability of Auto Unlock with Apple Watch
- Improves security and stability in Safari
Apple has been on an accelerated timeline to get macOS Sierra 10.12.1 released, and it has likely already been sent to Apple's supply chain partners to be installed on new machines. New
MacBook Pro
models could be ready to launch as soon as late October.
macOS Sierra is a major operating system update that introduces
Siri
support, cross device copy paste options, new storage optimization tools, auto unlocking with the Apple Watch, and more. For full details on the features that are new in macOS Sierra, make sure to
check out our full macOS Sierra roundup
.
Apple today released
iOS 10
.1 to the public, marking the first major update to the
iOS 10 operating system
that launched on September 13. In testing since September 21, iOS 10.1 saw Apple
release five betas
to developers and public beta testers before its public debut.
Today's iOS 10.1 update is available as a free over-the-air update for all iOS 10 users. It is the third update to iOS 10, following
iOS 10.0.3
, a minor bug fix update.

iOS 10.1 introduces
a new "Portrait" mode
, designed to take advantage of the two cameras included in the
iPhone 7
Plus, released in September. Portrait mode
uses the wide-angle and telephoto lenses
in the iPhone 7 Plus to create shallow depth of field portrait photos with blurred backgrounds.
To achieve the blurred look, the image signal processor in the device uses the wide-angle camera to create a depth map while the telephoto captures an image, dissecting the different layers of the photo to decide what to blur with an artful "bokeh" effect. It works on people, pets, and objects, but it does require good lighting to achieve the proper results.
Subscribe to the MacRumors YouTube channel for more videos.
The update also offers a long list of bug fixes and other under-the-hood improvements to address many problems that have been uncovered since iOS 10 was released, and it also brings Transit directions to Japan for the first time.
There have been some tweaks to the Messages app. It's now possible to play Bubble and Screen effects in Messages with Reduce Motion enabled, something that wasn't previously possible. There's also a new option to replay Bubble and Screen effects. A full list of changes is available below:
➜ Click here to read rest of article...
Just three days before Apple's
"Hello Again" event
, where it is widely expected to announce new Macs, French website
Consomac
has discovered a new
Russian-language regulatory filing
, in the Eurasian Economic Commission database, that points towards at least three new models running
macOS Sierra
launching soon.

The three new Macs, identified only with model numbers A1706, A1707, A1708, are likely to be new 13-inch and 15-inch
MacBook Pro
s alongside a new 13-inch MacBook, which could be a refreshed Air model, based on previous reports. However, adding confusion to the mix is the consecutive sequence of the model numbers.
The filing, published today, satisfies Russia's requirement for companies to register all products containing encryption and/or cryptographic tools.

Over the weekend, KGI Securities analyst
Ming-Chi Kuo
said he believes the highlight of Apple's event on Thursday will be a
redesigned MacBook Pro
in both 13-inch and 15-inch sizes, adopting an
OLED touch bar
and
Touch ID
sensor,
USB-C with Thunderbolt 3
, and the same butterfly keyboard design introduced on the MacBook in 2015.
The all-new MacBook Pro is also expected to have faster Intel Skylake processors and faster graphics, possibly including the option of
AMD "Polaris" graphics
on higher-end models. Kuo said Apple will offer a new option of 2TB SSD storage, while it or a third-party supplier will release a
MagSafe-like USB-C charging adapter
.
The new 13-inch MacBook, meanwhile, is likely to be a refreshed
MacBook Air
, which would align with other rumors claiming that only the 13-inch MacBook Air will be
seeing an update with new USB-C port
s. However, there is an outside chance the model could be a slightly larger version of the current 12-inch MacBook.
The loosely translated filing refers to the Macs as "portable personal computers," effectively ruling out the
iMac
and
Mac Pro
.
The
latest numbers
from market research firm IDC reveal Apple Watch shipments totaled an estimated 1.1 million units in the third quarter, reflecting a three-month period between July and September, a sharp 71.6% decline compared to an estimated 3.9 million Apple Watch shipments last summer.

The decline can be at least partially attributed to the lack of an Apple Watch refresh until the final two weeks of the quarter, when the
Apple Watch Series 2
and slightly updated first-generation models launched. The overall smartwatch market also declined an estimated 51.6% in the third quarter.
Apple still maintained its position as the overall leader of the worldwide smartwatch market with an estimated 41.3% market share, despite posting the second largest year-over-year decline among the leading vendors. Garmin finished in second with an estimated 20.5% market share following strong 342.2% growth.

Garmin's growing list of ConnectIQ-enabled smartwatches and the new fenix Chronos allowed it to leapfrog Samsung, which captured only 14.4% market share based on an estimated 400,000 smartwatch shipments, according to IDC. Lenovo and Pebble rounded off the top five with an estimated 100,000 shipments respectively.
Apple does not disclose Watch sales in its quarterly earning results, instead grouping the device under its "Other Products" category alongside the likes of iPods,
Apple TV
s, Beats, and accessories. The focus will now shift to the more important fourth quarter, encompassing the busy holiday shopping season.
On Sunday, Apple's original iPod celebrated the
15th anniversary
of its launch on October 23, 2001. The reveal of the iPod by former Apple CEO Steve Jobs in 2001 was preceded by the usual breadcrumb trail of mystery, rumors, and leaks, with most reports pointing to a new "
breakthrough digital device
" coming from the company later in the month. Apple even hinted itself that "it's not a Mac."

Some speculation went against rumors that the device would be an MP3 player, even
suggesting
it could be "something more sophisticated such as a component for a home digital stereo system." Still,
most reports
pointed toward the impending launch of the "iPod," a device that would allow customers to ditch their cumbersome CD players and listen to thousands of songs from one device in their pocket.
In the official keynote address, Jobs referred to the Mac as the focal point of the Apple customer's digital lifestyle, with the new iPod device as the ultra-portable, music-enabled addition to that lifestyle. The iPod launched for $399 with a 5GB hard drive that could hold up to 1,000 songs, a 10-hour battery life, a black and white LCD screen, came equipped with FireWire to enable a connection between it and iTunes on a Mac, and was the size of a deck of cards (2.4" wide, 4" tall, 3/4" thick).
A few individuals who were part of the iPod's launch looked back at the device over the weekend, although Apple itself remained silent on the topic. In the first official promotional video for the iPod, a collection of Apple executives and musicians -- including
Phil Schiller
, Jony Ive, and Moby -- are seen discussing the creation and impact of the device. Speaking with
Entertainment Weekly
, Moby remembers "how magical it was," and remarks on how much has changed with the iPod, and its successor in the iPhone, in 15 years.
"It's a little disconcerting when I look back at the past, but the past still sounds like the future," Moby says. "I remember when 2002 seemed like an unimaginably far time — like, really far away. Now it's like a distant past."

Technology is, obviously, the perfect physical encapsulation of this: "Remember those multicolored clamshell laptops that Apple had?" he says. "Now they seem old and clunky, like a weird pair of sneakers. But at the time, they just represented the future. The same thing with the iPod, at the time it was so futuristic, and now it just seems like an adorable relic."
The first alternative iPod lineup, dubbed the iPod mini, debuted in 2004, followed by the
iPod nano
and
iPod shuffle
in 2005. The
iPod touch
was eventually introduced as a non-cellular counterpart to the company's iPhone, and
became one of the longest-lasting iPod lines
to date (six generations), tied with the classic line, but behind the iPod nano (seven generations).
In 2016, Apple still manufactures and sells the iPod touch, iPod nano, and iPod shuffle, but the three devices have long been removed from the main toolbar navigation on its website, and are now
located under "Music."
The three current iPods on sale bear little resemblance to the original device's famous click wheel interface, which was mechanical in the first generation and touch-sensitive in subsequent lines. The last iPod with a click wheel, the iPod Classic, was
discontinued by Apple in 2014
and marked the sixth generation of the device.
The iPod began Apple's quest to make music a mainstay in its customers' lives by finding a seamless and effortless way for songs to be carried around, in opposition to the size of CD players and the general confusion at the time over how other MP3 players worked. Today, music is a bigger part of Apple than ever, with
Apple Music
slowly growing in subscribers
and the iPhone now essentially the modern version of the original 5GB iPod from fifteen years ago.
This week at a Mac-focused event, it's also expected that the company will debut the wireless "
AirPods
." The Bluetooth device will be the newest implementation of its ubiquitous headphone line, which began alongside the iPod in 2001.
KGI Securities analyst
Ming-Chi Kuo
has released a new research report outlining his expectations for next Thursday's "Hello Again" event where Apple is expected to make a number of Mac-related announcements.

In line with long-standing rumors, Kuo believes the highlight of the event will be a redesigned
MacBook Pro
in both 13-inch and 15-inch sizes, adopting an OLED touch bar and
Touch ID
sensor, USB-C, Thunderbolt 3, and the same butterfly keyboard design introduced on the MacBook in 2015. Kuo also adds several new tidbits to the rumor mix:
Our new predictions also include: (1) Intel's (US) Skylake processor; (2) the same panel resolution but better display quality and energy efficiency thanks to an oxide panel; (3) a new option of 2TB SSD storage capacity; (4) adoption of a similar processor as Apple Watch to control the OLED touch bar more energy-efficiently in the new MacBook Pro models; and (5) a Type-C & MagSafe-like adapter rolled out by Apple or a third-party supplier, given positive reviews for the MagSafe charging design.
Beyond the MacBook Pro, Kuo says Apple will also be introducing a "13-inch MacBook," a claim he has
shared previously
. Rather than being a slightly larger version of the current 12-inch MacBook, however, this is likely to be a
MacBook Air
, which would align with
other rumors
claiming that only the 13-inch MacBook Air will be seeing an update with new USB-C ports.
On the desktop side, rumors have indicated that Apple is working on
updated
iMac
models with discrete AMD graphics options, as well as a new standalone external 5K display, but Kuo says those products will not be ready until the first half of next year. It is still possible, however, that Apple could announce them at next week's event.
We also expect Apple to launch new iMacs (21.5-inch and 27-inch) and Cinema Display (27-inch) in mid- 1H17. We cannot say for certain whether Apple will announce the new iMacs and Cinema Display on October 27 as the shipping schedule is not imminent.
Apple's event is being held at the company's Cupertino campus and kicks off at 10:00 AM Pacific Time on Thursday.
MacRumors
will have full coverage both here on the site and on our
@MacRumorsLive
Twitter account, and Apple will be offering a
live video stream
of the event.
Amid rumors suggesting AT&T is
considering purchasing
Time Warner, the parent company of networks like CNN and HBO,
The Wall Street Journal
says Apple is keeping a close eye on the situation as it would have a major impact on the television industry and could potentially impact future television deals Apple might make with the two companies.
Apple at one time was reportedly
in talks with Time Warner
about a potential streaming television deal and has been rumored to have been interested in purchasing Time Warner assets at one time, but negotiations stalled and the two companies are no longer holding talks.

Apple Inc. a few months ago approached Time Warner Inc. about pursuing a combination, but the discussions didn't progress beyond a preliminary stage and none are currently under way, people familiar with the matter said Friday. [...]

From Apple's end, executives under Chief Executive Tim Cook were involved in the earlier talks, and now Apple is monitoring the current situation, one of the people said
Time Warner owns a huge number of assets that could have serve as the foundation of a streaming television service should Apple have struck a deal with the company. Networks like CNN, HBO, TBS, TNT, NBA TV, Cartoon Network, and Warner Bros. are all under Time Warner's umbrella, but with AT&T and Time Warner in "advanced talks" it seems unlikely Apple will do more than "monitor" the situation.
A deal between AT&T and Time Warner could be finalized as early as this weekend, but
The Wall Street Journal
suggests "a host of other contenders" could offer deals for Time Warner, putting an end to the AT&T acquisition.
Last year, Apple was pursuing a streaming television service that would allow it to offer a skinny bundle of channels from popular networks and cable companies for approximately $40 per month, but it wasn't able to establish the necessary deals and shelved its plans.
Apple is instead leveraging the
Apple TV
set-top box as a platform that allows cable companies and other content providers to offer television shows and apps through an Apple-designed interface and user experience.
Just this week
, Apple iTunes chief
Eddy Cue
said that television "needs to be reinvented" and called existing television interfaces "pretty brain dead."
Following their
addition to Apple.com
in the United States last month, Sonos speakers can now be purchased from Apple's website in several other countries.

Sonos Wi-Fi-connected PLAY:1 and PLAY:5 speakers are now available on Apple's online store in
Australia
,
Belgium
,
Canada
,
France
,
Germany
,
Italy
,
the Netherlands
,
Spain
,
Sweden
,
Switzerland
, and the
United Kingdom
.
Prices are set at $249 and $649 in Canada, $299 and $749 in Australia, £169 and £429 in the United Kingdom, and €229 and €579 in many other European countries. Prices may vary based on VAT and other regional taxes.
Apple is currently offering a free 3-month
Apple Music
gift card with the purchase of either speaker. The promotion is valid in the United States and all of the other aforementioned countries and runs until December 31.
Sonos speakers are also
available at 468 physical Apple retail stores
in the United States, Australia, Belgium, Canada, France, Germany, Italy, the Netherlands, Spain, Sweden, Switzerland, and the United Kingdom. In-store purchases likewise qualify for the free 3-month Apple Music gift card.

AT&T is in "advanced talks" to acquire media company Time Warner, and a deal could be finalized as early as this weekend, according to
The Wall Street Journal
.
Bloomberg
on Thursday said senior executives at AT&T and Time Warner
met in recent weeks
to discuss a possible merger, but it said the talks were informal at that stage.
The talks toward what likely would be a cash-and-stock deal have come together quickly, are fluid, and still could fall through, according the people familiar with the matter. An agreement also could be delayed, they said.
Time Warner CEO Jeffrey Bewkes has previously told investors he would entertain a sale of the media company, but only if it feels the price is right. In 2014, Bewkes and his board reportedly turned down an $85-a-share offer from 21st Century Fox, which valued Time Warner at more than $75 billion.
AT&T, looking to add more content and original programming, would gain a number of valuable assets from Time Warner, including CNN, HBO, TBS, TNT, NBA basketball, Cartoon Network and the Warner Bros. film and TV studio. Popular series airing on those networks include, among others,
Game of Thrones
and
Silicon Valley
.
New York Post
sources said
Apple was a possible suitor
to purchase Time Warner earlier this year, which
Financial Times
later said
was an idea proposed by Apple's services chief
Eddy Cue
. The discussions reportedly never progressed beyond the preliminary stage, however, and did not involve Apple CEO
Tim Cook
or Bewkes.
An acquisition would have provided Apple with content for its much-rumored
streaming TV service
, which it has reportedly
placed on hold
due to difficulties in negotiating deals. It was reported the Netflix-like service would have offered a skinny bundle of channels, including ABC, CBS, and FOX, as part of a monthly subscription.
An AT&T-Time Warner acquisition would likely be closely examined by federal regulators.
Update:
AT&T has
officially purchased
Time Warner for $85.4 billion.
Originally opened in 2015 as a high-end location for users to browse various models of the Apple Watch, particularly the gold Apple Watch Edition,
Mac4Ever
is now
reporting
that Apple will close its location in Galeries Lafayette effective January 2017. A
number of upscale department stores
launched Apple Watch pop up shops when the original wearable device debuted in 2015, including
Galeries Lafayette
in Paris,
Selfridges
in London, and
Isetan
in Tokyo.

Today's report cites a lack of sales at the Apple Watch-centric shop, along with an apparent reduction of employees over the past few months that had been in preparation for its January closure. The remaining employees will be given jobs at Apple retail stores around Paris once the pop up shop officially closes, including Apple's
future location in Saint Germain
, expected to open by the end of the year. The status and potential closing dates of the
other luxury Apple Watch shops
was not confirmed.
The shops were some of the select few locations that users could browse and purchase the high-end Apple Watch Edition, which in Series 0 began at $10,000 and went up to over $17,000. The "shop-in-shops" were noted as being located in easily visible areas in each department store, nestled next to other high quality brand locations, and ensured that "customers looking to make major purchases" only received "the best service possible." These locations only handled Apple Watch viewing and sales, however, with customers getting directed to other Apple retail stores for their support needs.
With Apple's shift to health and fitness over fashion and luxury in
Apple Watch Series 2
, it makes sense for Apple to eliminate its high-end pop up stores that were marketing mostly in the now-retired gold Apple Watch Edition models. With Series 2, Apple's new Edition device comes in white Ceramic and is
noticeably cheaper
, beginning at $1,250 for 38mm and rising to $1,300 for 42mm.
At the Jamf Nation User Conference yesterday, designed for IT management professionals, IBM VP of Workplace as a Service Fletcher Previn talked about IBM's decision to start letting employees choose between Windows or Mac machines, the cost of PCs vs. Macs, and the
resulting changes to the company
.
IBM began
adopting Macs for its employees
in mid-2015, quickly becoming one of Apple's largest corporate customers. In the first year, IBM deployed approximately 30,000 Macs, and with employees have continuing to choose Macs over PCs, IBM now has 90,000 deployed Macs supported by five admins.

There were assumptions early on that Macs would be significantly more expensive than PCs, but over the last year, IBM has found that it's actually PCs that are more expensive. Over a four-year lifespan, Previn says IBM saves up to $543 per Mac compared to a PC.
But isn't it expensive, and doesn't it overload IT? No. IBM found that not only do PCs drive twice the amount of support calls, they're also three times more expensive. That's right, depending on the model, IBM is saving anywhere from $273 - $543 per Mac compared to a PC, over a four-year lifespan. "And this reflects the best pricing we've ever gotten from Microsoft," Previn said. Multiply that number by the 100,000+ Macs IBM expects to have deployed by the end of the year, and we're talking some serious savings.
At last year's Jamf conference, Previn made similar comments. At the time, it had been only months since IBM deployed the Macs, but already, IBM had been noticing savings because Macs
required less management
and setup efforts than PCs, despite costing more up front. "Every Mac that we buy is making and saving IBM money," Previn said last year, and at this year's conference, that remained true. "Every Mac we buy is in fact continuing to make and save IBM money," he reiterated.
Macs are continuing to grow in popularity with IBM employees, and 73 percent say they want their next machine to be a Mac. To keep up with demand, IBM is deploying 1,300 new Macs each week, using Jamf and Apple's Device Enrollment Program to get new users set up quickly.
Employees receive a consumer experience from the moment they receive their Mac, which continues with a Workstation Asset Management Tool and a re-designed intranet, providing employees with an Apple-like, self-help experience. Not only do these additions drive self-sufficiency among employees, but they also help create confidence with the product.
Along with IBM's success, the Jamf conference also highlighted the use of Apple products in schools and in healthcare. In La Crosse, Wisconsin, students across 11 elementary schools, six middle schools, and four high schools successfully use iPads and MacBooks in the classroom to meet unique learning needs.
At the upcoming Jacobs Medical Center at the University of California, San Diego, iPads and
Apple TV
s will be deployed in 245 patient rooms to make it easier for patients to access their medical records, get medication reminders, and control lights, blinds, and room temperature.