WWDC 2016: iOS 10, macOS Sierra, and More
Well-known mobile phone leaker Evan Blass has this morning predicted which week of September that Apple will announce the
iPhone 7
and 7 Plus.

Blass, who has accurately leaked images and details about unreleased smartphones on Twitter (
@evleaks
) in the past, tweeted today simply "iPhone 2016 release: week of September 12th."
Blass is better known for leaking Android-based smartphone details ahead of their official confirmation, but his prediction for the iPhone 7's launch falls in line with Apple's typical September iPhone announcements – the
iPhone 6s
and 6s Plus launched on September 9th, 2015 – making it a pretty safe bet.
iPhone 2016 release: week of September 12th.

— Evan Blass (@evleaks) July 23, 2016
Blass's prediction follows a tweet by the blogger four days earlier in which he claimed the internal codenames for Apple's upcoming iPhones are "Sonora" and "Dos Palos", without specifying which is which (although the latter is a small city in California; the former is a Mexican state). Apple's codenames for the iPhone 6s and 6s Plus were "N71" and "N66", respectively.
This year's iterations of Apple's flagship smartphones are widely expected
not to feature major design changes
aside from the removal of the headphone jack, as the company is said to be deviating from its standard tick-tock upgrade cycle in order to introduce major new features in next year's 10th anniversary "
iPhone 8
" which take time to develop.
This year the 4.7-inch iPhone 7 is expected to get an improved camera and optical image stabilization, while the larger 5.5-inch model is thought to be gaining a
dual-lens camera and 3GB of RAM
.
Other rumored features of this year's iPhones include a
faster TSMC-made Apple A10 processor
,
repositioned antenna bands
,
faster LTE and Wi-Fi
,
a slightly larger battery
, and a minimum
32GB of base storage
. A larger
256GB model
may also be available.
Ultra popular augmented reality game Pokémon Go set a new
App Store
record during its first week of availability, seeing more first week downloads than any other app in App Store history. Apple
unveiled the statistic
to
iMore
's Rene Ritchie this morning.
According to Apple, #PokemonGo has set an @AppStore record with more downloads in its first week than any other app in the Store's history.

— Rene Ritchie (@reneritchie) July 22, 2016
Pokémon Go was
first released
in Australia, New Zealand, and the United States on July 5, rolling out to
other countries
over the course of the next two weeks. Pokémon Go is now available in 30 countries around the world.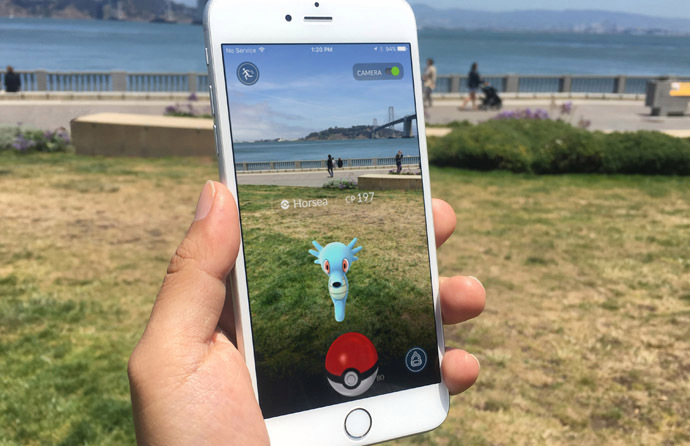 Despite server issues and in-game bugs that have yet to be resolved, Pokémon Go has become a smash hit, luring players outside to explore their neighborhoods in search of Pokémon. Last week, Pokémon Go had earned an estimated 7.5 million downloads in the United States alone, hauling in more than $1.6 million each day, and at two weeks, that number had grown to
21 million daily active users
.
On the instant success of Pokémon Go, Nintendo shares jumped more than
25 percent
, and businesses and restaurants near PokéStops, where players can collect items and find Pokémon, have reported significant
increases in foot traffic
.
In Japan, Pokémon Go today launched
with a McDonald's sponsorship deal
, hinting at future methods Niantic will use to monetize the game. In Japan, McDonald's locations are marked as "Gyms" where players can battle each other for control of the spot to earn daily prizes and experience.
Over the course of the next year, Apple could make upwards of $3 billion in revenue from Pokémon Go, as it receives a 30 percent cut of all in-app purchases.
With just over six weeks remaining until Apple is expected to unveil the
iPhone 7
and iPhone 7 Plus, leaked photos and rumors surrounding the smartphones are starting to become clear and consistent.
Deutsche Bank is the latest group to add its expectations to the mix, issuing a research note obtained by
Business Insider
that corroborates several previously rumored features coming in this year's refresh.

New photo of iPhone 7 and 7 Plus rear shell molds (Image: KK低调 on Weibo)
The bank, which allegedly made supply chain checks, believes the 4.7-inch model will have an improved camera and optical image stabilization, while the larger 5.5-inch model is set to gain a
dual-lens camera and 3GB of RAM
.
Both models are also expected to have
no headphone jack
, a
touch-sensitive home button
with haptic feedback, a new
darker color
, "professional class"
waterproofing
, and improved sound, possibly by way of
stereo speakers
.
Perhaps the most interesting bit is Deutsche Bank's belief that the iPhone 7 will ship with a Lightning-to-3.5mm headphone jack dongle in the box, rather than
Lightning-based EarPods
as previously speculated.
Many
aftermarket Lightning-to-3.5mm adapters
are bulky and clunky looking due to the need for a digital-to-analog converter, however, so it remains to be seen if Apple could create a dongle that meets its high standards of design.
Every single one of Deutsche Bank's predictions have surfaced previously:
-
No 3.5mm headphone jack:
WSJ
,
Fast Company
,
Mac Otakara
, and many others
-
Dual-lens camera for iPhone 7 Plus:
Ming-Chi Kuo
,
Mac Otakara
, and many others
-
3GB of RAM for iPhone 7 Plus:
Ming-Chi Kuo
-
Touch-sensitive home button:
DigiTimes
,
Cowen and Company
-
Improved waterproofing:
WSJ
,
Fast Company
,
DigiTimes
,
Commercial Times
,
Weibo
-
Stereo speakers:
DigiTimes
,
Mac Otakara
-
A new darker color:
Mac Otakara
and
leaked photo
-
Lightning-to-3.5mm adapter:
Mac Otakara
Apple is widely expected to announce the iPhone 7 and iPhone 7 Plus in September. Other rumored features include a
faster TSMC-made Apple A10 processor
,
repositioned antenna bands
,
faster LTE and Wi-Fi
,
a slightly larger battery
, and a minimum
32GB of base storage
. A larger
256GB model
may also be available.
FutureBrand recently released the
results of a survey
that questioned 3,000 consumers about the 100 biggest companies in the world, asking them to score each company on 18 different factors like trust, innovation, individuality, and price premium. The 2016 results crowned Apple as the top company in the world, "in terms of perception strength, rather than financial strength" (via
CNET
).

Some of the highest marks Apple received this year surrounded its individuality, authenticity, and purpose, while it scored less well in resource management, wellbeing, and respect among the consumers surveyed. Compared to the second-place entry in the Top 100 listing,
Microsoft
, Apple edges out ever so slightly in personality and consistency, while customers questioned believed Microsoft to be more innovative than Apple.
Technology companies occupy the top two spots in this year's rankings and enjoy strong perceptions across our measures. Six of the twenty four 'future brands' are in the technology sector – one fewer than in 2015.

A 'future brand' is a brand that is more likely to succeed in the future, not just one that is strong now. This is because it perfectly balances strong perceptions of its purpose in the world with the experience it delivers.
Apple's 2016 win comes after it lost the top spot to Google last year, but a bit of behind-the-scenes reorganization seems to be the reason for the search engine company's egress from FutureBrand's list this year. Since Google is considered wholly part of parent company Alphabet, only the latter could appear as a contender for Apple's first place spot. But consumer knowledge -- or lack thereof -- surrounding Alphabet and its relationship with Google most likely led to Alphabet's 21st place ranking.

The rest of the top spots are rounded out by companies like Disney, Amazon, Samsung, Toyota, and Facebook. Specifically in the
Technology Sector
, Apple's numbers rise even higher. The Cupertino company is 36 percent above the sector average when it comes to thought leadership, and 33 percent above the average in terms of consistency in producing high quality products. Similarly, many survey respondents confirmed they would like to work for Apple (37 percent above sector average), and that they would buy its products (39 percent above sector average).
You can look over FutureBrand's 2016 rankings
here
.
During the summer of 1976, Steve Jobs and Steve Wozniak created and sold 175 Apple-1 computers, marking the launch of what is now one of the most valuable, influential companies in the world. Only 60 or so of those original machines are still in existence, fetching hundreds of thousands of dollars at auction.
This Monday, auction site
CharityBuzz
is set to auction off
one of the rarest Apple-1 computers
, which could fetch up to a million dollars.

Dubbed the "Celebration" Apple-1 by computer historian
Corey Cohen
, the machine CharityBuzz will sell features a blank "green" PCB board that was never sold to the public and was not part of a known production run. CharityBuzz describes it as an original Apple-1 ACI cassette board, pre-NTI, with Robinson Nugent sockets, a period correct power supply, and an early Apple-1 BASIC cassette labeled and authenticated by original Apple employee Daniel Kottke.

It also comes with original Apple-1 manuals, original marketing materials, and Apple-1 and Apple-1 ACI Cassette Board schematics, described as the "most complete documentation set" of all known Apple-1 boards.
According to Steve Wozniak, Co-Founder of Apple, "Only a few Apple I's, on blank (not green) PC boards, may have been manually soldered, although I'm not sure of it. We arranged the wave soldering with the company that made the PC boards. But we may not have wanted to wave solder a run (of maybe 10 or more board) until we manually soldered one or two to debug them."
The Apple-1 is not in working condition but could be restored to full functionality with minor tweaks, something Cohen recommends against in order to preserve the board's uniqueness. "The Apple-1 board is a not just a piece of history, but a piece of art," he says.

CharityBuzz's auction will kick off this Monday, July 25, and will last through August 25. Interested bidders or those who want to follow the auction can
check out the auction landing page
, which features a countdown to kickoff and full details on the Celebration Apple-1.
The Celebration Apple-1 will be on display at the
Vintage Computer Festival West
, set to take place on August 6 and 7 at the Computer History Museum in Mountain View, California. CharityBuzz believes the Apple-1 could fetch up to $1 million, which would be one of the highest prices an Apple-1 has sold for at auction. Ten percent of proceeds from the auction will be donated to the Leukemia and Lymphoma Society.

During Intel's second quarter earnings call yesterday afternoon, Intel CEO Brian Krzanich
told investors and reporters
that Intel has begun shipping the first of its 7th Generation Core processors, known as Kaby Lake.
Kaby Lake is the third member of the 14-nanometer process, following Broadwell and Skylake. It is the first processor Intel has released since announcing the company
will no longer adhere
to the "tick-tock" processor release cycle, which saw it alternating between shrinking chip fabrication processes and building new architectures each year.
Intel's last two chip releases have been plagued with long delays, and moving away from the tick-tock cycle will allow it to push out new chip updates on a regular basis. Apple's Macs, such as the
Retina MacBook
Pro and the
iMac
, have been impacted by Intel's chip delays over the last few years, resulting in long periods of time between updates and unusual update cycles.
Kaby Lake is a semi-tock with optimized microarchitecture, offering support for Thunderbolt 3, native USB 3.1, and DisplayPort 1.2. Krzanich did not offer details on which chips have started shipping, but an
old Intel roadmap
suggests low-power Core M chips and U-series chips with GT2 graphics (likely not suitable for the
MacBook Air
) will be the first to ship out.
Kaby Lake chips appropriate for the Retina
MacBook Pro
, the machine everyone is most curious about, may not launch until the very end of 2016 or the beginning of 2017 and thus may not be released in time for inclusion in this year's rumored update.
Apple has
announced
that its first retail store in the New York City borough of Brooklyn opens on Saturday, July 30 at 10:00 a.m. local time. As
rumored since late 2014
, the store will be located at 247 Bedford Avenue in the Williamsburg neighborhood. The store hours are 10am-8pm on Monday-Saturday and 11am-7pm on Sunday.

Apple is nearly finished renovations at 247 Bedford Avenue (Thanks, Matthew!)
Apple has been
renovating the building
, situated at the corner of North 3rd Street, since earlier in 2015, and it
posted retail job listings
for the store in May. The location will mark Apple's 9th store in New York City alongside six locations in Manhattan, one in Queens, and one on Staten Island.

In an in-depth profile about Brian, Kevin, and Michael Sumner, three brothers said to be working on the
Apple Car
,
The Information
reports that Apple's rumored
2020 target
for launching the much-rumored electric vehicle, codenamed
Project Titan
, may have slipped to 2021.
The group has run into challenges, say people briefed about aspects of Titan along with other reports. Its top executive left in January, a sign that things there weren't going well. One person who worked briefly with the Titan team was told during their tenure at Apple that the company had been trying to deliver a vehicle by 2020 but the target slipped to 2021.
The report refers to the
January departure of Apple VP of Product Design Steve Zadesky
, who was believed to be leading Apple's electric vehicle development efforts since 2014, as one of multiple challenges that may be pushing back the target date for launching the vehicle. Tesla CEO Elon Musk previously said the so-called Apple Car is
unlikely to be ready by 2020
, calling it a "missed opportunity."
With seemingly another three to five years of research and development ahead, Apple's roadmap could change. Last September, for example,
The Wall Street Journal
reported that the Apple Car was labeled as a "committed project" with a
prospective 2019 shipping date
. Tesla, meanwhile, has sold the Model S since 2012 and received some 400,000 pre-orders for its lower-priced
Model 3
due in 2017.
The bulk of Apple's electric vehicle development is believed to be underway in Sunnyvale, California, a short drive from the company's Cupertino headquarters. Apple has reportedly recruited
hundreds of engineers
from
Tesla
,
Ford
,
GM
,
Samsung
,
A123 Systems
,
Nvidia
, and elsewhere to work on the project, said to have been approved by Apple CEO
Tim Cook
in 2014.
The
latest data
from market research firm IDC reveals that
Apple Watch
sales totaled an estimated 1.6 million units in the second quarter, for an industry leading 47 percent market share, compared to Samsung's estimated 600,000 smartwatch sales and 16 percent market share during the March-June period.

The numbers suggest that the Apple Watch remains nearly three times as popular as Samsung Gear smartwatches, nearly
fifteen months after launching
in the U.S. and eight other countries. Nevertheless, Samsung did close the gap with strong 51 percent year-over-year growth and a 9 point rise in market share.

Apple, meanwhile, experienced a 55 percent year-over-year decline, but the year-ago quarter encompassed the Apple Watch's launch and is thereby an unfair comparison. Apple Watch market share has dropped substantially, however, from an estimated peak of 72 to
75 percent
following its launch quarter.
Despite a down quarter, Apple remains far and away the market leader in smartwatches. Apple faces the same challenges as other OEMs, but the pure exposure of the device and brand through tactical marketing gives it a leg up on the competition. Watch 2.0, along with updates to watchOS, could help drive existing user refresh and more importantly, a new wave of first-time buyers.
The overall smartwatch market experienced its first-ever decline as shipments fell 32 percent in the second quarter, totaling an estimated 3.5 million units compared to an estimated 5.1 million units in the year-ago quarter. Lenovo, LG, and Garmin rounded off the top five smartwatch vendors in the second quarter, but the trio combined to sell only 700,000 units. All other vendors sold a combined 600,000 units.
KGI Securities analyst
Ming-Chi Kuo
said the so-called
Apple Watch 2
will
debut in the third quarter
, setting the stage for a possible launch alongside the next iPhone in September. The next-generation Apple Watch could feature a
FaceTime video camera
,
expanded Wi-Fi capabilities
,
cellular connectivity
, and other
internal upgrades
, while new models and bands are always possibilities.
Another video has emerged online showing probable mockups of
iPhone 7
units, but this time viewers are given a better idea of what the new handset might look like in three colors that Apple may offer this September.
The video was posted to YouTube channel
ConceptsiPhone
yesterday and shows the iPhone 7 in Rose Gold, Gold, and what the titling calls "Space Black".

The mockups depict the now familiar design expectations such as protruding camera, repositioned antenna bands, and no headphone jack, but it's the "Space Black" reference that stands out as a curiosity this time around.
Rumors in June pointed to the possibility that Apple was readying a
darker variant
of its traditional Space Grey color, described by one source as "close to black, though not quite black". This so-called "new, darker shade" was thought to more closely resemble the look of the "space black" stainless steel
Apple Watch
, which is darker than the "space gray" aluminum Apple Watch Sport.
However, earlier this month, alleged photographs of Apple's proposed iPhone 7 colorways stuck to showing the company's
typical four variants
of Rose Gold, Space Gray, Gold, and Silver, similar to the
iPhone 6s
and 6s Plus.
The "Space Black" variant depicted in the latest video does look darker than a typical iPhone 6s Space Grey unit, but the poor lighting makes identification a guessing game, and it could be just as likely that the unusual naming convention is simply a botched amalgam of previous rumors.
On the other hand, Apple has used different shades of "space gray" and "black and slate" across its device lineups over the years. The iPhone 6s and
iPad Pro
, for example, each have a lighter shade of "space gray" compared to the iPhone 5s and original iPad Air respectively.
The iPhone 7 and iPhone 7 Plus are expected to be officially unveiled by Apple in the fall. In addition to the aforementioned features, the smartphones are expected to have
faster Apple A10 processors
,
32GB of base storage
,
improved waterproofing
, and
faster LTE and Wi-Fi
.

U.S. authorities have arrested the alleged owner of the world's largest torrent site after Apple shared personal details linked to an iTunes transaction that enabled federal investigators to locate their suspect.
According to
TorrentFreak
, Ukranian-born Artem Vaulin was arrested yesterday in Poland on suspicion of running KickassTorrents (KAT), which recently surpassed The Pirate Bay as the go-to site for unofficial copies of movies, TV shows, and music.
The U.S. Justice Department has requested 30-year-old Vaulin's extradition on charges of criminal copyright infringement and money laundering. The key piece of evidence that led authorities to Vaulin appeared to come when Apple handed over his personal details after investigators matched an IP address used to log in to the KAT Facebook page with one linked to an iTunes purchase.
Filed in a U.S. District Court in Chicago, the criminal complaint reads: "Records provided by Apple showed that tirm@me.com conducted an iTunes transaction using IP Address 109.86.226.203 on or about July 31, 2015. The same IP Address was used on the same day to login into the KAT Facebook."
According to the complaint, KAT operates in 28 languages and offered movies still in cinemas, as well as other content, earning significant revenue from advertising throughout the site. Investigators also reportedly posed as an advertiser to the site, which revealed a bank account associated with it.
The U.S. Department of Justice estimates KAT's value to be over $54 million, with annual advertising revenue in the range of $12.5 million to $22.3 million. KAT reportedly helped distribute over $1 billion in pirated files, according to assistant attorney general Leslie Caldwell, who
commented
on the case.
"In an effort to evade law enforcement, Vaulin allegedly relied on servers located in countries around the world and moved his domains due to repeated seizures and civil lawsuits," said Caldwell. "His arrest in Poland, however, demonstrates again that cybercriminals can run, but they cannot hide from justice."
In addition to Vaulin's extradition, the criminal complaint has also ordered the seizure of a bank account associated with the site, as well as the seizure of several KAT domain names.
TorrentFreak
reports that while the main KAT domain appears to be down, various proxies still lead to working versions of the site.
Note: Due to the political nature of the discussion regarding this topic, the discussion thread is located in our
Politics, Religion, Social Issues
forum. All forum members and site visitors are welcome to read and follow the thread, but posting is limited to forum members with at least 100 posts.
Apple is facing a new class action lawsuit, levied today by customers in California who are unhappy that their iPhones and iPads were replaced with refurbished devices under Apple's
AppleCare
or AppleCare+ warranty plan.
Filed by Vicky Maldonado and Joanne McRight, the lawsuit, first shared by
Cult of Mac
, accuses Apple of failing to provide replacement devices that are "equivalent to new in performance and reliability" as stated in the company's terms and conditions.
Both plaintiffs purchased replacement devices under AppleCare protection plans and were given refurbished devices rather than new devices, which they claim is a violation of the aforementioned line in the AppleCare Terms and Conditions.

The Apple Plans purport to provide consumers with Devices that are "equivalent to new in performance and reliability." What that phrase means is 'new' as refurbished devices can never be the equivalent to new in performance and reliability. Plaintiffs allege that it means refurbished. Refurbished is synonymous with the term "reconditioned," that is, a secondhand unit that has been modified to appear to be new for all purposes relevant to this litigation.

"New" means a Device that has never been utilized or previously sold and consists of all new parts. The word "refurbished" appears only once in the AppleCare+ terms and conditions even though the printed booklet is 33 pages long.
The plaintiffs claim they were deprived of the "use and value" of their original devices when Apple replaced them with refurbished devices, suffering an economic loss in the amount of the cost of the AppleCare plans, the loss of value of their original non-refurbished devices, and the purchase cost and replacement cost paid to Apple.
Apple is being accused of breach of contract, breach of warranty, concealing information from the public, deceptive marketing, violating labeling requirements, and unfair competitive practices. The lawsuit covers all customers who purchased an AppleCare or AppleCare+ plan for an iPhone, iPad, or
iPod touch
after July 11, 2011.
The plaintiffs are seeking damages, attorneys fees, an order that would prevent Apple from replacing damaged or defective iOS devices with refurbished devices in the future, updated AppleCare+ terms and conditions, and an option to get a refund for a broken device instead of a repair.