Apple made its
WatchKit SDK
available alongside the release of iOS 8.2 and Xcode 6.2 beta in November, enabling developers to begin creating apps and software for the wrist-worn device. Looking beyond
mockups
and
conceptual apps
, however, a new
third-party Tesla app
designed by Eleks Labs offers insight into both the opportunities and limitations that developers face with the first-generation Apple Watch.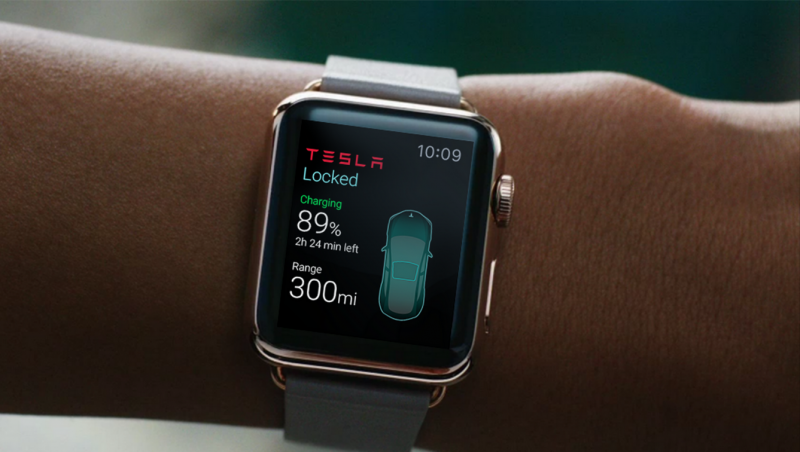 According to Eleks Lab mobility business developer Markiyan Matsekh, the technical capabilities of WatchKit do not match the expectations set during the Apple Watch keynote. In developing a prototype Tesla app that allows users to control a Model S over the Internet using a web-service API, the team of software engineers found a lot of functionality to be unavailable to developers at this time.
"If you look at the opportunities available for smart watch application development, you'll also see a quite pessimistic picture," wrote Matsekh. "Apple does not indulge developers with an abundance of functionality and tools. However, we can hope that the available functions are limited because this is only the first beta version and it will get much better towards the release."
Matsekh claims that developers do not have access to the Apple Watch's gyroscope, accelerometer, built-in speaker and microphone or Taptic Engine system of tactile notifications for development. Additionally, despite the Apple Watch display being touch sensitive, he claims that only Force Touch, which displays the shortcut menu, is available for developers, while GPS is restricted to a paired iPhone.
Even with its current limitations, this Tesla app provides an early look at the opportunities that Apple Watch apps make possible. The multipurpose software brings a lot of Tesla car control functionality to the wrist, such as an overview of the car's battery, temperature and mileage, a controls menu for opening or closing the car and activating the headlights, and various screens related to charging, climate, location and the car's condition.
Despite claiming that the Apple Watch has "weak potential for programmers" based on its current emulator-only development environment, Matsekh recognizes that his assumptions are based off of the first WatchKit SDK available to developers. As with the iPhone and iPad, the first-generation Apple Watch will inevitability have some developmental hiccups that are ironed out over the years.
Apple CEO Tim Cook confirmed at the company's quarterly earnings call on Tuesday that the Apple Watch is
on schedule to ship in April
, likely alongside a new version of WatchKit.
MacRumors
also learned that Apple has asked some developers to
have Apple Watch apps ready for mid-February
. In a short few months, a clearer picture should emerge of just how much potential Apple's first wearable device has for developers.
Update 9:00 PM PT:
For those interested in learning more about Apple Watch development,
iMore
's Rene Ritchie points towards an interesting series called
As I Learn WatchKit
by iOS developer David Smith. Apple also provides several public-facing
Design and Development Resources
for the Apple Watch and WatchKit on its website.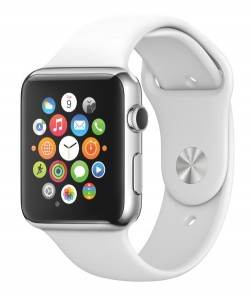 Apple appears to be asking some high profile app developers and partners to have their Apple Watch-compatible iPhone apps prepared and ready to launch in the App Store in mid-February. According to a source that spoke to
MacRumors
, Apple has asked one of its biggest Apple Pay partners to prepare an iOS application with WatchKit support that's ready to launch in the App Store by February 12.
It is unclear if Apple is asking the same of other developers, but it is possible the company is hoping to test some third-party Apple Watch apps with employees ahead of the device's launch to get a better feel for battery life when using non-Apple apps. As we
detailed earlier today
, thousands of Apple employees in the Cupertino area are wearing and testing the device on a daily basis to work out final kinks ahead of an April launch.
It's also possible that Apple could use this high-profile partner's app in an upcoming demonstration or launch event to show off how Apple Pay works on the Apple Watch. Apple Pay will be a key function of the Apple Watch, letting users authorize credit card payments right from their wrists. As has been outlined in the past, the Apple Watch will authenticate payments biometrically, requiring a passcode when the device is first placed on a wrist and again if it loses skin contact.
Apple CEO Tim Cook said earlier this week that Apple Watch development is on track and that the device will launch at some point in April. Pricing for the Apple Watch is largely unknown, but will start at $349 for the least expensive option.
With just three months to go until the
Apple Watch's April release
, Apple is hard at work field testing the device, and hundreds of Apple engineers, employees, and testers are wearing the Apple Watch on a regular basis to help Apple iron out last minute bugs and issues.
Due to the large number of employees testing the device, Apple Watch sightings in the wild have become more common over the course of the last few weeks. On
the MacRumors forums
, readers are aggregating photos and stories of device sightings, giving us an in-use look at the device that will be attached to many of our wrists in just a few short months.
One of the first major Apple Watch sightings occurred several weeks ago, when Vogue Editor Suzy Menkes
snapped a photo
of someone wearing the device. Rumors and speculation have suggested the arm in the photo could belong to Marc Newson, the designer who now works at Apple part time alongside Jony Ive.

Image via Suzy Menkes
A second less-clear image of what is likely an Apple Watch was
shared on Twitter
earlier this week, with the photo being snapped in San Francisco's Marina area.

Image via RaceJohnson
If you happen to live in the Cupertino area, it's quite possible you might run into an Apple employee who is wearing one of the watches.
VentureBeat
's Mark Sullivan recently shared a story of an Apple Watch he spotted while commuting on Caltrain. Sullivan got a bit more than a glimpse -- he had the opportunity to see the Apple Watch in action for several minutes and his account on how it was used
is a great read
for those who want to learn a bit about how it integrates into daily life.
According to Sullivan, the man's Apple Watch "looked proportionate" to his wrist and had a traditional look that didn't "scream for attention." Sullivan saw a text reminder pop up on the screen, accompanied by a map, and he got the impression that the Apple Watch had become an essential part of this person's life.
I want one, and I didn't even really see much of what the thing could do. But I got the distinct impression that the Watch has already become integrated into the daily life of this user. I could see it as a powerful personal assistant that's always just an arm's lift away to help you make sense of the minutiae of daily life: the schedules and reminders and appointments and social media and everything else we all have to process every minute of every day.
Apple CEO Tim Cook said earlier this week that the Apple Watch is on track to launch in April, but he did not offer a narrower timeframe that would hit at when the release could come during the month. As we creep closer to April, though, we can expect to see a lot more of the Apple Watch in the wild as employees continue testing the device.

AOL will soon be shutting down
The Unofficial Apple Weblog
, a long-running Apple blog better known as
TUAW
, according to
The Verge
.
TUAW
will reportedly close next Monday, February 2, just a few months after celebrating its tenth anniversary. The website currently has 11 staff on its editorial team.
TUAW
has been providing Apple news, reviews, how-tos and other content about the Cupertino-based company since December 2004. AOL gained ownership of the website through its acquisition of Weblogs Inc. in 2005. The company has three other flagship media properties in
The Huffington Post
,
TechCrunch
and
Engadget
.
The expected closure is part of larger restructuring plans at AOL that will also see long-running gaming website
Joystiq
shut down.
TechCrunch
reports that AOL will be laying off about 150 people, mainly in sales, and merging
TUAW's
Apple-related content and Joystiq into larger technology website
Engadget
. The majority of the layoffs will be the result of AOL shifting to more programmatic advertising.
AOL's restructuring plans are largely unsurprising given CEO Tim Armstrong's comments during the company's fourth quarter earnings call in November:
"As we look out to 2015, our strategy and decisions will be driven by the following organizing principles," said Armstrong. "Number one, we'll focus our capital allocation resource management and management time against scaled assets and platforms. Two, we will organize our asset portfolio around scaled value and scaled growth assets. Three, we'll simplify everything that can be simplified."
The impending closure of
TUAW
arrives not long after media company IDG announced in September that it was
discontinuing the print edition of Macworld Magazine
and focusing on its web-based publication.
MacUser
also stopped producing its computer magazine in the United Kingdom earlier this month after thirty years of operations.
Update (Jan 31):
TUAW has
confirmed
that it will cease operations on Tues., Feb. 3.
Apple today released iTunes 12.1 for OS X Yosemite, introducing a new iTunes widget for the Notification Center. With the widget, it's possible to see what song is playing, skip ahead, and favorite. When listening to iTunes Radio, there's an option to purchase the song that's being played, right within the widget. Today's update also includes performance improvements when syncing an iPhone, iPad, or iPod touch to iTunes.
iTunes 12.1 can be downloaded via the Software Update Mechanism in the Mac App Store.

This update introduces a new iTunes widget for Notification Center in OS X Yosemite. See what's playing, skip ahead, and even buy songs while listening to iTunes Radio -- right from Notification Center. This update also improves performance when syncing when your iPhone, iPad, or iPod touch.
iTunes 12.1 is the first major update to iTunes 12, which was introduced alongside OS X Yosemite. iTunes 12 brought a new design with Yosemite-style translucency elements to improve depth, a streamlined toolbar, and the melding of the iTunes Store and the personal Library to make it easier to navigate between owned content and what's available in the store.
Ahead of any major product release, we often see part leaks and case molds, which give us hints on the sizing, features, and design of the forthcoming product, and the "iPad Pro" is no exception. We've previously seen what's said to be an iPad Pro dummy model for Apple's upcoming large-screened tablet, and today, French site
Nowhereelse.fr
[
Google Translate
] has shared an image of a case that may be designed for the device.
According to the site, the image of the case originated from a reliable source that the site has been in contact with "for many years." Though the case in the photo is not depicted next to an object to provide a size reference, it is clearly quite large and could fit a tablet in the range of 12.2 to 12.9 inches.

The case appears to have two speaker cutouts at both the top and bottom, which would accommodate the stereo speakers that have been
rumored for the device
. There are also cutouts for a headphone jack at the top left of the case, volume buttons at the right, a camera cutout at the back, a Lightning port cutout at the bottom, and a power button cutout on the top right, all of which is in line with previous iPad Air and iPad mini designs.
The one unknown is a cutout on the left side of the case, which could possibly be for a SIM tray, suggesting that this is a case for a Cellular iPad Pro. Previous design drawings have not suggested that there's another port in that particular location.
Because case makers often create molds based on leaked design specs and information that may not be accurate in an effort to be the first to come out with accessories for a new product, some of the design elements could be slightly off. There have certainly been a few misses over the years when it comes to case designs, mainly when rumors of a tapered iPhone were circulating, but for the most part, case leaks have been highly accurate.
The "iPad Pro," as it has been named by the media, is rumored to include a 12.2 to 12.9 inch screen, an A8X or A9 processor, and a design that is similar in style to the iPad Air or iPad mini, with a thin body and a high-resolution screen. Recent rumors have suggested that it could be the first Apple tablet to
ship with an included stylus
due to its size.
A launch date for Apple's larger iPad remains unclear, but rumors have suggested that it could be released in the
second or third quarter
of the year.
A number of iTunes Connect developers have turned to Twitter and tipped us off about an ongoing issue where users are being shown someone else's session after attempting to login into their own account. Instead of seeing their own apps, iTunes Connect is mismatching users and displaying other apps from completely different developers.
MacRumors
has been able to duplicate this issue, which appears to be widespread and has been going on since at least 8 AM Pacific.

Most definitely was auto logged in to a blackberry account on iTunes connect somehow... This isn't mine! pic.twitter.com/S9lujDno95

— Bay Phillips (@bayphillips) January 29, 2015
While other developers' apps are displayed in the iTunes Connect dashboard, attempting to take further action results in an "unable to process request" error and a redirect to the proper account. Sales and payment information does not appear to be accessible for the mismatched account. For some other users, iTunes Connect also appears to be experiencing issues with logging in.
Apple has yet to comment on the matter, and this post will be updated as further details become known.
Update 8:50 AM PT
: iTunes Connect is now listed as unavailable.

Update 10:03 AM
: Apple has now acknowledged on its
System Status page
for developers that users are "experiencing a problem" with iTunes Connect. No estimate of a timeframe for resolution has been given.
Update 10:13 AM
: Apple is also acknowledging that its TestFlight beta services are also being affected, with users "unable to submit new apps and invite new testers."
Update 12:31 PM
: It appears that iTunes Connect is back online.
Update 12:43 PM
: Apple is now reporting on its
System Status page
that iTunes Connect and TestFlight services have indeed been restored.
The
latest numbers
from Strategy Analytics reveal that Apple tied Samsung during Q4 2014 to become the world's largest smartphone maker based on global shipments. According to the report, both Apple and Samsung shipped 74.5 million smartphones during the three-month period of October through December.
Apple's number is an official figure from its financial results, while Samsung's number is an estimate since the company stopped reporting smartphone shipments a few years ago. The research firm adds that Apple and Samsung were last tied in smartphone market share in Q4 2011.

Apple experienced a
record-breaking first quarter
of the fiscal year because of strong demand for the iPhone 6 and iPhone 6 Plus. The larger screen sizes of the two new smartphones has been a major selling point for many consumers, attracting
more new customers and Android converts
than ever before. Meanwhile, Samsung
reported a 27% quarterly decline
in earnings earlier today amid tough competition from both Apple and up-and-coming Chinese rivals such as Xiaomi and Huawei.
Strategy Analytics claims that global smartphone shipments grew 31% annually to eclipse a record 380 million units in the fourth quarter. An estimated 1.3 billion smartphones were shipped worldwide in 2014, with strong growth in emerging markets such as China, India and Africa. Apple has experienced a lot of momentum in China, noting that its online sales in the region for 2014 were more than the previous five years combined.

Apple also
surpassed
Microsoft to become the world's second largest mobile phone vendor on the strength of the United States and China. Apple's 74.5 million smartphone shipments placed ahead of Microsoft's 50.2 million units shipped, but were behind Samsung's market leading 95 million units shipped. Apple and Samsung have global mobile phone market shares of 14.5% and 18.4% respectively.
Update 7:41 AM PT:
IDC is now reporting
similar numbers
for Q4 2014, although the firm gives Samsung a slight edge with 75.1 million units shipped.
On the heels of an earnings call that saw Apple
announcing record earnings
, rival phone maker Samsung today announced its
own results
for the October to December period,
reporting
a 27 percent quarterly decline in earnings.
Samsung saw net profit of 5.3 trillion won ($4.9 billion), compared to 7.3 trillion won last year, marking its first annual earnings decline in three years and its fifth consecutive quarter of decline. Apple, meanwhile, announced record earnings of $18 billion, largely due to the success of the iPhone 6 and iPhone 6 Plus.

Overall, Samsung's 2014 profit was at 25 trillion won, down from 36.8 trillion won in 2013. Samsung did not announce mobile sales numbers, but Apple sold a record 74.5 million iPhones during the quarter.
Market research has suggested that Apple's share of the smartphone market
in Asia
rose dramatically after the launch of the 4.7-inch iPhone 6 and the 5.5-inch iPhone 6 Plus. According to a recent report, Apple
gained significant share
in Japan, China, and South Korea, countries where Samsung has previously dominated due to demand for big screen smartphones.
While Samsung's mobile sales were down 64 percent year over year, its semiconductor division earned 2.7 trillion won due to high demand for the chips that it sells to companies like Apple, boosting earnings from the previous quarter and helping it meet guidance and beat analyst estimates.
Chip maker Qualcomm also reported its own earnings today [
PDF
], and noted the
loss of a major customer
thought to be Samsung. Samsung's Galaxy S6 is unlikely to feature the Snapdragon 810 processor due to issues with overheating, and the South Korean company may opt to use its own chips instead.
Samsung expects continued growth in its mobile division in 2015 in emerging markets, and it also plans to introduce "new materials, innovative design, and differentiated features" in its devices to drive sales.

In recent months, the Federal Trade Commission has taken a significant interest in carrier throttling practices and today handed down a ruling that could have future ramifications for carriers who throttle their unlimited customers.
As reported by
Re/code
, the FTC has
ordered
prepaid wireless carrier TracFone to
pay $40 million
to consumers who paid for unlimited service and were then throttled after reaching certain data limits.
TracFone advertised "unlimited text, talk, and data" for $45 a month under the brands Straight Talk, Net10, Simple Mobile, and Telcel America, and until September 2013, did not clearly disclose its throttling policies that saw customers experiencing data speeds that were cut by up to 90 percent, thereby violating the FTC Act.
While this ruling only affects TracFone at the current time, there are several other carriers that have similar practices for their unlimited customers. AT&T and Verizon no longer offer unlimited data plans, but continue to provide unlimited data for many people who remain on grandfathered plans. AT&T has
engaged in throttling practices
for years, often cutting off customers who exceed 5GB of LTE data usage.
"The issue here is simple: when you promise consumers 'unlimited,' that means unlimited," said Jessica Rich, director of the FTC's Bureau of Consumer Protection. "This settlement means that Straight Talk, Net10, Simple Mobile, and Telcel America customers will be able to get money back from the company for services the company promised but didn't deliver."
Last year, Verizon planned to throttle its high-usage unlimited data LTE customers,
sparking interest
from FCC chairman Tom Wheeler, who said he was "deeply troubled" by the decision. Verizon ultimately
reversed course
and opted not to throttle its unlimited customers, but the FCC's attention was already roused, and the agency began questioning all carriers on their
unlimited throttling practices
.
The government's interest in carrier throttling practices led the FTC to
file a federal complaint
against AT&T in October of 2014, accusing the carrier of misleading its smartphone customers by charging them for unlimited data and then going on to reduce data speeds. Based on today's TracFone decision, AT&T may also be facing hefty fines in the future, and the FTC's ongoing involvement in carrier throttling of unlimited customers could finally put an end to the practice.
Sony
announced
on Wednesday that it will be shutting down its Music Unlimited on-demand streaming music service ahead of launching Spotify on PlayStation Music. Music Unlimited will shut down in all 19 countries it operated on March 29, 2015, with nearly all of the countries among the 41 regions that Spotify for PlayStation Music will be available upon launch, including the United States, Canada, Mexico and Brazil.

Music Unlimited launched in December 2010 on PlayStation Network in several countries worldwide, and the service was later extended to
iPhone
[
Direct Link
], Android, PlayStation Vita and other devices and platforms. In February 2011, it was reported that Sony
viewed Music Unlimited as a potential iTunes Store alternative
and that it was considering pulling music from Apple's platform if its own service became successful.
"If we do [get mass take up] then does Sony Music need to provide content to iTunes?" Mr Ephraim asked. "Currently we do. We have to provide it to iTunes as that's the format right now."

"Publishers are being held to ransom by Apple and they are looking for other delivery systems, and we are waiting to see what the next three to five years will hold."
The on-demand streaming music landscape has gone through significant change in the past three years, however, and Music Unlimited failed to remain competitive with industry leaders such as Spotify, Rdio, Pandora and Beats Music. Music Unlimited users with active subscriptions will continue to have free access to the service through the March 29 closing date.

Yahoo chief executive Marissa Mayer, during the company's
quarterly earnings call
on Tuesday, expressed interest in Yahoo becoming the default search engine in Safari. Mayer recognized the significance that getting Yahoo in front of Mac, iPhone and iPad could have for the search engine, referring to Apple's default web browser as "one of the premier search deals in the world if not the premier search deal in the world."
"The Safari platform is basically one of the premier search deals in the world if not the premier search deal in the world," Mayer told RBC Capital Markets analyst Mark Mahaney. "We're definitely in the search distribution business. I think that we've stated that really clearly in the past and I think with Mozilla and also in addition we brought Amazon eBay on board with smaller distribution partnerships in Q4."
Google
renewed its search partnership
with Apple in 2010, although the contract is reportedly set to expire in 2015 and, supported by the fact that Google Maps and YouTube are no longer stock iOS apps, Apple is speculated to be considering a number of options. Back in November, it was reported that both
Microsoft and Yahoo were courting Apple
to become the default search engine in Safari.
"We're in the search distribution business and anyone who is in that business needs to be interested in the Safari deal. The Safari users are among the most engaged and lucrative users in the world and it's something we would really like to be able to provide.

We've worked really closely with Mozilla to ultimately bring to their users an experience that they designed and that they feel really suits those users and we would welcome the opportunity with any other partner to do the same, particularly one with Apple's volume and user base."
The New York Times
, citing various reports from analysts, suggests that Google losing its Safari contract may not have much impact on the company's bottom line. The two important factors involved are how much Google is paying for its Safari search engine deal, and how many users would simply switch back to Google if Apple switched to Yahoo or another search provider as default.