Apple and Broadcom have been jointly named as defendants in a legal complaint filed by the California Institute of Technology last week over alleged infringement of its various patented Wi-Fi-related technologies.

Caltech's patents, granted between 2006 and 2012, are highly technical and relate to
IRA
/
LDPC
codes that utilize simpler encoding and decoding circuitry for improved data transmission rates and performance. The technologies are implemented in both the 802.11n and 802.11ac Wi-Fi standards used by many Apple products.
In the court filing with the U.S. District Court for Central California, Caltech accused Apple of selling various iPhone, iPad, Mac, and
Apple Watch
models, along with other Wi-Fi products, that incorporate these IRA/LDPC encoders and/or decoders and thereby infringe upon the four asserted patents in question.
Apple manufactures, uses, imports, offers for sale, and/or sells Wi-Fi products that incorporate IRA/LDPC encoders and/or decoders and infringe the Asserted Patents. Apple products that incorporate IRA/LDPC encoders and/or decoders and infringe the Asserted Patents include, but are not limited to, the following: iPhone SE, iPhone 6s, iPhone 6s Plus, iPhone 6, iPhone 6 Plus, iPhone 5c, iPhone 5s, iPhone 5, iPad Air, iPad Air 2, iPad Pro, iPad Mini 4, iPad Mini 3, iPad Mini 2, MacBook Air [and] Apple Watch.
Apple has at least temporarily
pulled stock of its
AirPort
Extreme and Time Capsule Wi-Fi base stations from its U.S. stores, but it's unclear if the move is related.
Broadcom, as one of Apple's main suppliers of Wi-Fi chips, is also named in the complaint. Apple currently uses Broadcom chips in the Apple Watch, iPhones, and iPads, as well as its line of Macs that support 802.11ac, including the MacBook Air,
Retina MacBook
Pro, and
iMac
.
Apple is one of Broadcom's largest customers. In 2012, 2013 and 2014, sales to Apple represented 14.6%, 13.3% and 14.0% of Broadcom Corp.'s net revenue, respectively. […] During this timeframe, Broadcom's Wi-Fi products that incorporate IRA/LDPC encoders and decoders and infringe the Asserted Patents were incorporated into Apple's key products including iPhones, iPads, and Mac computers. […] Broadcom and Apple are jointly and severally liable for infringement of the Asserted Patents.
Caltech has demanded a jury trial against Apple and Broadcom, along with a preliminary and permanent sales injunction in the U.S. against the aforementioned products. The university also seeks "adequate" damages, and other relief that the court deems "just and equitable," but it did not provide a specific settlement target.
The asserted patents include U.S. Patent
No. 7,116,710
, U.S. Patent
No. 7,421,032
, U.S. Patent
No. 7,916,781
, and U.S. Patent
No. 8,284,833
.
ASUS today at Computex 2016 in Taiwan
announced
a wide range of new products, including the ZenBook 3, its third-generation ultraportable notebook that is thinner, lighter, and faster than Apple's lookalike 12-inch
Retina MacBook
.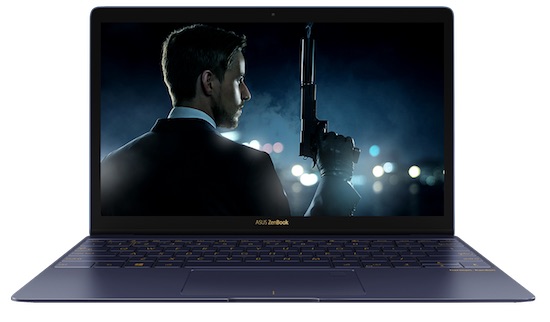 The 12.5-inch ZenBook 3 has an ultra-thin 11.9mm aerospace-grade aluminum alloy chassis that weights just 2 pounds and is "50% stronger than the standard alloy" used in competing notebooks. Comparatively, the Retina MacBook is 13.1mm thick and weighs 2.03 pounds.
ZenBook 3's display is crafted from edge-to-edge, scratch-resistant Corning Gorilla Glass 4, with a 1,920x1,080 pixels resolution and wide 72% NTSC color gamut. The notebook has a slim bezel design that provides an 82% screen-to-body ratio for a maximum viewing experience with a minimal footprint.
The Windows-based notebook is powered by up to an Intel Core i7 processor and features 16GB of 2133MHz RAM, up to 1TB of PCIe 3.0-based flash storage, and quad-speaker audio by Harman Kardon. Like the Retina MacBook, the ZenBook 3 has a single USB-C port for charging and connecting peripherals.
ASUS includes a dongle with USB 3.0, USB-C, and HDMI ports in the box, while a larger universal dock is available with additional connectivity options.

ASUS sacrificed a fanless design like the Retina MacBook has in favor of increased performance, but the ZenBook 3 has an innovative cooling system that features the "world's thinnest fan design" at just 3mm. The notebook delivers up to 9 hours of battery life with fast-charging technology for recharging up to 60% capacity in 49 minutes.
ZenBook 3 is available in three spun-metal finishes, Royal Blue, Rose Gold, and Quartz Grey, based on a two-phase anodizing process that creates golden highlights on the diamond-cut edges. Whereas the Retina MacBook's keyboard is always black, the ZenBook 3's keyboard matches the color of each finish.
The full-sized backlit keyboard also has 19.8mm key pitch and a slightly deeper 0.8mm key travel, compared to 0.5mm on the Retina MacBook's ultra-thin butterfly mechanism keyboard that some have contested. Next to the keyboard is a glass trackpad with palm-rejection technology, Smart Gestures, and handwriting support.
An optional built-in fingerprint reader with Windows Hello support enables users to sign in and unlock the ZenBook 3 with one finger tap, in lieu of having to type their password or PIN. Similarly, the
2016 MacBook Pro may feature Touch ID
as Apple works on an
unlocking-via-iPhone feature
for
OS X 10.12
.
ZenBook 3 will be available in the third quarter of 2016, starting at $999 in the U.S. for the base model with an Intel Core i5 processor, 4GB of RAM, and a 256GB SSD. A 512GB SSD model will sell for $1,499, while the top-range Intel Core i7 model with 16GB of RAM and a 1TB SSD will cost $1,999.
ASUS also announced the
Zenbo home robot, the ZenFone 3 Series, the ASUS Transformer 3 Series
, and multiple other new products.
Last week we reported that Apple is said to be
readying an Amazon Echo competitor
that could be used in the home for features like
listening to music, asking for information and getting news headlines
.
The product is thought to include a camera with facial recognition capabilities and said to learn over time about its users, which interact with the device via an enhanced version of
Siri
. Meanwhile, Apple's virtual assistant is expected to be opened up to outside developers via a soon-to-be-released software development kit in order to facilitate this integration.
Now,
Tech Insider
claims that a natural language outfit bought by Apple late last year could play a central part in the company's plans for the upcoming smart home device.

In October 2015, Apple
acquired VocalIQ
, a UK-based startup that had spent the last 10 years researching natural language, belief tracking, decision making, and message generation, in an attempt to develop a next-generation natural language API.
Speculation at the time suggested Apple hoped to use the technology in its
car project, codenamed "Titan"
.
However, according to a source familiar with VocalIQ's technology who spoke to
Tech Insider
, Apple is likely to introduce the API in its Echo competitor because of its ability to go beyond the "session-based" contextual responses touted by the likes of
Viv
. VocalIQ achieves this feat by retaining semantic context between conversations and permanently remembering the preferences of its users.
Apparently the company had been testing VocalIQ against Siri, Google Now, and Cortana, and found it to be vastly superior in dealing with complex natural language queries, such as asking for "a nearby Chinese restaurant with open parking and Wi-Fi that's kid-friendly".
[But] What if you change your mind an hour later? Simply saying something like "Find me a Mexican restaurant instead," will bring you new results, while still taking into account the other parameters like parking and WiFi you mentioned before. Hound, Siri, and any other assistant would make you start the search session over again. But Vocal IQ remembers. That's more human-like than anything available today.

VocalIQ can also filter out extraneous noise to figure out exactly what you're saying, thus making it more accurate than Siri is today. It's able to take in all the noise in an environment — the TV, kids shouting, whatever — and determine with a high probability which sound is actually the user's query. It can even learn to adapt to different accents over time to improve accuracy.
While the report's source doesn't claim to have any hard evidence that Apple plans to include the technology into its upcoming smart device, the possibility is an intriguing one. It also feeds into the expectation that Apple's decision to open up Siri to third-parties indicates that the virtual assistant will receive the necessary enhancements to prevent it from being overtaken by recent advances in competing products.
Business Insider UK
this morning published a detailed interview with someone claiming to be a UK Apple retail employee, which provides an intriguing insight into what it's like to work in an Apple Store.
The interview is unusual because every Apple staffer signs a confidentiality agreement on their first day in the job, which apparently prevents them from speaking publicly or announcing their new employment on social media, and even bans them from taking a selfie wearing their Apple T-shirt.

According to the veteran staffer – who remained anonymous in fear that Apple would pursue a legal action against them – Apple pays about £8 per hour in the UK (around $11.70) and staff receive no bonus incentives for sales, leaving many unable to afford the products they sell.
The worker claims that although positions in the company's stores are highly prized, Apple doesn't promote internally in the UK either, and that staff are prevented from transferring from part-time to full-time employment as a matter of policy.
"We had between five and eight store managers during my time at the store, of varying kinds," says the staffer. "Only one of them had started at Apple, the rest had been recruited from elsewhere – from, say, Dixons or HMV."
They did try to fix that with a 'Lead and Learn' program, where you train on the shop floor by acting as a manager without being a manager. We had some great people on the shop floor, people who had been there for five years, who were selling more than anyone else. But they were still just specialists or experts [two of the lowest ranked positions at Apple].

As far as I'm aware — and I'm still in contact with these people — no-one on this programme has been promoted to manager. There are other jobs in-store that can earn you more money, but they're technical jobs, like working at the Genius Bar, which a lot of people absolutely hated because you're dealing with really angry customers.
According to the worker, Apple Store staff routinely face death threats from unhappy customers, and receive no benefit if they manage to sell an enterprise contract to a business customer worth hundreds of thousands of pounds.
There are some advantages to working at an Apple Store though, says the employee. Staff get a generous discount on Apple products, a 15% discount on AAPL shares, and occasional direct access to CEO
Tim Cook
.
Apple declined to comment when contacted by
Business Insider
. The in-depth interview can be read in full
here
.
Note: Due to the political nature of the discussion regarding this topic, the discussion thread is located in our
Politics, Religion, Social Issues
forum. All forum members and site visitors are welcome to read and follow the thread, but posting is limited to forum members with at least 100 posts.

Apple's rumored product designed to compete with the Amazon Echo could come equipped with a camera and facial recognition capabilities, reports
CNET
. Citing sources with knowledge of Apple's plans,
CNET
says the device would be "self aware," able to detect the people in the room through facial recognition technology.
Once the device determines who is in the room, that information could be used to pull up each person's preferences, "such as the music and lighting they like," allowing for a customized interactive experience for each member of the home. Facial recognition is something Apple has previously expressed interest in, both
through patent filings
and
acquisitions
.
News of Apple's work on an Amazon Echo competitor first surfaced earlier this week, when
The Information
reported such a device
was under development
. The Amazon Echo is an in-home personal assistant device that features a built-in speaker and a robust artificial intelligence system, and a product from Apple would likely be similar, with AI capabilities based on
Siri
along with its own speaker and microphone.
It is not clear what form Apple's in-home hub will take. While
The Information
's report suggested it was a standalone hardware product, a second report from
VentureBeat
has said Apple will built the Echo-like features
into a next-generation Apple TV
.
Apple is laying the groundwork for a robust in-home AI-powered product through its work on Siri, and major Siri improvements could come in
iOS 10
. Apple is said to be preparing to
release a Siri SDK
, which would make the personal assistant available to developers for the first time and greatly increase its functionality.
Today's report is the first to include details on a potential release timeline, suggesting the device could launch at the end of 2016, but 2017 is a more likely target.
CNET
cautions that Apple's plans for a camera could change as it is a potential privacy risk that may not be favorable with consumers. As with all Apple products still under development, there's also a chance Apple could scrap its Echo competitor entirely.

Following a
rare firmware update
for the AirPort Express, AirPort Extreme, and AirPort Time Capsule earlier this week, a few readers have contacted us about the Wi-Fi base stations being out of stock at their local Apple retail stores in the United States.
Specifically, the tipsters informed us that the AirPort Extreme was out of stock at the Apple Store, Sagemore location in Marlton, New Jersey, an outer suburb of Philadelphia, and the Apple Store, Beverly Center location in Los Angeles, California.
"I was trying to buy an AirPort Extreme today from the Beverly Hills Apple Store and an employee told me that Apple had asked for all of them back from all the stores," wrote one anonymous tipster.
To verify the tipster's claim, we contacted an Apple support representative who confirmed that Apple has pulled AirPort Extreme and AirPort Time Capsule stock from all U.S. stores. The base stations remain available to order online, while it appears the smaller AirPort Express can still be purchased both online and in stores at present time.
Apple's web-based Personal Pickup tool has also been removed from the
AirPort Extreme
and
Time Capsule
product pages on its U.S. storefront.
Even though Apple has pulled all AirPort Extreme and Time Capsule stock from U.S. stores, it is possible that select locations may still some units available. The base stations also remain on sale through authorized resellers such as Best Buy.
A retail source informed us that the AirPort Extreme and AirPort Time Capsule remain in stock at stores in the U.K., as confirmed by Personal Pickup, and the Wi-Fi base stations are also currently available at most stores in Australia, Canada, and Europe, so the in-store outage appears to be limited to U.S. stores for now.
With
WWDC 2016
around the corner, scarce availability of the AirPort Extreme and Time Capsule in the U.S. will naturally stir speculation about a possible refresh to its Wi-Fi base station lineup. However, the stock outage could be related to the
recent firmware update
,
Apple Store renovations
, or regular fluctuations within Apple's inventory channels. There are also no rumors about an impending AirPort refresh.
Apple last
updated the AirPort Extreme and AirPort Time Capsule
at WWDC 2013 with faster 802.11ac Wi-Fi, new designs, and other internal changes. The slimmer AirPort Express was
last updated in June 2012
, drawing on the design of the
Apple TV
and gaining simultaneous dual-band 802.11n connectivity.
Given the lack of rumors, it is unknown what features a next-generation AirPort Extreme could have, but
802.11ac wave 2
Wi-Fi is a possibility. Some readers also speculate that Apple could
integrate Siri features
into the AirPort Extreme amid rumors it is
working on an Amazon Echo competitor
-- which could also be a
new Apple TV
.
Apple's AirPort base stations are designed to create or expand Wi-Fi networks, providing dual-band connectivity in addition to other features like music playback, wireless printing, and wireless backups. Read our
AirPort roundup
to learn more.
Update:
Apple may be complying with an
FCC deadline of June 2, 2016
related to router software security rules gradually phased in since 2014, which would explain why the stock outage is limited to U.S. stores.
"Starting June 2, 2016, permissive changes will not be permitted for devices approved under the old rules, unless they meet the requirements of the new rules," the FCC writes. "All devices partially or completely approved under the old rules cannot be marketed starting June 2, 2016 unless they meet the requirements of the new rules in all the bands of operation."
(Thanks, Cole, Justin, and Corrode!)
Apple today expanded its "
Trade Up with Installments
" program for iPhone to
France
,
Italy
, and
Spain
, enabling customers to trade in an eligible older-generation iPhone, Android, or Windows Phone smartphone and put the value of that device towards a new iPhone based on a 24-month payment plan.

When a customer in Italy trades in a used 16GB iPhone 5s for a new 16GB
iPhone SE
, for example, an amount of €16.98 must be paid each month for the duration of the two-year installment plan. A total of €425.52 would be owed after interest rates are applied to the price. Exact prices vary depending on the combination.
The program is effectively a loan handled by Apple as an intermediary, so customers will need approved credit to qualify. The exact amounts paid may vary depending on the condition of the smartphone traded in. Apple's financing partners include Sofinco in France, Agos Ducato in Italy, and Cetelem in Spain.

"Trade Up with Installments" was heretofore
exclusive to the U.S.
, where the program is financed by Citizens Bank with a 0% interest rate.
Apple recommends that customers speak to a Specialist at an Apple Retail Store for more details. The offer is not available online and is set to end on August 31, 2016 in France, Italy, and Spain. Apple's similar
iPhone Upgrade Program
remains exclusive to the U.S., so this program is a viable alternative for financing a new iPhone.
(Thanks, setteBIT!)
Support for encryption legislation in the U.S. has flatlined and the push for changes in federal law following the San Bernardino shootings has petered out, according to sources in congressional offices, the administration and the tech sector (via
Reuters
).
On February 16, a U.S. federal judge
ordered Apple
to help the FBI to unlock the iPhone owned by Syed Farook, one of the shooters in the December 2015 attacks in San Bernardino that left 14 people dead.

Senate Intelligence Committee leaders Richard Burr and Dianne Feinstein.
The FBI asked Apple to create a version of iOS that would both disable passcode security features and allow passcodes to be entered electronically, allowing it to then brute force the passcode on the device.
Apple announced that it would oppose the order in an
open letter
penned by
Tim Cook
, who said the FBI's request would set a "dangerous precedent" with serious implications for the future of smartphone encryption.
Apple claimed the software the FBI asked for could serve as a "master key" able to be used to get information from any iPhone or iPad - including its most recent devices - while the FBI claimed it only wanted access to a single iPhone.
Apple's dispute with the FBI ended on March 28, after the government found an alternate way to access the data on the iPhone through the help of "professional hackers" and
withdrew the lawsuit
as a result.
During the controversy, a Senate Intelligence Committee encryption bill was announced by committee leaders Richard Burr and Dianne Feinstein, which aimed to force companies to provide "technical assistance" to government investigators seeking locked data.
A released draft of the encryption bill in April revealed the scope of the proposed legislation, which was
heavily criticized by security experts and the wider technology community
, and described variously as "absurd", "technically inept", and "dangerous".
An open letter expressing "deep concerns" about the draft bill was
subsequently signed
by four coalitions representing Apple, Microsoft, Google, Amazon, and other major tech companies. At the same time, the White House chose not to offer public support for the legislation, and the administration remained deeply divided on the issue.
The CIA and NSA were also ambivalent, according to several current and former intelligence officials, because agency officials feared any new law would interfere with their own encryption efforts.
Now, despite Burr repeatedly insisting that legislation is imminent, no timeline exists for the bill, Democrats and Republicans on the Intelligence Committee have apparently backed away from the issue, and the political will to support its advance no longer appears to exist.
Despite the change in the political landscape, however, the FBI remains adamant that litigation over the encryption of mobile devices will continue.
In
a briefing with reporters earlier this month
, FBI director James Comey called encryption an "essential tradecraft" of terrorist organizations like ISIS, suggesting that the debate over whether the government can compel tech companies to unlock personal devices in the interest of national security is far from over.
Note: Due to the political nature of the discussion regarding this topic, the discussion thread is located in our
Politics, Religion, Social Issues
forum. All forum members and site visitors are welcome to read and follow the thread, but posting is limited to forum members with at least 100 posts.
Apple this morning elaborated on its plans to expand
Apple Pay
coverage and achieve its goal to deliver the mobile payment service to "every significant market" the company is involved in.
Currently Apple Pay is available in six countries, including the U.S., Canada, the U.K., Australia, and China, with plans already underway to bring the platform to Hong Kong and Spain. Earlier this week the service
expanded its presence in Singapore
to support five major banks and cover over 80 percent of cards, and VP of Apple Pay Jennifer Bailey says many more rollouts are on the way.

Speaking to
TechCrunch
, Bailey said that Apple is "working rapidly" in Asia and Europe to extend the service, stopping short of revealing which country would be next. But she did share some insight into what Apple is seeking when it assesses potential expansions.
"First, we look at the size of the market for Apple products," she said. "We also look at credit and debit card penetration, and [existing] contactless payment coverage.
"[But] when we bring Apple Pay to market even when contactless is low, it will grow — it was 4 percent in the U.S. but is now 20 percent. We also work with our network partners, where we can utilize integration with Amex and Visa, to go to market quickly."
Commenting on China, Bailey said that the service's
launch in February
had been "really successful" and Apple was "seeing incredible user and developer reception", with a number of prominent consumer tech companies integrating the service into their apps to enable digital payments.
In March, it was reported that the service hit
three million provisions
inside the country in its first three days. The launch initially covered 12 bank locations across China and that number has now risen to 19. In the U.S., Apple Pay began in October 2014 with support across six bank locations. It now covers 2,500, and the company reportedly has designs on bringing the service to ATMs in the near future.
Apple is also focused on introducing loyalty programs to other markets, having completed its first rollouts in the U.S. Similarly, Apple is working to expand support for online and in-app payments in all markets.
Back in February, leaks suggested that France, Hong Kong, and Brazil are on Apple's expansion list for this year, while CEO
Tim Cook
hinted this week that
India could also be set to get the mobile payment service soon
.

Earlier this week,
The Information
said Apple was
actively developing an in-home hub
that would compete with the Amazon Echo and the Google Home, and now
VentureBeat
has shared new details on the product and its prospective features.
Citing an unnamed source,
VentureBeat
says rather than developing a new product, Apple could add Echo-like features to a revamped version of the
Apple TV
. The Amazon Echo, for those unfamiliar, is an in-home personal assistant device with a built-in speaker and a robust AI system. The Echo is able to perform a wide range of functions, from giving weather reports and answering queries to controlling smart home devices.
A future version of the Apple TV may gain a dedicated microphone and speaker, along with deeper
Siri
integration to allow it to function like the Echo. Processing queries and serving up results is said to require additional computing infrastructure, which Apple is working on. It is not clear what extra computing infrastructure is needed as the fourth-generation Apple TV includes the same A8 processor that was used in the
iPhone 6
and the iPhone 6 Plus, two devices more than capable of processing Siri inquiries.
The company will build on its enhancements to the Apple TV announced last year, which brought the Siri virtual assistant to the set-top box. A new version of the Apple TV will solve problems with the existing box and remote control, a source familiar with the matter claims.

"They want Apple TV to be just the hub of everything," the source told VentureBeat.
Apple reportedly considered several options, ranging from a more comprehensive Siri implementation in the Apple TV to an improved Siri Remote to a standalone Echo-like product, but the standalone option was dropped in favor of furthering development on the Apple TV.
VentureBeat
's report does not include details on when a next-generation Apple TV box with the aforementioned features could be released, but a late 2015 rumor from
DigiTimes
suggested Apple was
already at work
on a fifth-generation Apple TV with a new CPU and redesigned heat-dissipation solution to go along with it.
Turning the Apple TV (or another hardware product) into an Amazon Echo competitor will require more robust Siri capabilities, which could come as soon as
iOS 10
. Apple is said to be
working on a Siri SDK
, allowing third-party developers to build Siri support into their apps.

iTunes and services chief
Eddy Cue
proposed the idea of Apple bidding on media conglomerate Time Warner at the end of last year, according to the
FT
.
The discussions reportedly never progressed beyond the preliminary stage, however, and did not involve Apple CEO
Tim Cook
or Time Warner CEO Jeff Bewkes.
The meetings had reportedly been arranged for the companies to discuss other partnerships, such as the
inclusion of Time Warner assets
in Apple's much-rumored
streaming TV service
.
Time Warner and its subsidiaries own
several iconic media properties
, including CNN, HBO, TBS, and TNT, that would be appropriate for a Netflix-like service streamable on the
Apple TV
, Mac, iPhone, iPad, and other devices. The company also holds the broadcast rights for the NBA in the United States.
The report adds that Apple plans to ramp up spending on original content to "several hundred million dollars a year" in order to better compete with rivals like Amazon and Netflix, both of which offer a growing number of exclusive TV series.
Earlier this year, it was reported that Apple executives
met with TV producers and Hollywood studios
about developing original TV shows that it would offer exclusively to its iTunes customers. Those discussions were also reportedly led by Cue and Robert Kondrk, vice-president of iTunes content.
The original content could spearhead Apple's plans to launch its streaming TV service, which
has been delayed
due to its difficulties in securing deals with media providers like
CBS
,
ABC
,
Fox
,
Disney
,
Discovery
, and
Viacom
.
Earlier reports claimed that Apple would offer a skinny bundle of channels for
around $30 to $40 per month
, while the original content would presumably be available to stream or purchase on the iTunes Store.
In April 2015, Time Warner CEO Bewkes said he was "
pretty confident
" that Apple will eventually launch a streaming TV service.
Apple's plan to open
three Apple Store locations
in India may fall through following a ruling from the Indian finance ministry that says Apple must sell locally sourced goods if it wants to open stores in the country, reports
Reuters
.
In India, 30 percent of goods sold by foreign companies must be manufactured or produced in the country, a requirement Apple does not meet as its products are largely made in China. India last year exempted retailers selling state-of-the-art goods from the rule, prompting Apple to file a new application with the Indian government.

Apple was expected to receive an exemption from the rule,
earning a recommendation
from country's Department of Industrial Policy and Promotion, but the ministry of finance has decided Apple's products do not fall into the cutting-edge technology category. A source told
Reuters
Apple did not provide enough material to justify the exemption.
"They did ask for a waiver but didn't provide any material on record to justify it. The decision was taken only after a thorough examination of their application," the source said.

The waiver is available only for investment in "state of the art" or "cutting-edge technology", he added.
Without the ability to open its own retail stores in the country, Apple will need to continue selling iOS and Mac devices in India through third-party distributors. Apple is eager to expand its business in India as it is a largely untapped market.
Last quarter
, Apple saw its revenue from India grow 56 percent, surpassing $1 billion.
The ministry of finance's ruling comes just after
Tim Cook
spent several days in India, where he
met with
Prime Minister Narendra Modi and
other local business leaders
, actors, politicians, and developers.
Apple has also announced the launch of a
Maps development center
in Hyderabad and
an iOS app and design accelerator
in Bangalore.