WWDC 2016: iOS 10, macOS Sierra, and More
Google is set to launch its own smartphone by the end of the year in an effort to compete more directly with Apple and Samsung devices, according to
The Telegraph
.
Citing "senior sources" familiar with the matter, the report claims that the company plans to unveil a Google-branded handset that is separate from its Nexus range of phones, which are designed and manufactured through partnerships with the likes of LG and HTC. Google is also said to be in discussions with mobile operators about the release of the phone by the end of 2016.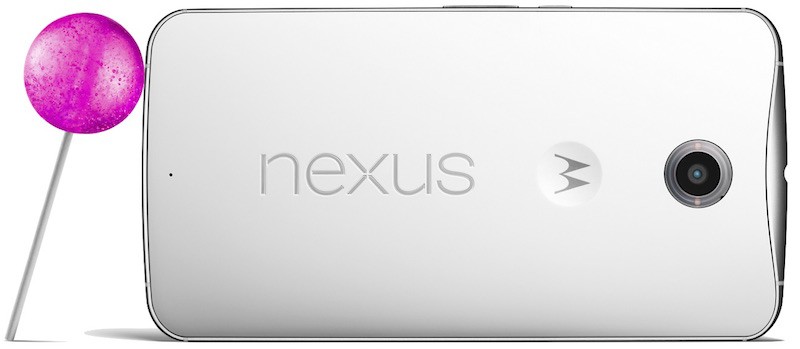 The Nexus 6 handset by Motorola, one of Google's manufacturing partners.
If true, the news would signal a significant shift in ambitions for the company's mobile arm, which has historically focused on software development with its Android OS and left handset design largely in the hands of hardware manufacturers.
By contrast, Google's own internal handset division will take full control over "design, manufacturing and software," the newspaper reported. No other details were offered by the sources, while Google declined to comment on the story.
Last month, Google CEO Sundar Pichai said the company was "investing more effort" into phones, although this was interpreted to mean it wanted to work more closely with existing Nexus device makers. Similarly, in April,
Recode
reported that former president of Motorola Rick Osterloh was returning to Google to take over hardware development on the company's Nexus phones and its OEM partnerships, but no indication was given that an own-branded phone was in the works.
Google's Android OS is used on over 1.4 billion mobile devices globally, but differences in handsets have sometimes seen the company struggle to ensure rollout consistency between software updates.
A Google-branded phone would therefore make sense from a software point of view and allow the company to control the hardware running its OS and let it showcase its other mobile software services.
Such a move however isn't without risk. In April, the European Commission formally charged Google with monopoly abuse, accusing it of using the success of Android to unfairly push its search engine and Chrome browser on users. Not only that, much of the company's mobile service revenue is made through iOS devices, so Apple could potentially make life hard for Google if it felt threatened by its move into mobile hardware design.
Two images have emerged online this morning allegedly showing the rear cases of an
iPhone 7
and 7 Plus leaked from the Chinese supply chain.
The first image posted by French site
nowhereelse.fr
claims to show the back of the upcoming 4.7-inch iPhone 7 with the
expected
antenna bands restricted to the edges of the casing, rather than running along the rear.
Alongside the usual microphone and LED flash, it also appears to show a larger protruding camera cut-out, which is consistent with rumors that the device will feature a
larger back camera
with likely improved CMOS sensor.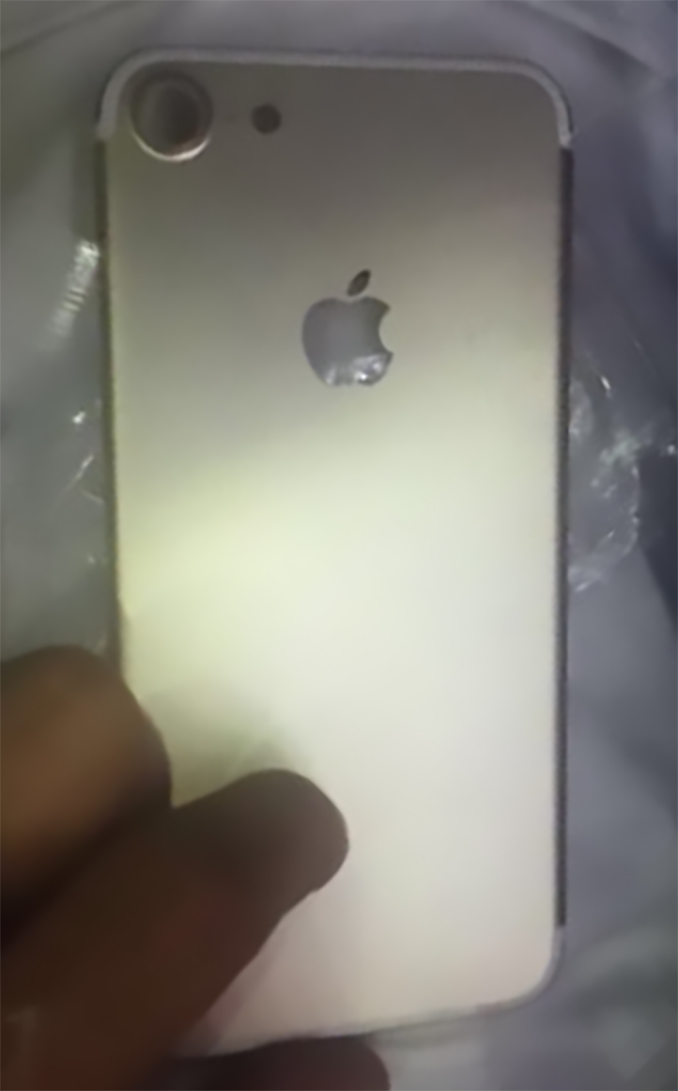 Interestingly,
Engadget
's take on the same alleged leak cites a couple of claims from its source at Chinese repair shop Rock Fix that we've heard before. One is that the headphone jack is "here to stay" on the 4.7-inch handset, the other is that the iPhone 7 will come in two flavors: a base model to replace the
iPhone 6
, alongside the expected flagship model.
The first claim comes despite widespread and apparently
confirmed
rumors indicating that Apple will switch exclusively to Lightning and Bluetooth audio output for wired and wireless headphones.
The second claim appears to be associated with an
earlier leaked image
from Rock Fix depicting a trio of iPhone 7 and 7 Plus display components that could just as easily be from early prototype stages. Both claims seem unlikely at this late stage in the rumor cycle.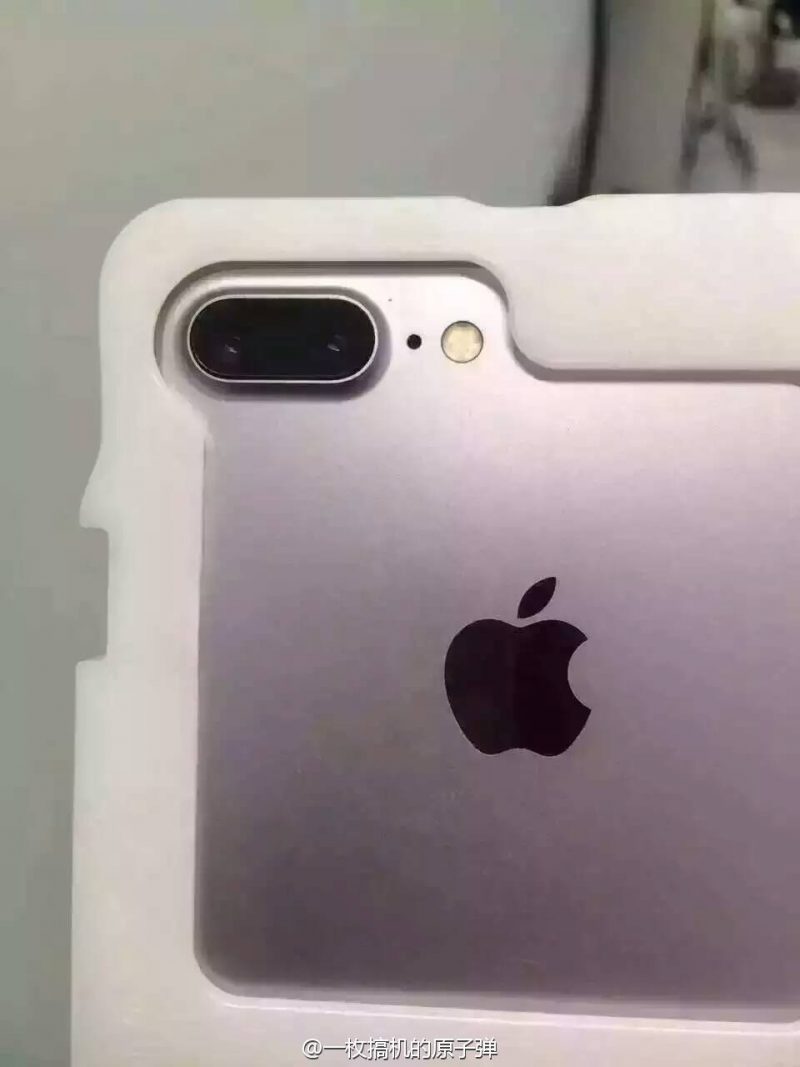 Meanwhile, the alleged shot of an iPhone 7 Plus case depicts the now-familiar pill-shaped camera enclosure, corroborating widely circulated rumors that Apple plans for a superior dual-lens camera to be exclusive to the larger 5.5-inch handset.
In the close-up shown here, the top of the plastic shell enclosing the case also appears to have an unusual opening in the centre.
Nowhereelse.fr
suggests this could indicate the presence of a sensor or port of some kind, although such an inclusion would be unusual at this location.
Apple is expected to announce the iPhone 7 series
in September
. The smartphones are also expected to retain
iPhone 6s-like designs
with
faster Apple A10 processors
,
dustproofing and waterproofing
, and
faster LTE and Wi-Fi
.
tvOS, the operating system that runs on the fourth-generation
Apple TV
, is also set to receive some updates this fall alongside iOS, macOS, and watchOS.
tvOS isn't getting as many changes as these other operating systems, but as can be seen in the video below, there are some important new features being added that make it easier to find content and easier to watch live television.
Subscribe to the MacRumors YouTube channel for more videos.
New in tvOS 10 is
Siri
's ability to search for movies by topic, bringing up content around a theme. Queries like "Show me high school comedies from the 80s" or "Find me movies about dinosaurs" now work. Siri's also gaining the ability to open live channels directly through a Live Tune-In feature that works when you say something like "Watch CBS News" or "Watch ESPN," and Siri can also manage HomeKit accessories.
At WWDC, Apple mentioned that YouTube search is on the way, allowing users to ask Siri to find cute kitten videos or videos of hamsters eating tiny burritos, but that's actually a feature that's going to be available ahead of the fall release of tvOS.
A new Single Sign-On option for pay TV apps is available in tvOS 10, allowing users to sign in once with their cable credentials to access live cable content available through their cable subscription. Apple plans to introduce a new Remote app for iOS devices that mirrors the layout of the Siri remote, and developers are getting a lot of new APIs to build into their apps.
For the first time, games will be able to require a controller, so more complicated controls will be possible, and there are also APIs for recording and live broadcasting, using HomeKit, and accessing
iCloud
Photo Library photos.
Other new features in tvOS include a dark mode, a Continuity option for easier text input on the iPhone, automatic app downloads, a "Memories" feature in Photos, and a redesigned
Apple Music
app.
Not all tvOS features are working in the developer beta now, including Single Sign-On, but Apple will likely add functionality as the beta testing process progresses.
For full details on the new features coming in tvOS 10, make sure to
check out our tvOS 10 roundup
. Don't miss out on our previous videos, which have covered iOS 10, watchOS 3, and macOS Sierra:
-
WWDC 2016 Overview in Seven Minutes
-
iOS 10's Overhauled Lockscreen
-
The New iOS 10 Photos App
-
The New iOS 10 Messages App
-
macOS Sierra - Siri
-
iOS 10 Hidden Features
-
watchOS 3 Overview
-
iOS 10's Redesigned Apple Music Experience
-
3D Touch in iOS 10
-
The New Home App for Controlling HomeKit Devices
We've also got roundups for all of the upcoming operating systems, including
watchOS 3
,
macOS Sierra
, and
iOS 10
.
When Apple introduced
iOS 10
,
macOS Sierra
,
watchOS 3
, and
tvOS 10
at the 2016 Worldwide Developers Conference, it also announced plans to implement a new technology called Differential Privacy, which helps the company gather data and usage patterns for a large number of users without compromising individual security.
At the time, Apple said Differential Privacy would be used in iOS 10 to collect data to improve QuickType and emoji suggestions, Spotlight deep link suggestions, and Lookup Hints in Notes, and said it would be used in macOS Sierra to improve autocorrect suggestions and Lookup Hints.

There's been a lot of confusion about differential privacy and what it means for end users, leading
Recode
to write a piece that clarifies many of the details of differential privacy.
First and foremost, as with all of Apple's data collection, there is an option to opt out of sharing data with the company. Differential data collection is entirely opt in and users can decide whether or not to send data to Apple.
Apple will start collecting data starting in iOS 10, and has not been doing so already, and it also will not use the cloud-stored photos of iOS users to bolster image recognition capabilities in the Photos app.
As for what data is being collected, Apple says that differential privacy will initially be limited to four specific use cases: New words that users add to their local dictionaries, emojis typed by the user (so that Apple can suggest emoji replacements), deep links used inside apps (provided they are marked for public indexing) and lookup hints within notes.

Apple will also continue to do a lot of its predictive work on the device, something it started with the proactive features in iOS 9. This work doesn't tap the cloud for analysis, nor is the data shared using differential privacy.
Apple's deep concern for user privacy has put its
services like
Siri
behind competing services from other companies, but Differential Privacy gives the company a way to collect useful data without compromising the security of its customer base.
As Apple's VP of software engineering Craig Federighi explained at the WWDC keynote, Differential privacy uses hashing, subsampling, and noise injection to enable crowd-sourced learning without simultaneously gathering data on individual people.
Apple yesterday announced plans to
discontinue the 5-year-old Thunderbolt Display
, leaving it unclear if Apple's display business is coming to an end or if another model is in the works for a future release. According to
BuzzFeed's John Paczkowski
, Apple isn't done with Thunderbolt displays.
In a tweet shared this morning, Paczkowski said he's heard from unspecified sources that a next-generation display will feature an integrated GPU, a possibility that was
first bandied about
in early June, ahead of WWDC.
Thunderbolt Display takes dirt nap as expected. Sources telling me next-gen display will indeed have integrated GPU https://t.co/kx6n0vQGMf

— John Paczkowski (@JohnPaczkowski) June 24, 2016
A Thunderbolt Display with a built-in graphics card would be able to work with almost any Mac because it would be driven by an internal graphics card rather than the machine it's connected to.
It's believed Apple has not introduced a 5K display to match the 5K
iMac
because there are no machines that could run it over a single stream cable, a fact that will remain true even in upcoming machines like a rumored Skylake
Retina MacBook
Pro.

Paczkowski doesn't include other details about the display Apple has in the works, but rumors have suggested it will feature a resolution of 5120 x 2880 and it's also likely to include USB-C ports that support Thunderbolt 3.
Stock shortages
ahead of the Worldwide Developers Conference led to speculation that Apple could refresh the Thunderbolt Display at the event, but that did not end up happening. There is no word on when Apple might release a new display, but with an integrated GPU, it would not have any specific requirements and could theoretically debut at any time.
If a new Thunderbolt Display is planned for 2016, a logical guess at a release date might be in the fall alongside rumored redesigned
Retina MacBook Pros
.

Apple may switch to micro-LED displays for the
Apple Watch
in the second half of 2017 at the earliest, moving away from the current OLED technology used, according to supply chain sources for Taiwanese website
DigiTimes
.
The timeline suggests that the much-rumored
Apple Watch 2
lineup expected to debut in the
second half of 2016
will continue to have OLED displays, with the move towards micro-LED panels liking occurring in tandem with the tentatively named Apple Watch 3.
Micro-LED displays can be thinner and lighter and allow for improved color gamut, increased brightness, and higher resolutions. The panels do not require backlighting like traditional LCD displays, but they can be difficult and expensive to mass produce. Micro LEDs range in size from 1-micron to 100-micron.
Earlier this year, KGI Securities analyst
Ming-Chi Kuo
said the Apple Watch 2 will
mainly feature internal improvements
, with more significant form factor design changes not occurring until 2017. By then, the switch to micro-LED panels and other technological advances could allow for a thinner Apple Watch.
Apple
acquired micro-LED display maker LuxVue Technology
in 2014, and one of the company's investors at the time said it had "a technical breakthrough in displays." LuxVue holds multiple micro-LED-related patents and, in 2013, it raised $25.2 million in funding to pursue the technology.
Apple also opened a
facility in northern Taiwan
last year, where it is believed to be
focusing on micro-LED technology
.
The current Apple Watch is the only Apple product with an OLED display due to its small size. The company continues to use LCD technology based on a TFT manufacturing process for iPhones, but widespread rumors suggest Apple will release its first
OLED-based iPhone
as early as September 2017.
Apple today told
several news sites
that it plans to discontinue its
Thunderbolt Display
, which has been available for purchase online and in Apple retail stores since it was first introduced in the summer of 2011.

"We're discontinuing the Apple Thunderbolt Display. It will be available through Apple.com, Apple's retail stores and Apple Authorized Resellers while supplies last. There are a number of great third-party options available for Mac users," said an Apple spokesperson.
Apple will continue to sell existing Thunderbolt Display stock so long as it remains available, but once stock is exhausted, the Thunderbolt Display will no longer be available as production is ceasing. It is not clear why Apple has decided to make an announcement concerning the discontinuation of the display and if it means a new 4K or 5K display is on the horizon.
Stock shortages
ahead of WWDC
sparked rumors that Apple might be planning to introduce a new display at the event, but no new hardware appeared and Apple instead focused on software for iOS devices, Macs,
Apple TV
s, and
Apple Watch
devices.
Rumors have suggested Apple is
working on a 5K display
, and if true, such a display could feature a resolution of 5120 x 2880 pixels, USB-C/Thunderbolt 3 peripherals, and a design that mimics the latest
iMac
s. Speculation suggests it could come equipped with a built-in GPU or use a DisplayPort 1.2 Multi-Stream Transport setup to stitch two halves of a display together to make one seamless display.
If a new Thunderbolt Display is in the works, it could launch alongside next-generation Skylake
Retina MacBook Pros
, which are rumored to be in the works for late fall.
HomeKit users have long wished for a centralized, Apple-designed app for controlling HomeKit-enabled products, and in iOS 10, Apple has
granted that wish
, with the debut of the new "Home" app. Designed to be used on the iPhone, iPad, and
Apple Watch
, Home is Apple's new one-stop HomeKit control solution.
As can be seen in the video below, Home offers a simple, fast, convenient way to manage all of the connected products in your house. Not all accessories are fully functional with Home right now as its a beta, but support will improve before Home launches as part of iOS 10 this fall.
Subscribe to the MacRumors YouTube channel for more videos.
Opening the Home app brings up a main screen that lists all favorite Scenes and favorite accessories for quick access. The app's wallpaper is customizable, and a Settings section offers options for changing the name of a home and inviting additional users. The "Rooms" section of the app is where new accessories can be added and new Scenes can be created, with Scenes able to work with all of the HomeKit-connected products in your house.
Each accessory can also be controlled individually by pressing on its name to bring up a set of options. With Philips Hue lights, for example, a long press or
3D Touch
offers options for dimming lights and changing colors.
An "Automation" feature in the Home app allows HomeKit accessories to be set up to perform actions based on time and location, such as turning on the lights when the sun sets or turning on the air conditioning when you leave work. The
Apple TV
serves as a remote hub for HomeKit and in iOS 10, you can also set an iPad to serve as a hub to enable HomeKit devices to work remotely.
Along with a new Home app, iOS 10 brings support for additional types of HomeKit devices like air conditioners, heaters, air purifiers, humidifiers, cameras, and doorbells.
For full details on the new features coming in iOS 10, make sure to
check out our iOS 10 roundup
. Don't miss out on our previous videos, which have covered watchOS 3, macOS Sierra, and other iOS 10 features:
-
WWDC 2016 Overview in Seven Minutes
-
iOS 10's Overhauled Lockscreen
-
The New iOS 10 Photos App
-
The New iOS 10 Messages App
-
macOS Sierra -
Siri
-
iOS 10 Hidden Features
-
watchOS 3 Overview
-
iOS 10's Redesigned Apple Music Experience
-
3D Touch in iOS 10
We've also got roundups for all of the upcoming operating systems, including
watchOS 3
,
macOS Sierra
, and
tvOS 10
.
With Apple planning to
remove the headphone jack
in the
iPhone 7
and iPhone 7 Plus, new iPhone owners are going to be stuck with a whole lot of headphones that don't work with their devices. There is a simple, though awkward, solution -- a Lightning to 3.5mm headphone jack adapter.
Lightning adapters aren't common at this point in time, but as you can see in the video below, we tracked down an adapter from
Japanese company Deff
to give you an idea of what it'll be like using standard 3.5mm headphones with a device that doesn't have a headphone jack.
Subscribe to the MacRumors YouTube channel for more videos.
Our adapter cost upwards of $70, but we expect to see a greater number of adapters on the market following the launch of the iPhone 7, which will drive prices down quite a bit. It's also likely Apple will develop its own Lightning to 3.5mm jack adapter and we can expect to see that sold for around $20-$30 based on the pricing of other types of adapters.
Apple's choice to remove the headphone jack in the iPhone 7 hasn't been a popular one.
The Verge
's
Nilay Patel
has called the move "user-hostile and stupid," while
Steve Streza
, in support of Patel, said the decision is good for Apple but bad for the consumer.
Others, like John Gruber, aren't bothered by the iPhone 7's lack of a headphone jack. In
a rebuttal
to Patel's post, Gruber compared the headphone jack to the floppy drive, an argument
supported by MG Siegler
, who pointed out the fact that there's similar outrage every time Apple retires a feature.
But here's the thing about that notion: it's said every single time Apple does something like this. The removal of the floppy drive on the Mac. The lack of a physical keyboard on the iPhone. The removal of the optical drive on MacBooks. The end of the mouse.The removal of USB ports. Etc. Etc. Etc.

The outrage is as palpable as it is comical. Then everyone calms down. The news cycle moves on. People buy the new Apple device anyway. Life continues. All competitors copy Apple's once-controversial move. And technology ends up in a better place as a result.
Going forward, Apple's decision to drop the headphone jack will likely reshape the headphone market. Companies have already started investing in Lightning-connected headphones like the ones
we covered in a recent video
, and wireless solutions are also on the rise.
Based on rumors, Apple is planning on selling the iPhone 7 and iPhone 7 Plus with EarPods that feature a Lightning connector, so everyone will have a way to listen to music on the devices right when they come out of the box. Apple is also said to be developing premium wireless earphones that could be similar in design to the
Bragi Dash
.
A new iTunes bug
has been discovered
that causes
Apple Music
playback issues related to tracks shorter than 60 seconds.
MacRumors
was able to reproduce the issue on Macs running OS X 10.11.5 and iTunes 12.4.1.
Specifically, when an Apple Music track that is shorter than 60 seconds is streamed in its entirety, without skipping ahead, the subsequent song in an album or playlist fails to play and appears to be in a state of perpetual buffering.
MacRumors
forum member B/D used backend file change monitoring tool
fswatch
and
identified a plausible reason for the bug
:
It looks like the way Apple Music handles streaming is when the current song is a minute from the end, iTunes signals the next track in the queue to start downloading so that it's ready to play when the current song is over. However, when the song is less than a minute long the next song's download is never initiated, apparently because some "one minute remaining" event is never triggered! This means the app just sits waiting for a download to finish that has in fact never started.
The bug only affects tracks streamed through Apple Music, with songs and albums that have been stored locally on iTunes unaffected. The issue was unable to be reproduced on a Mac running
macOS Sierra
beta, or on iTunes 12.3 or earlier, or on an iPhone running
iOS 9.3.2
.
The bug has been reported to Apple and should hopefully be resolved in a future iTunes software update.
Update:
The bug was originally
shared on the Apple Support Communities
by user ivoisbelongtous.
Walmart has announced that its mobile payments solution
Walmart Pay
is now available in fifteen additional U.S. states, including Alabama, Georgia, Indiana, Iowa, Kentucky, Louisiana, Michigan, Mississippi, Missouri, Nebraska, North Carolina, North Dakota, South Carolina, South Dakota, Tennessee, Virginia, and Washington, DC.

Walmart Pay is built into the
Walmart app
[
Direct Link
] for iOS and Android and works at any checkout lane with any major credit, debit, pre-paid, or Walmart gift card.
The payments solution is based upon a QR code checkout process that involves opening the Walmart app, selecting Walmart Pay, activating the camera, scanning the code displayed at the register, and waiting for the cashier to finish bagging your items. An electronic receipt is automatically sent to the app.
Walmart Pay's widespread adoption at some 1,500 stores in fifteen more states, following statewide launches in
Arkansas and Texas
last month, further suggests that Walmart will not be adopting
Apple Pay
for at least the foreseeable future. Walmart Pay's nationwide rollout is expected to be completed in 2016.
The word in late 2015 from Walmart senior vice president of services Daniel Eckert was that Walmart Pay allows "for integration of other mobile wallets in the future," providing at least some hope that the retailer may eventually accept rival payment services such as Apple Pay, Android Pay, and Samsung Pay at its stores.
Walmart is among a handful of retailers that have refused to support Apple Pay since its American launch in October 2014. The retailer was originally committed to the
Merchant Customer Exchange
(MCX) consortium and its now
indefinitely postponed
payments service
CurrentC
before launching Walmart Pay.
Walmart's resistance to Apple Pay persists even as other former holdouts such as
Best Buy
and
Rite Aid
have reversed course and begun accepting the iPhone-based payments service at their U.S. stores. Walmart rival Target, meanwhile, is developing a QR code-based
mobile wallet solution
of its own.
The
Walmart app
[
Direct Link
] is free on the
App Store
for iPhone and
Apple Watch
.
Yesterday it was
discovered
that
iOS 10
does not feature an encrypted kernel, allowing users and researchers access to the core of the operating system and its inner workings. It was unclear at the time whether the lack of encryption was an accident or intentional, but today Apple
confirmed
to
TechCrunch
that the company did not encrypt the kernel for a reason.

"The kernel cache doesn't contain any user info, and by unencrypting it we're able to optimize the operating system's performance without compromising security," an Apple spokesperson told TechCrunch.
The kernel, which dictates how software can use hardware and keeps the device secure, is unencrypted so that developers and researchers can "poke around" and find potential security flaws. Because the kernel is easier to access and flaws may be easier to find, Apple can more easily and more quickly patch potential issues.
The move is a shift for Apple, who had encrypted the kernel in past versions of iOS, leaving developers and researchers out of the loop on the inner workings of the operating system. As
noted
by security expert Jonathan Zdziarski, it's likely that Apple has made this shift to prevent groups from "hoarding" vulnerabilities in Apple's software, like the vulnerability 
used by the FBI
to break into the iPhone 5c of the San Bernardino shooter.