New iPad, Mac mini, and Retina iMac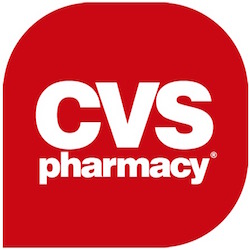 Earlier this week, pharmacy chain Rite Aid
shut down unofficial support
for the Apple Pay and Google Wallet mobile payments systems, resulting in an outcry from users who have been testing out Apple's new system since its launch on Monday. Rite Aid was not an official Apple Pay partner, but the payments system generally works with existing near field communications (NFC) payment terminals anyway, and many users had had success using Apple Pay at Rite Aid stores early in the week.
It now appears that fellow major pharmacy chain CVS is following suit and as of today is shutting down the NFC functionality of its payment terminals entirely, a move presumably intended to thwart Apple Pay. Google Wallet services are obviously also being affected by the move.
Multiple reports on
Twitter
and the
MacRumors forums
have indicated that CVS has
sent an email
to its stores indicating that NFC support is to be turned off. It is still relatively early in the day in the U.S., but we are now starting to see
reports
of NFC
indeed
being
turned off
at CVS stores.
The reason behind Rite Aid's and CVS's moves to disable unofficial Apple Pay support in their stores is presumably related to their participation in
Merchant Customer Exchange (MCX)
, a retailer group developing its own mobile payments system known as CurrentC. A claimed internal Rite Aid message
shared with SlashGear
supports this notion, instructing cashiers to explain to customers that Apple Pay is not supported but that MCX's solution will be available next year.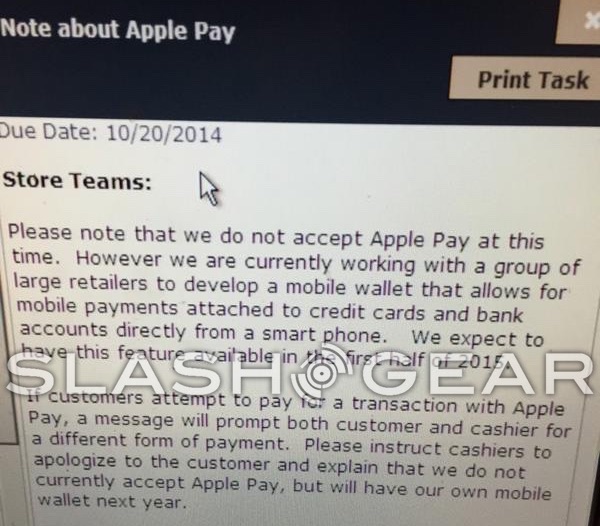 Rite Aid internal memo regarding Apple Pay
Rite Aid's and CVS's moves are also in stark contrast to competitor Walgreens, which has fully embraced Apple Pay and is one of Apple's launch partners for the service. With over 8,000 stores around the United States, Walgreens has been one of the most popular locations for those testing out Apple Pay over the first week of availability.
Six days after being made available to the public, OS X Yosemite was installed on approximately 12.8 percent of Macs in North America, according to adoption numbers released by
Chitika
. That's just a slight bit higher than the 12.4 percent of Macs Mavericks was installed on six days after its release in 2013.
Ahead of its launch, Yosemite adoption by beta testers and developers was more than
33 times higher
than the adoption of Mavericks, and as measured by Chitika, its one percent share of North American Mac OS X-based Web traffic on the first day after release was double the day one adoption rate of Mavericks and Mountain Lion.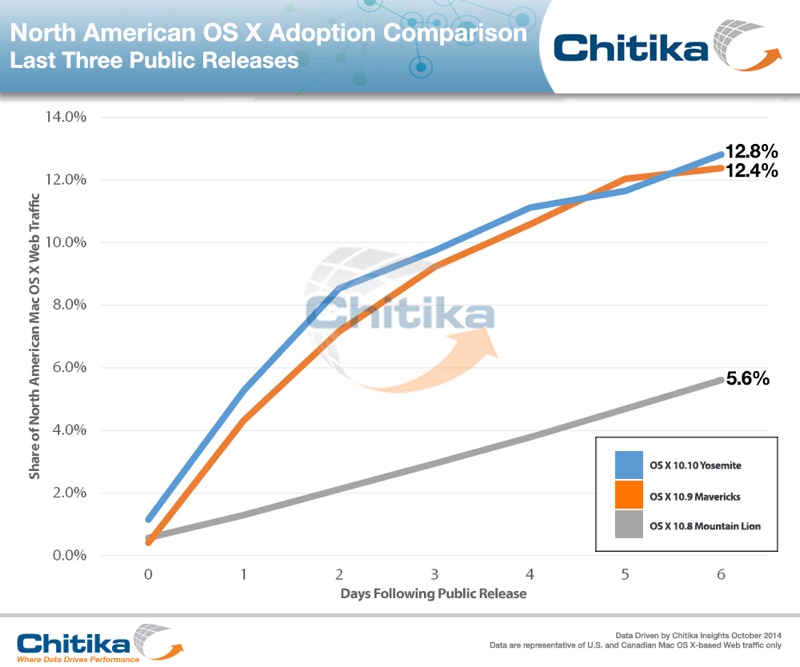 OS X Yosemite may be seeing slightly faster adoption rates as the operating system introduces a complete visual overhaul along with several features that allow it to deeply integrate with iOS 8. While Mavericks focused heavily on under-the-hood updates that improved battery life and responsiveness, OS X Yosemite brought revamped apps, Continuity, Notification Center improvements, iCloud Drive, and more. Chitika also speculates that the OS's public beta may have positively impacted its adoption numbers.
Apple had previously made a public beta of the OS available for the first time in the company's history, and this seems to have helped boost initial adoption rates slightly beyond what was observed for OS X Mavericks back in 2013.
Chitika's numbers are drawn from millions of U.S. and Canadian Mac OS X-based online ad impressions from the Chitika Ad Network. Chitika measured ad impressions from October 16 to October 22 to acquire its data. Similar but somewhat higher numbers are being
reported by GoSquared
, which offers real-time analytics that measure OS X traffic.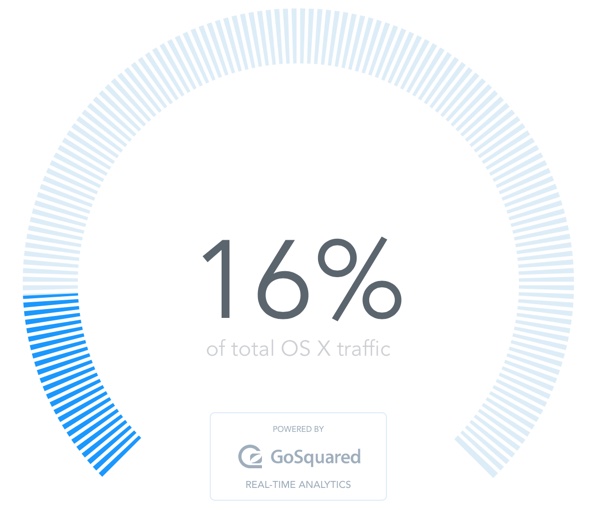 Yosemite installation numbers from GoSquared
According to the site, Yosemite is installed on approximately 16 percent of Macs, though numbers fluctuated up to 10 percent over a seven day period as GoSquared measures real-time visits to more than 50,000 sites.

Yosemite installation rates over the past 7 days, measured by GoSquared
Released on October 16, OS X Yosemite is available from the Mac App Store as a free download. It is compatible with all Macs that were previously able to run Mountain Lion and Mavericks. [
Direct Link
]
Apple has
submitted
Apple Campus Phase 2 architectural and site refinement plans to the City of Cupertino, signaling its readiness to begin the second phase of construction on its spaceship campus as soon as first phase construction has been completed.
In a massive 72 page PDF, Apple outlines revised plans for a set of research and development buildings located to the east and west of North Tantau Avenue, adjacent to the main circular campus building. While Apple has already received approval for the second phase of construction, the updated documents address specific changes the company is hoping to make to the area.
Constructed in a 600,000 square foot space, the Tantau Development will house 2,200 employees and will include parking facilities with 1,740 parking spots. The main Tantau building will include four stories of office space for employees along with a built-in cafeteria. Two other buildings will house two-story testing facilities.

According to the revised documents, Apple's original plans for the area are largely intact, but some minor refinements have been made to address building size/height and the location of the parking facilities. The company originally planned for a parking basement, but has now shifted its plans to include both a smaller basement and a larger above ground parking structure, along with an underground server room. Apple also changed the size of the prospective cafeteria somewhat in order to accommodate more office space, and shifted the sizes of some of its planned research facilities.
Apple originally planned to begin development on the Tantau buildings alongside construction of the main circular campus building, but the company ended up pushing back all development on the site to a second phase of construction in order to cut down on initial construction costs.
It is unclear when construction on the Tantau buildings might begin, but Apple is scheduled to complete its main campus building in 2016. A city hearing to consider the updated plans will take place on November 15, 2014.
Apple's new Apple SIM card in the iPad Air 2 and the Retina iPad mini 3 is
designed to be universal
, usable across a variety of wireless carriers in the US and UK, including AT&T, Sprint, T-Mobile, and UK's EE.
According to user reports in the
MacRumors forums
and on
Twitter
, however, AT&T is not supporting this interchangeability and is locking the SIM included with cellular models of the iPad Air 2 and Retina iPad mini 3 after it is used with an AT&T plan.

Image via John Legere
A newly posted
Apple support document
details what happens to the SIM when it is activated on US carriers.
Using Apple SIM, you can choose from different cellular carriers and their various programs. The data plans vary by carrier. For instance, in the United States, you can choose a domestic plan from either Sprint or T-Mobile and also pick an alternate plan from the other carrier as needed. When you choose AT&T on iPad Air 2 and iPad mini 3, AT&T dedicates Apple SIM to their network only.
AT&T appears to be the only participating carrier that is locking the Apple SIM to its network. T-Mobile's John Legere has indicated that
T-Mobile's process
does not lock a customer in to T-Mobile, which appears to be confirmed by Apple's support document, and Sprint's process also seems to leave the Apple SIM unlocked and able to be used with other carrier plans. Verizon, the fourth major carrier in the United States, did not opt to allow the Apple SIM to work with its network.
According to the Apple support document, when an Apple SIM becomes locked to a specific network like AT&T, purchasing a new Apple SIM from an Apple Retail store will allow an iPad to be usable with other carrier programs.
Apple introduced its
universal SIM
alongside the iPad Air 2 and Retina iPad mini 3 on October 16. It is the first SIM provided by Apple that is designed to work across multiple carriers.
Update 12:10 PM PT:
An AT&T spokesperson confirmed to
Re/code
that AT&T customers who use the Apple SIM with AT&T will need a different SIM card to switch carriers.
"With us you can change carriers with this iPad any time you want," he said. "It is an unlocked device. ... All [you] have to do is switch out the SIM in the device so it works on another carrier."
AT&T did not explain why it opted to lock the SIM card to its network, however, with the spokesperson saying "it's just simply the way we've chosen to do it."
After tearing down
the iPad Air 2
earlier this week, iFixit has now moved on to the iPad mini 3, which also received a minor update during Apple's October 16 iPad event. Unlike the iPad Air 2, the iPad mini 3 saw few internal improvements, gaining a new gold color option and a Touch ID fingerprint sensor.
As expected, iFixit's teardown reveals many of the same parts that were used in first Retina iPad mini, now called the iPad mini 2. It continues to use the same 7.9-inch display, A7 processor with M7 coprocessor, 5-megapixel camera, and 802.11n Wi-Fi.
There is one new addition, which is directly related to Touch ID and the iPad mini 3's ability to support in-app Apple Pay payments. Like the iPad Air 2, the iPad mini 3 includes a 65V10 NFC controller manufactured by NXP.

NFC Controller in blue
There is no accompanying NFC antenna to allow the tablet to make NFC-based payments within stores, but there has been strong speculation suggesting the NFC chip is where Apple Pay's "Secure Element" is located. According to Apple, the Secure Element
is a dedicated chip
that stores encrypted Device Account Numbers, which replace credit card numbers for security reasons.
Though the iPad mini 3 and the iPad Air 2 are not able to make payments within stores, they can make Apple Pay payments within participating apps and thus utilize both the Secure Element and Device Account Numbers.
NXP's own site
details the use
of a specific integrated circuit designed for handling and storing secure data on its website, stating the technology has been integrated into its NFC controller chips. While the 65V10 is not mentioned by name, its appearance in both the iPad Air 2 and the iPad mini 3 suggests that it is indeed being used for its security function rather than its NFC function.
Aside from the inclusion of the 65V10 NFC chip, which is located in a spot on the logic board that was previously left blank, there are few other notable features about the iPad mini 3. iFixit did find that the tablet has new home button cabling to support Touch ID and home button brackets that are securely affixed by hot glue, which makes removing the home button a much more difficult task.

Like the Touch ID cable in the iPhone 5s, the location of the Touch ID cable in the iPad mini 3 makes screen repairs very difficult, as the cable is easy to sever when opening up the display. Due to the glue and the precarious position of the Touch ID cable, the iPad mini 3 earned a repairability score of 2 out of 10 from iFixit.
Apple's iPad mini 3 is currently available in both retail stores and from Apple's
online store
, with prices that start at $399.
Apple's digital music sales continue to spiral downward, falling more than 13 percent worldwide thus far in 2014, reports
The Wall Street Journal
. Last year, digital music sales
dropped
for the first time since iTunes opened in 2003, falling 5.7 percent year-over-year.

This continued decline is likely one of the reasons behind Apple's $3 billion acquisition of Beats Electronics and Beats Music earlier this year. Apple may be hoping to offset this drop in digital music revenue with increased subscription revenue from Beats Music.
The plummeting download numbers help illustrate why Apple bought the $10-a-month subscription streaming service Beats Music earlier this year, as part of its $3 billion acquisition that included headphone maker Beats Electronics. Apple is rebuilding Beats Music and plans to relaunch it next year as part of iTunes, according to a person familiar with the matter.
To attract a broader customer base, Apple is rumored
to be revamping
Beats Music with an expected relaunch of the service slated for next year. The Cupertino company also is pushing for an industry-leading
$5 monthly subscription cost
that may increase the number of subscribers willing to pay for a premium service.
Apple is not new to the streaming music business, having launched iTunes Radio last year
alongside iOS 7
. The Pandora-like service has reportedly failed to achieve its goals of spurring listeners to purchase tracks from the iTunes Store despite being bundled on millions of phones in its available regions, and has yet to expand beyond the United States and Australia.
Earlier this week, a
teardown analysis
of the iPad Air 2 by iFixit surprisingly revealed the presence of a near field communications (NFC) controller chip that is identical to the one inside the iPhone 6 and 6 Plus. Apple never advertised the Air 2 as having NFC, and the tablet doesn't support contactless Apple Pay payments, so the inclusion of this chip is somewhat puzzling.
In a new article,
Gigaom
examines the reasons why Apple might include but not activate this hardware in its tablet device, speculating that the chip may eventually serve to help small businesses process payments.

Portion of iPad Air 2 logic board showing NFC chip boxed in red (Source: iFixit)
In this scenario, the iPad Air 2 would serve as a cash register, potentially using the onboard NFC chip to process wireless Apple Pay payments without any additional hardware. The iPad already is gaining traction with small retailers for use as a mobile register, often in conjunction with a credit card reader and processing service such as Square. But with Apple Pay rolling out as an NFC system for payments, Apple could be eventually be looking to help retailers accept such payments with its hardware.
The key to NFC in the iPad Air 2 is that it affords the possibility of becoming an Apple Pay cash register with no dongle needed. Conceivably, it could expand the number of outlets that take Apple Pay from around 40 to anyone selling stuff who owns the latest iPad. It brings Apple Pay out from the big box store and into farmers' markets and boutiques.
Such a system would appear to complement rather than replace existing credit card implementations used by small businesses, as Apple Pay currently has only limited distribution through the iPhone 6 and 6 Plus and retailers would still need to accept traditional credit and debit cards. Businesses also still require credit card processing arrangements through either a bank or a separate payment service such as Square.
Apple Pay launched earlier this week with only
a few hiccups
in an otherwise smooth release. Early reports
were favorable
with most users noting that transactions were processed quickly and easily. Its biggest limitation is distribution, with only large chain launch partners officially accepting the payment service. But as Apple Pay evolves, it will be interesting to see whether the NFC-equipped iPad Air 2 and small businesses will play a bigger role in Apple's mobile payment plans.
Update
: As pointed out by a number of readers, the lack of NFC antennas in the iPad Air 2 leaves it unclear how the iPad Air 2 could be used as payment receiver. Forum member
GekkePrutser
notes
that the chip is likely included in the iPad because it houses the secure element where Apple Pay data is stored for the in-app payment feature that is supported on the new iPads.
According to reports on
Twitter
,
Reddit
and
MacRumors forums
, Amazon's Visa Rewards card is now compatible with Apple Pay. Amazon reportedly enabled the feature today, moving quickly to bring the mobile payments service to consumers who were disappointed in Amazon for not supporting Apple Pay at launch.

Apple Pay launched on Monday with support from a large number of credit card companies and banks. Among the launch partners were Chase, which is the issuing bank for the Amazon Visa Rewards card. Amazon reportedly was the only Chase consumer card
not supporting
Apple Pay, sparking rumors that the retailer was deliberately rebuffing Apple's mobile payment efforts for competitive reasons.
Hey, Amazon Chase Visa cards now work with Apple Pay, complete with Amazon logo on the card and all. That was fast.

— Dave Rutledge (@_) October 24, 2014
Amazon
dispelled
these rumors by confirming it would enable Apple Pay soon, but few expected the rollout to happen so quickly. Customers with an Amazon Visa Rewards card should be able to add the credit card to Apple Pay with full support for mobile payments.

Tim Cook was optimistic about Apple's relationship with China following
a meeting
with top Chinese government officials in Beijing on Wednesday to discuss data privacy and security. Cook
told
China's
Xinhua
news agency (Via
Reuters
) that he had "very open" talks with a senior official.
Chinese vice premier Ma Kai, a member of the CPC Central Committee Political Bureau, met with the CEO of the world's most valuable company on Wednesday morning. They had discussed a series of topics including privacy and security. Cook described it as "very open", "fascinating" and "impressive", but he declined specifics.
As part of the interview, Cook also confirmed Apple's plan to launch Apple Pay and other technologies in China saying, "China is a really key market for us. Everything we do, we are going to work it here. Apple Pay is on the top of the list." Cook spoke to Xinhua News during his 4-day-long trip to China, which saw the CEO also visit a Foxconn factory in Zhengzhou City.
China is an increasingly important market for the Cupertino company, which now has 16 percent of the smartphone market share behind Samsung (23 percent) and Xiaomi (21 percent). Apple
plans
to expand its presence even further in the country by opening 25 new stores in the next two years.
Note: Due to the political nature of the discussion regarding this topic, the discussion thread is located in our
Politics, Religion, Social Issues
forum. All forum members and site visitors are welcome to read and follow the thread, but posting is limited to forum members with at least 100 posts.
With iOS 8 and OS X Yosemite, Apple introduced "Continuity," a set of features designed to allow for deeper integration between Macs and iOS devices. Unfortunately, some Continuity features are limited to Macs with Bluetooth 4.0, which leaves many older Macs unable to access the new features.
Additionally, even though the 2011 MacBook Air and 2011 Mac mini include Bluetooth 4.0, Apple has opted not to allow them to access Continuity features. Luckily, many resourceful members of the
MacRumors
forums have come up with solutions to allow them to enable Continuity on their older Macs, and
discussion on our forums
has led to the creation of a set of instructions and a Continuity Activation Tool that should get Continuity working on Macs unable to explicitly support the feature.

Created by Dokterdok (based on instructions
compiled by UncleSchnitty
) and
available on Github
, the Continuity Activation Tool is designed to activate Continuity by doing a compatibility check, creating backups of original System drivers, and disabling a Mac-model blacklist in the Bluetooth code that prevents Continuity from working on ineligible Macs. From there, it also whitelists Mac board-ids within the Wi-Fi code to get the feature working.
The tool can be downloaded as a zip file
from Github
and is installed by double clicking the app and following the instructions provided on the screen.
The Continuity Activation Tool will enable Continuity on the mid-2011 MacBook Air and the mid-2011 Mac mini with no additional hardware required, as both of those devices include Bluetooth 4.0. That means installing the tool should get Continuity up and running on those machines in just a few minutes.

On older Macs that do not come equipped with Bluetooth 4.0, new wireless cards will need to be installed, which makes it more difficult for casual users to get access to Continuity. USB dongles that provide Bluetooth 4.0 will not work with the Continuity Activation Tool, and a list of wireless cards that will provide Bluetooth 4.0 for each older Mac can be found on the
MacRumors forums
.
Both
MacRumors
forum members
and
Redditors
have confirmed that this method is able to successfully enable Continuity on a variety of Macs, including the mid-2011 MacBook Air, the early 2011 MacBook Pro, and the mid-2011 Mac mini.
The Continuity Activation Tool appears to enable all Continuity features when used successfully, allowing older Macs to access Handoff, Instant Hotspot, SMS forwarding, and Mac phone calls without an issue. Some of these Continuity features may work already on older Macs as they use a variety of different connection methods ranging from Bluetooth to Wi-Fi, but the tool is confirmed to get Handoff and AirDrop, both of which require Bluetooth, to work.
Users should
exercise caution
when using the Continuity Activation Tool, as it moves around low level files and there's a possibility it
could cause problems
. A
backup is recommended
before attempting to install the tool.

Earlier today, GT Advanced Technologies
officially announced
its settlement with Apple, which will see the two companies dissolving their partnership, ending their production agreement, and eliminating contractual ties that kept GT from selling its sapphire to other parties.
Under the agreement, GT Advanced will be selling off its remaining sapphire, along with 2,000 sapphire furnaces, with much of the proceeds going to Apple to repay the $439 million loan it provided to get the operation underway.
Apple has now commented on the settlement with GT Advanced, telling
Re/code
that GT's sapphire manufacturing process simply wasn't ready for production, and that a relationship in the future remains a possibility as the company's sapphire production techniques improve. GT will continue research work focused on creating sapphire boules over 165 kilograms.
Apple also says that it is going to look for other ways to use the Mesa, Arizona facility that it purchased for GT Advanced, which will be unused after GT fully shuts down operations at the end of December
"Apple put a lot of effort into an ambitious new sapphire manufacturing process with GTAT which is not ready for production. We're going to continue evaluating GTAT's progress on larger sapphire boule development, as well as consider other options for the facility. We remain committed to the city and we're going to work with Mesa and Maricopa County to help the GT Advanced employees who will be impacted by this find new jobs."
GT Advanced first
filed for bankruptcy
at the beginning of October, but the company was reportedly missing technical milestones as
early as February
, hinting at the trouble to come. While Apple was widely expected to use sapphire from GT Advanced for the iPhone 6 and 6 Plus displays, the company opted to stick with Corning's Gorilla Glass after it became apparent GT would not be able to produce sapphire of the quality that Apple required.
Approximately 650 employees at the Mesa, Arizona sapphire plant have already been laid off, and a limited number of employees will remain employed until the end of the year in order to help GT Advanced wind down production at the factory, finishing the sapphire boules that are currently growing and shutting down and cleaning furnaces for storage and sale.
A growing number of Apple Pay users are angry with retailer Rite Aid following the reported disabling of the mobile payment service within the past 24 hours. Apple Pay should technically be compatible with any point-of-sale systems supporting NFC technology, but customers who made successful Apple Pay payments earlier this week have found their payments were
being denied
yesterday and today.

Among the disgruntled users was Josh Hudnall, who
shared his experiences
and his conclusions that Rite Aid is deliberately crippling its payment systems to prevent Apple Pay transactions.
Today, Allison asked me to pick up a few things on my way home from the office, and I'm a major nerd, so naturally I was all too happy to oblige. I was equally disappointed, then, when my transaction was declined with a message on the terminal informing me that Apple Pay was not supported. The terminal mentioned Apple Pay by name. So the system is smart enough to know about Apple Pay and to decide not to take it.
Hudnall spoke to an associate who claims Rite Aid recently sent an email informing stores that the retailer is not accepting Apple Pay payments, and Hudnall speculates it is because Rite Aid is a supporter of the upcoming CurrentC payments system from
Merchant Customer Exchange
. Competitor Walgreens is also one of Apple's biggest launch partners for Apple Pay.
According to Twitter reports, the retailer also unexpectedly turned off support for Google Wallet at the same time. Rite Aid has not confirmed the shut down of these services, nor commented publicly on these reports.
@Futment @riteaid system IS compatible. @riteaid blocked it and Google Wallet today. Both worked yesterday. Bad business decision.

— Yoshi (@YoshiTheShiba) October 22, 2014
Apple Pay
launched
earlier this week in a debut that was relatively smooth for most customers. As
demoed
in a McDonald's transaction, payments are processed almost instantly at supported terminals with the press of the Touch ID sensor on the phone.
The most publicized hiccup occurred with Bank of America customers, who were
accidentally charged twice
for their purchases. Bank of America confirmed that the issue only affected a small number of users who will receive refunds.