Apple Watch, Retina MacBook, New MacBook Air & 13" Pro
Though the Retina MacBook isn't officially launching until April 10, an
early 64-bit Geekbench benchmark
of the entry-level machine was spotted this afternoon, giving us our first glimpse at how the new ultra thin MacBook measures up to existing products in Apple's notebook line.
The 1.1GHz entry-level Retina MacBook with an Intel Core M-5Y31 processor was benchmarked twice, giving two single-core scores of 1924 and 2044, and multi-core scores of 4038 and 4475. Comparatively, the 2015 entry-level MacBook Air with a 1.6GHz Intel Core i5 processor has
seen scores
in the neighborhood of 2881 (single-core) and 5757 (multi-core), so it's a good bit faster than the new MacBook.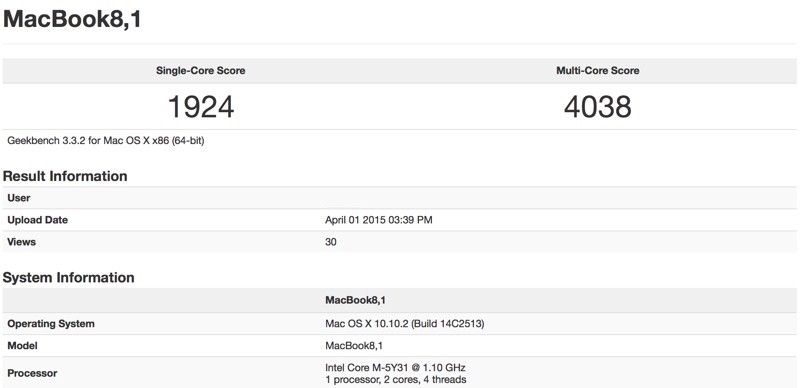 Performance wise, the Retina MacBook CPU seems
to be par
with the higher-end 2011 MacBook Air with a 1.8GHz Core i7 processor, but graphics performance on the new MacBook, which Geekbench does not measure, should be far superior to the 2011 machine. Taking into account the Intel HD 5300 graphics and an improved SSD, the Retina MacBook will outperform the aforementioned 2011 MacBook Air even though the CPU speeds are similar.
Apple offers two additional processor upgrade options for the Retina MacBook, at 1.2GHz in the higher-end machine and at 1.3GHz as an optional build-to-order upgrade, both of which will see somewhat better performance results than the entry-level 1.1GHz processor.
The new
Retina MacBook
, which is Apple's thinnest and lightest notebook to date, will go on sale on April 10. Prices start at $1,299 for the 1.1GHz/8GB/256GB model and $1,599 for the 1.2GHz/8GB/512GB model.
Update 8:34 PM
: The original Geekbench results have been deleted, but a
Google cache
is available.
(Thanks, David!)
For its upcoming streaming TV service, Apple is asking its content partners to take on the job of streaming television shows and movies to its customers, reports
Re/code
. Rather than hosting streaming content itself, Apple is requesting that its partners build out the necessary infrastructure and take on the related costs.
Apple is asking TV networks to handle the responsibility and cost of the streaming infrastructure associated with its Web video service, industry executives say. That issue is one of many unresolved questions about the proposed service, which Apple would like to launch next fall but can't until it lines up programming deals.
Negotiations for the streaming service are reportedly being conducted by iTunes chief Eddy Cue, who has told networks and potential partners that Apple wants to concentrate on software and hardware, areas where it excels, while leaving infrastructure concerns in the hands of people who are better suited to handle it.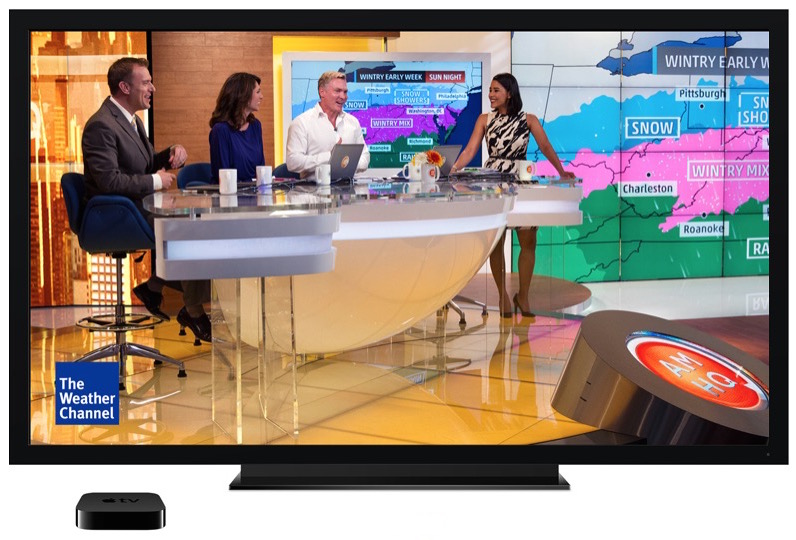 According to
Re/code
, the request isn't unusual because content that users stream from existing Apple TV channels and iOS apps is handled by the networks that provide the content, through partnerships with content delivery networks like EdgeCast. Though streaming services aren't overly expensive, at approximately 5 cents per hour per stream, the idea of dealing with the demand of an Apple television service available to millions has "given executives pause."
In addition to leaving infrastructure concerns to those with more experience, a source that spoke to
Re/code
believes that it's also possible Apple is hoping that if programmers provide the streams, Internet providers like Comcast and Verizon will be less likely to "penalize Apple's service."
Apple is rumored to be working with several partners on its upcoming streaming service, including CBS, ABC, Fox, Discovery, Disney, and Viacom. It may include around 25 channels, and pricing is said to be in the range of $30 to $40. The streaming service may make its debut in June at the 2015 Worldwide Developers Conference ahead of a fall launch.
With the official launch of the new ultra-slim 12-inch MacBook with Retina display still over a week away on April 10, Vietnamese site Tinhte.vn has managed to get its hands on the brand-new silver MacBook and has shared an
unboxing video and photos
.

The entirety of the video is in Vietnamese, of course, but is still worth a watch to check out the design of the new MacBook, the USB-C adapter, and the edge-to-edge keyboard in someone's hands outside the confines of Apple's media event last month.
Additional photos from the unboxing can be found on the Tinhte.vn
official website
, with the full video located on the site's
YouTube channel
. The new MacBook launches on April 10, and Apple has yet to announce whether it will be offering pre-orders ahead of that date.
Tinhte.vn has a long history of getting its hands on Apple products ahead of their launches, with early looks at such products as the
iPhone 4
,
third-generation iPad
, and
EarPods
.

As happens every year on April 1, today is April Fools' Day, and readers should be wary of hoaxes and claims at both news and rumor sites. Today also represents Apple's 39th anniversary, with their partnership having officially been founded on this day in 1976 by Steve Jobs, Steve Wozniak and Ronald Wayne.
As has become tradition, a number of today's pranks have focused on Apple and tech, and here are a few of the more interesting ones to surface so far today. Keep in mind that some hoaxes may be mildly NSFW, so turning down your volume or watching later may be best if you are at work or in a public space.
iFaxit
Repair your Apple products using iFixit's repair manuals, now sent through fax.
HiRise Toast for iMac
Twelve South announced the
HiRise Toast
, an iMac stand that doubles as a toaster.

T-Mobile Pets Unleashed
T-Mobile introduced Pets Unleashed, a revolutionary new family plan that lets your pets get their paws on the hottest smartphones and stream the latest animal-related content without using up your data. The plan includes several apps such as Fetch Freedom, FitPet and Pet Tinder, ensuring that your dogs, cats and entire family stay connected.
Apple Watch Teardown
iFixit
tears down
the Apple Watch, except not the one you're probably thinking of.
Tesla's Model W
Tesla
announced a new product line
that pokes fun at the Apple Watch, the Model W. The Model W is a watch that tells the time and the date, and will improve your health. If you exercise. And it's available in platinum.

This incredible new device from Tesla doesn't just tell the time, it also tells the date. What's more, it is infinitely adjustable, able to tell the time no matter where you are on Earth. Japan, Timbuktu, California, anywhere! This will change your life. Reality as you know it will never be the same.

No longer will you need to rudely examine your phone to read text messages. Now you can politely stare at the tiny screen on your wrist without anyone noticing.
Other Pranks and Hoaxes
Com.Google — Google's search engine in reverse

Amazon.com — Amazon's homepage goes retro to celebrate April Fools' Day

YouTube — Enable the new Auto-Darude Mode in the settings menu of any video

Moshi Kameleon Kloak — The first cloaking case for iPhone 6

Nintendo Apple Watch — A revolutionary new gaming experience on the wrist

Selfie Shoes by Miz Mooz — Taking the selfie stick to a whole new level

PlayStation Flow — A new wearable technology for the swimming pool

Redbox Petbox — The latest movies and games for your pets

MS-DOS Mobile — Microsoft releases MS-DOS for Windows Phone

This post will be updated throughout April Fools' Day with the latest pranks and hoaxes.



When Apple's
CarPlay feature launched
last year, Apple partnered with several music services to offer a variety of listening choices on the platform, including Spotify, iHeartRadio, Stitcher, Rdio, and more.
Noticeably absent from CarPlay was Pandora, but that appears to be set to change. Pandora CFO Mike Herring
spoke to Fox Business Network
yesterday and said Pandora will "definitely be in CarPlay" and integrated into the Apple Watch as well.
Though Herring did not provide a timeline for the possible launch of a Pandora CarPlay app, his statement to
Fox
is the closest Pandora's come to revealing its plans for the platform. Last year, Pandora told
MacRumors
that Apple was a valued partner and though it did not have a CarPlay offering at the current time, it was
exploring opportunities to expand its presence
in the car in the future.
Speaking to
Fox
, Herring also spilled some details on Pandora's relationship with Apple, which hints at why there may have been a delay getting Pandora on CarPlay. According to Herring, the two companies have a "frenemy kind of relationship," possibly due to the similarities between Pandora and Apple's iTunes Radio.
Pandora, which owes part of its success to the popularity of its iPhone app, has a "frenemy kind of relationship going on" with Apple, according to Herring. "We were part of what made it fun to have an iPhone," Herring added. While the two companies are "close partners," it is a "very interesting relationship."
At the current time, there are still only a handful of CarPlay apps available, like
Spotify
,
Beats Music
,
CBS Radio News
,
Umano
,
MLB.com At Bat
,
Overcast
,
Stitcher
,
iHeartRadio
, and
Rdio
. If Pandora comes to CarPlay, it'll be the fourth non-Apple owned music app available.
CarPlay is still largely limited to aftermarket in-dash systems from companies like Alpine
and Pioneer
, as many automobile manufacturers are still working on integrating CarPlay into their vehicles. Of Apple's CarPlay partners,
Audi
,
Volkswagen
, and
Hyundai
have promised CarPlay-compatible cars will be available for purchase in 2015.
Last year, Verizon and AT&T made headlines when researchers discovered they had been engaging in some
unsavory customer tracking techniques
, using unique identifier numbers or "perma-cookies" to track the websites that customers visited on their cellular devices to deliver targeted advertisements, a practice called "Relevant Advertising."
Following customer backlash, AT&T
stopped using the hidden web tracking codes
to keep tabs on the websites that its customers visited, but Verizon continued on with its Relevant Advertising program, which it's been using for approximately two years. While there was an option to opt out of Verizon's program, opting out did not stop the intrusive code from being inserted into the URLs of Verizon customers, leaving a security hole that could let advertisers exploit Verizon customers.

As of today,
The New York Times
reports that Verizon has given its customers a true opt out option that does not insert the identifying tracking codes (or UIDH) into the URLs of customers who opt not to be tracked, as it promised to do in January.
In a statement, Debra Lewis, a Verizon spokeswoman, said privacy is a "central consideration" for the company when it develops new products and services.

"As the mobile advertising ecosystem evolves, and our advertising business grows, delivering solutions with best-in-class privacy protections remains our focus," Ms. Lewis said. "As a reminder, we never share information with third parties that identifies our customers as part of our advertising programs.
Verizon customers can opt out of the Relevant Advertising program by logging into their My Verizon accounts and selecting "
Manage Privacy Settings
" from the "Manage My Account" section of their user profile. AT&T and Verizon customers are able to check whether their devices are sending identifying codes by
visiting a website
created by Kenneth White, one of the security researchers who originally discovered the tracking methods. Verizon's tracking programs are automatic opt-in, so many users may need to navigate to the aforementioned page to turn off the tracking.
Apple and HBO recently inked a deal that will see Apple becoming
the exclusive launch partner
for HBO's upcoming "HBO Now" web-based streaming service, and in an interview with
CNBC
, HBO CEO Richard Plepler explained why the company chose to partner Apple.
According to Plepler, the main reason why HBO opted to team up with Apple was due to the success of its existing cable-based service, HBO GO. 60 percent of HBO GO traffic comes from Apple devices, including the Apple TV, Macs, and the iPhone and the iPad. HBO GO apps have been available on iOS devices
since 2011
and the service has been
available on the Apple TV
since 2013. Plepler also pointed towards the popularity of Apple devices as a deciding factor.

Well, listen. They're obviously an extraordinary company with a wide range of devices, and those devices are proliferating throughout the consumer base. But also, as we look at HBO GO, which is our streaming service tethered to distributors, we saw about 60 percent usage on Apple devices so it made perfect sense for us to work with Apple introducing HBO Now.
HBO Now differs from HBO GO because it does not require a cable subscription for access. Instead, all of HBO's content, including TV shows, movies, documentaries, and more, is available to customers for $14.99 per month. Launching in time for the
Game of Thrones
premiere in April, HBO NOW will be exclusively available on the Apple TV and Apple devices for the first three months of its life.
Once that three month period has expired, HBO will bring the service to other platforms as well. Plepler expects HBO NOW will be popular with millennials, calling it a "millennial missile," and he doesn't believe the price, which is higher than other services like Netflix, will turn customers away. "We think we have a premium product," he said. "We have extraordinary content ... and it's the price of a movie ticket and a bucket of popcorn."
In addition to partnering with HBO for HBO Now, Apple is also in the middle of negotiations for its
own streaming television service
, which would provide a select number of cable channels to customers via the web, with no cable subscription necessary. Apple is said to be planning to price the service at $30 to $40 per month for approximately 25 channels, and is partnering with ABC, CBS, Viacom, Fox, Discovery, Disney, and more.
Apple may be planning to launch its new service in June, at this year's Worldwide Developers Conference, possibly
alongside a revamped set-top box
.
Apple
announced
on Tuesday that all registered developers can now submit Apple Watch app submissions based on WatchKit for approval on the App Store. A
number of popular apps
have already been updated with Apple Watch support on the App Store over the past week, and the approval process is now extended to all members of Apple's Developer Program.

Apple has updated its
WatchKit website
with details on how developers can optimize the design and development of their Apple Watch apps, including the app's name, description, icon, screenshots, keywords, version number and build number. Apple Watch apps, excluding the ones that have already appeared on the App Store, should be steadily approved leading up to and following the launch of the wrist-worn device.
A select number of testers and reviewers will be able to access the apps prior to April 24, unless developers set the release date for their apps to "manual" and update on that date. Apple Watch apps that have started appearing on the App Store include
Evernote
,
Sky Guide
,
Dark Sky
,
Target
,
NYTimes
,
Procreate Pocket
,
Yahoo Tourney Pick'em
,
ECB Cricket
,
The Wall Street Journal
,
MLB.com at Bat
and
Expedia
.
Apple Pay growth is being stymied by issues people are experiencing at checkout, including cashiers unfamiliar with the service and problems getting payment terminals to work. According to a new study conducted by
Phoenix Marketing International
(via
Bloomberg
) in February, these ongoing problems are resulting in fewer repeat usage attempts and missed payment opportunities.
Two out of three iPhone buyers surveyed linked a credit card to their iPhones to enable Apple Pay, and 88 percent of those used the service once in the past four months. On average, Apple Pay users made 2.6 in-store transactions using the payments service during its first four months of availability.
Two-thirds of Apple Pay users claimed to have run into problems at checkout, making the Apple Pay experience less appealing. 48 percent of those who had problems said the merchant took too long completing the transaction, 42 percent said the cashier was unfamiliar with Apple Pay, and 36 percent said transactions were posted incorrectly or double counted.

The Apple Pay terminal simply did not work according to 27 percent of respondents who had issues, and 23 percent said it was inconvenient to choose a card in Passbook. In a separate section, 47 percent of those who had attempted to use Apple Pay ran into problems with the store not accepting Apple Pay even though it was one of Apple's partners.
"However, the early-on transaction potential is being undercut by low repeat usage and lost payment opportunities," said Greg Weed, Director of Card Research at Phoenix. "The demand is there: 59% of Apple Pay users have gone into a store and asked to make a purchase with Apple Pay. But so is the disappointment: 47% visited a store that was listed as an Apple Pay merchant only to find out that the specific store they visited did not accept (or were not ready to accept) Apple Pay."
For the study, Phoenix surveyed 3,002 respondents. Of those, 532 owned an iPhone 6, 350 linked a card to Apple Pay, and 302 used Apple Pay to make a purchase at least once during the last four months. With a small sample size, it is difficult to draw concrete conclusions about overall Apple Pay usage habits and customer experiences, but Phoenix's survey seems to be reflective of issues users have had with the service.
In our own experiences at
MacRumors
, we've had multiple occasions where an Apple Pay terminal simply failed to work, or took several tries to register a payment. We have also seen Apple Pay partner stores that were not equipped to accept Apple Pay payments, and we've run into employees who knew little about the service.
At other locations, we've been forced to sign for purchases, greatly cutting down on Apple Pay's ease of use, and at times, we've also been asked to show ID for a purchase, causing us to pull out a wallet anyway. We've seen several other reports of problems with Apple Pay
on our own forums
, and
several journalists
have gone hands-on with Apple Pay and
seen issues first hand
.

Apple Pay may still have hiccups to overcome, but the service has
seen early success
and will continue to improve with wider adoption. 72 hours after launch, Apple Pay had more than 1 million credit and debit activations, and from October through January, Apple Pay accounted for two of every three dollars spend through contactless payments on Visa, Mastercard, and American Express. As of March, Apple Pay is accepted at more than 700,000 locations in the United States, and merchant adoption continues to grow.
In January, Apple CEO Tim Cook said Apple Pay was "off to a very strong start" and that he expects 2015 to be "the year of Apple Pay."
Microsoft on Tuesday
announced
the Surface 3 tablet with Windows 8.1, available in May for a starting price of $499. The latest iPad competitor is designed to be a complete laptop replacement, running full Windows, including desktop applications, and delivering all-day battery life. Surface 3 also includes a quad-core 1.6GHz Intel Atom processor, a significant shift from ARM processors used in previous models.

Surface 3 comes with 64GB storage and 2GB of RAM for $499, while a 128GB option with 4GB of RAM costs $599. Both Wi-Fi only and 4G LTE models are available. The tablet also features a 10.8" Full HD display at 1,920×1,280 pixels resolution, full-size USB 3.0 port, Mini DisplayPort, microSD card reader, headphone jack, cover port, micro USB charging port, Bluetooth 4.0 and three-position kickstand. The tablet will receive a free upgrade to Windows 10 when available and includes a one-year Office 365 subscription.
The base model Surface 3 in 64GB and 128GB options is available for pre-order now through
Microsoft's website
for delivery starting the first week of May, while the 4G LTE models are listed as shipping by June 26th. The tablet includes a 1-year limited hardware warranty. Type Covers are a $130 add-on, and Surface pens are available in blue, red, black, and original silver.
Microsoft's new Surface 3 joins the existing
Surface Pro 3
, starting at $799. The professional tablet rivals the MacBook Air with a 12" Full HD display at 2,160×1,440 pixels resolution, Intel Core i3, i5 or i7 processor, up to 9 hours of web browsing, full-size USB 3.0 port, Mini DisplayPort, microSD card reader, two 5-megapixel HD cameras on the front and back, Microsoft Office, Adobe Photoshop and more.

The
ongoing conflict between Apple and Ericsson
escalated this afternoon as the United States International Trade Commission (ITC) agreed to launch an investigation into claims that Apple infringed on as many as 41 of Ericsson's cellular technology patents with its iPad and iPhone devices, reports
PCWorld
.
Apple and Ericsson
first clashed
in January, after the expiration of a 2008 licensing agreement between the two companies. Despite two years of negotiations, the companies failed to establish a new agreement that would let Apple use Ericsson's cellular technology patents.
Apple filed a complaint suggesting Ericsson was both demanding excessive royalties for LTE patents and wrongly claiming its patents as essential for the LTE wireless communication standard. Ericsson
responded
with its own complaint, asking the court to determine whether its licensing fees were fair.
Ericsson's cellular technology patents are considered essential and are subject to fair, reasonable, and non-discriminatory terms (FRAND). According to Ericsson, the licensing deal it offered Apple (estimated to be between $250 million and $750 million annually) was reasonable, but Apple disagreed.
In February, Ericsson went on to file
seven new lawsuits against Apple
and two complaints with U.S. ITC in an effort to prevent Apple from selling products in the U.S., which is what led to today's ITC investigation. Companies often file complaints in district court and with the ITC simultaneously as the ITC moves faster and has the ability to block products from being sold in the United States. The looming threat of a product ban can accelerate licensing negotiations.
Should the International Trade Commission's investigation find that Apple infringed on Ericsson's patents, it could potentially lead to an exclusion order preventing the infringing products from being sold in the United States until the dispute is resolved.

Apple today seeded a new beta of OS X Yosemite to developers and public beta testers, a week after seeding the
fifth OS X Yosemite beta
and almost two months after releasing the
first OS X 10.10.3 beta
.
The new beta, build 14D127a, is available for registered developers through the Software Update mechanism in the Mac App Store and through the Mac Developer Center. OS X Yosemite Recovery Update 1.0 is also available, improving the reliability of Yosemite Recovery when restoring from a Time Machine backup.
OS X 10.10.3 includes several new features, like the Photos for OS X app. Designed to integrate with iCloud Photo Library and the Photos app on iOS, the Photos for OS X app is a replacement for both iPhoto and Aperture. Reviews have suggested that while Photos is a suitable replacement for iPhoto, with more advanced tools and performance optimizations, it may leave professional users disappointed in its initial incarnation.
Along with the new Photos for OS X app, earlier OS X 10.10.3 betas have introduced a
redesigned emoji picker
that consolidates emoji into a single scrollable page with clear labels,
new diversified emoji
and emoji skin tone modifiers, new flag emoji and updated emoji for the iPhone, iMac, and Apple Watch, and support for
Google 2-step verification
when setting up accounts in System Preferences.
With the fifth OS X 10.10.3 beta, there were just two minor bug fixes to the OS X Photos app, and today's update likely includes similar small changes. Given that we're on the sixth beta, OS X 10.10.3 is undoubtedly getting close to completion and we may see a public release of the software in the near future.