Dag Kittlaus and Adam Cheyer, co-founders of
Siri
, the virtual assistant now built into all of Apple's iOS devices, are set to demonstrate their newest artificial intelligence project on Monday, reports
The Washington Post
. Viv, the name of the AI bot, is more advanced than Siri and is able to carry out complex tasks by mimicking the "spontaneity and knowledge base" of a human assistant.
Viv can, for example, set up a dinner reservation and purchase movie tickets all based on one query, parsing ticket prices to find deals and offering suggestions if a movie is sold out or a restaurant has no seating available. Completing the same task with Siri would require multiple commands and human interaction. In an example given by
The Washington Post
, the Viv team uses it to order pizzas from a nearby restaurant, with Viv parsing numerous voice-based topping and side dish orders without ever needing to open an app.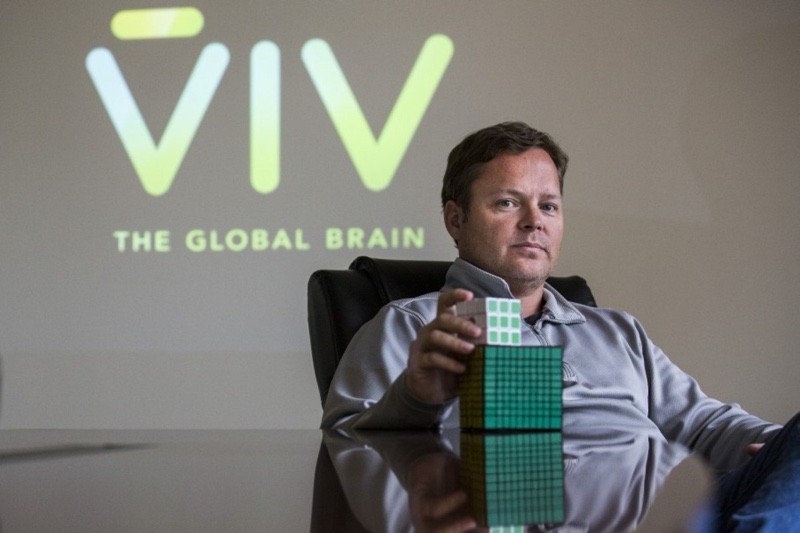 Image via The Washington Post
Much of Viv's functionality is enabled through integration with third-party apps like Uber, Florist One, SeatGuru, ZocDoc, and Grubhub, similar to Amazon's Alexa. The team behind Viv is in talks to bring on more partners and plans bring the Viv technology to a variety of Internet-connected devices like cars and TVs.
Grubhub chief executive Matt Maloney said he rushed to sign up with Viv two years ago, impressed with the idea of allowing consumers to perform different activities without having to toggle between services. "No one has been able to say, 'I want the movie ticket, and the bottle of wine, and some flowers on the side' -- all in one breath," he said.
The goal with Viv, according to Kittlaus, is to offer a way for humans to interact naturally with services through complex human-to-human style conversations, a project Kittlaus and Cheyer have been pursuing since before the development of Siri.
Siri was built around the same premise, but underwent changes under Apple's leadership. "Steve [Jobs] had some ideas about the first version, and it wasn't necessarily aligned with all the things that we were doing," Kittlaus told
The Washington Post
.
Google and Facebook have already made offers to purchase Viv, but it is not clear if Kittlaus and Cheyer have plans to sell the technology. The Viv Labs team wants to see the technology built into a wide range of devices, and Kittlaus says the company will "pick the path that gets us there."
Internet-based subscription television plans are growing in popularity, and YouTube is the latest company rumored to be working on a standalone television service. According to
Bloomberg
, YouTube is developing a paid subscription service called "Unplugged," offering a bundle of channels for a set price.
YouTube has already built the infrastructure necessary for the service and is prioritizing its development for a 2017 debut. YouTube has been in talks with major media companies like NBCUniversal, Viacom, Fox, and CBS, but has not yet been able to secure rights for the service.

YouTube is said to be aiming to build a streaming service similar to the service Apple
hoped to offer
before putting its
streaming TV plans on hold
. It would include a "skinny bundle" of channels from the four major U.S. networks along with a few popular cable channels priced at around $35 per month.
YouTube is also considering plans offering a collection of less-watched television channels or smaller groups of channels built around different themes, such as comedy or lifestyle.
YouTube would charge one subscription for the main bundle, and extra, smaller monthly fees for these theme-based groups, one of the people said.
Using this approach, YouTube could show it is capable of bringing new viewers to many of these second-tier channels, a major concern for large media companies that depend on TV for most of their profits.

If YouTube can make it work, media companies may be more open to including more-successful channels later, one of the people familiar said.
Along with YouTube, Hulu is also building its own competing streaming television service. News of Hulu's plan
surfaced earlier this week
and was
confirmed
this morning by Hulu CEO Mike Hopkins.
Hulu's subscription model will offer customers cable-style access to popular broadcast television networks and cable channels to complement its existing streaming service, plus it will include a cloud-based DVR feature. Hulu is also aiming to launch its live TV subscription plan in 2017 and is close to signing deals with partners like Disney and Fox. Pricing for the service has not yet been announced, but rumors suggest it will be available for around $40.
"This means our viewers will be able to enjoy live sports, news and events all in real-time without a traditional cable or satellite subscription," said Hopkins. "We're going to fuse the best of linear television and on-demand in a deeply personalized experience optimized for the contemporary, always-connected television fan."
As network executives grow accustomed to establishing deals for streaming television services, Apple may be able to revisit its television plans. Apple has been working on some kind of subscription TV service for several years, but executives have not been able to establish deals with content owners. Apple's latest streaming plans
reportedly fell apart
because media companies demanded more money than Apple wanted to charge for its TV service and were reluctant to unbundle channels.

Kohl's has
announced
that customers can now pay for their purchases with
Kohl's Charge Cards
or other credit or debit cards and simultaneously earn
Yes2You Rewards
loyalty points with a single tap using
Apple Pay
.
The combined functionality is currently available in approximately 250 Kohl's stores in the United States, and the department store chain expects one-tap checkout to be available in all stores nationwide later this month.
Kohl's is the first retailer to offer a one-tap solution for payments and rewards using Apple Pay. Customers can simply add both their Kohl's Charge Card or other payment method and Yes2You Rewards card to Apple Pay and simultaneously pay and collect loyalty points upon checkout with one
Touch ID
tap for verification.
Kohl's has supported Apple Pay since June 2015, and last October it became the
first retailer to allow store-branded cards
to be used with the iPhone-based contactless payments service. JCPenney is also
rolling out store card support
.
Last week, Apple CEO
Tim Cook
said that Apple Pay is "
growing at a tremendous rate
," with transaction volume up five times compared to a year ago and the service gaining one million new users per week. Apple Pay is currently available in the U.S., U.K., Canada, Australia, China, and Singapore.
Cook noted that Apple Pay will launch in additional regions "soon," including Hong Kong and Spain through a
partnership with American Express
later this year.
Visa
and/or
MasterCard support
may also be coming soon in countries such as Brazil, Canada, Hong Kong, Japan, and Singapore.
Apple is planning to overhaul its year-old music streaming service to make it "more easy to use", according to people familiar with the matter (via
Bloomberg News
).
The company is set to redesign the user interface to make it more intuitive, said the sources, who asked to remain anonymous because the plans are yet to be made public. Apple also means to significantly enhance the integration of its streaming and download businesses and expand its online radio service.

According to
Bloomberg
, a full reboot of
Apple Music
is to be unveiled at the Worldwide Developers Conference in June and will be accompanied by a fresh marketing campaign to entice customers to the subscription-based service, which currently costs $10 per month.
Apple Music was introduced with much fanfare back in June 2015. While many commentators gave generally positive reviews, the service was
criticized
for its muddled interface and dearth of features. Meanwhile, Taylor Swift penned
an open letter
to the Cupertino company criticizing it for not paying artists during the service's free three-month trial and explaining her decision not to make her album
1989
available to stream on Apple Music. Artists have also complained that Apple Music's social aspect, called Connect, "
fails miserably
" in its aims.
Apple has struggled to integrate its employees and unite the streaming and downloading businesses into a cohesive music strategy, according to the latest report. As a result, the service is now being overseen by content head Robert Kondrk and Nine Inch Nails frontman Trent Reznor. Design chief Jony Ive's team has also been involved, along with former Beats co-founder Jimmy Iovine and senior VP of Internet services
Eddy Cue
.
Apple Music has reached 13 million subscribers,
announced
Apple CEO
Tim Cook
at last week's earnings call. The figure was 2 million higher than that reported in February, indicating a growth rate on par with industry-leading streaming service Spotify.
Update:
Details about the upcoming Apple Music redesign have been shared by
9to5Mac
. It is said to feature a "bolder, yet simpler" design that puts an emphasis on black and white backgrounds and text and more of a focus on album art. The "New" tab in Apple Music is being replaced with a "Browse" option with better organizational tools for finding new content, and Apple will encourage users to use a simplified "For You" section.
Connect, Apple Music's artist-focused social network, will remain unchanged, as will Beats 1 Radio. New
3D Touch
shortcut previews will be added, Apple will make sharing features more obvious, and a feature allowing listeners to easily access song lyrics will be added. The new Apple Music app will reportedly debut at
WWDC
in
iOS 10
and will be introduced through an iTunes update on the Mac.
Apple CEO
Tim Cook
spoke with CNBC's Mad Money host Jim Cramer yesterday for
a two-part interview
covering a wide range of topics. In the
second portion of the interview
, which aired tonight, Cook talked about Apple's recent feud with the FBI, what Apple stands for, and who he personally admires.
On a question about what Apple stands for and what he's most proud of, Tim Cook said Apple conducts business in a way that's "right and just." He pointed towards the company's environmental efforts, use of renewable energy, focus on human rights, employee shareholder plans, and privacy efforts. "All of these things help us stand for something," he said. "And I think that's what people want."
He went on to say that he's proud of the products Apple makes that give customers the ability to do things they couldn't have done otherwise, from
giving a voice
to an autistic child to providing tools for artists to giving grandparents a way to talk to their grandkids with FaceTime. "All of these things excite me because they're bringing out the best in people," he said.

Apple has always stood for building the best products on Earth that enrich people's lives. Whether it was Steve's Apple or -- I don't view it as my Apple today, I'm the CEO of it -- that is what we're about. And so we want to change the world through our products. We produce products that give people the ability to do things they couldn't do before.
The discussion on Apple's values turned towards the company's recent dispute with the FBI, where Apple was ordered to unlock the iPhone 5c of San Bernardino shooter Syed Farook, leading to a vicious and public debate between Apple and the U.S. government. Echoing past statements, Cook said the FBI's request, which asked for a new version of iOS that bypassed passcode restrictions, went too far and had the potential to put millions of people at risk. He said Apple had to stand up for what it believed in, even though it led to a fight with the government.
Government in general has gotten quite dysfunctional in the U.S. and in some other countries as well. What that does, I believe, is put more responsibility on the everyday citizen and companies to help promote change and improve things. And I don't mean to play a government role, but it's not just government who can change things. All of us are responsible for changing things.
Cook reiterated his hope that the encryption debate will lead to a discussion where different groups, from law enforcement to civil liberties groups to technology companies, are represented and can weigh in on the issue.
In a final question, on who he admires, Cook named human rights leaders he's spoken of in the past and former Apple CEO Steve Jobs.
I had incredible love and respect for Steve and I think there has never been anyone like him and believe his contributions and gifts to the world were unbelievable. I also deeply admire people who fought for human rights and were pushing humanity forward. People who I think of when I say that are Bobby Kennedy and Dr. King. These people ultimately risked everything, including their lives, to push people forward so that everyone could be included. They were all about inclusiveness. I'm a great believer in inclusiveness.
The
first half of Cook's interview
with Cramer aired last night and covered topics including innovation, the future of the iPhone and
Apple Watch
, the growth of Apple services, Apple's performance in China, and more.

Apple recently hired Nest's former Vice President of Technology to work on health related projects at the company, reports
Fortune
. Yoky Matsuoka, a well-known robotics expert who co-founded the Google X experimental project lab, joined Apple after leaving Nest last year. At Nest, she led the development of machine learning algorithms for the Nest Learning Thermostat.
At Apple, Matsuoka is working under the company's chief operating officer Jeff Williams, who is in charge of Apple's health initiatives like ResearchKit, HealthKit, and CareKit.
Prior to working at Google and Nest, Matsuoka was the director and founder of the University of Washington's
Neurobotics Laboratory
, focused on building a robot-human system to help individuals who experience strokes, spinal cord injuries, and traumatic brain injuries with rehabilitation and regaining/enhancing motor control. She is known for her work on
robotic hands
.
Matsuoka has experience in robotics, machine learning, and artificial intelligence, all areas Apple has expressed interest in through recent acquisitions like
VocalIQ
,
Emotient
, and
Perceptio
. According to
Fortune
, Matsuoka will be working on health-related projects, but the report does not include specifics on what she will be doing or how her robotics expertise might be applied to Apple products.

Ahead of last night's Apple-sponsored Met Gala, Apple design chief Jony Ive spoke with fashion website
Business of Fashion
about the "Manus x Machina" theme of the event and accompanying Costume Institute Exhibition, giving some insight into his thoughts on design and some hints on the future of the
Apple Watch
.
According to Ive, who has had a hand in the creation and design of all of Apple's modern product releases, including the company's first wearable device, the goal of the designer is to solve problems without making the consumer aware of the problem that was solved.
In our work, we've always tried to design in a way where you're not aware of the problems that we've had to solve. That's the job of the designer: to solve problems and explore, but not really drag you through what all the problems were.
He went on to explain that tech products, like the Apple Watch, are becoming "more and more personal," something that he says technology companies still have a lot to learn about.
I think we have always had a very clear and a very singular approach to how we design products that are more familiar to people, more established in terms of product categories. I think it's very hard to have that same clarity and singularity when you're not absolutely confident in your subject matter."
Business of Fashion
asked Ive about his future plans for the Apple Watch and while he refused to give specifics, he hinted that there could be some dramatic changes in store based on Apple's general product release philosophy. He said the Apple Watch is a "natural" category for Apple and that the company thinks about it in a non-opportunistic, "authentic" way.
It's quite interesting that if you look back at the first generation of the iPod or the Phone -- what happens in the next two, three, four years is dramatic. You'd be very surprised about some of the things you would absolutely assume that the first Phone did and it didn't have. [...]

I personally love products when they're at this level of maturity," Ive said of the Apple Watch. "You know we can't talk about future products, but if you look at what we typically do is that we don't make something and stop.
Jony Ive
served as co-chair
for the 2016 Met Gala and Costume Institute Exhibition alongside pop star Taylor Swift and actor Idris Elba. Last night, Ive, Apple CEO
Tim Cook
, and Steve Jobs' widow Laurene Powell Jobs attended the Met Gala alongside hundreds of celebrities, major fashion designers, and other well-known tech leaders like Kevin Systrom, Marissa Mayer, and Elon Musk.
(Image via Vogue)
TIME Magazine
today
published a list
ranking the 50 most influential gadgets of all time, from cameras and TVs to music players, smartphones, and drones.
Unsurprisingly, Apple's iPhone was ranked as the number one most influential device on
TIME
's list, because it "fundamentally changed our relationship to computing and information," popularized mobile apps, and influenced the future of smartphone design.

Apple was the first company to put a truly powerful computer in the pockets of millions when it launched the iPhone in 2007. Smartphones had technically existed for years, but none came together as accessibly and beautifully as the iPhone.

Apple's device ushered in a new era of flat, touchscreen phones with buttons that appeared on screen as you needed them, replacing the chunkier phones with slide-out keyboards and static buttons.
Apple's Macintosh also ranked high on the list, coming in as the number three most influential gadget for setting the standard for "the way human beings interact with computers." The iPod, the precursor to the iPhone and the device that inspired Apple's line of mobile products, was listed as the ninth most influential gadget.

The only other Apple products to make the list are the iPad and the iBook. On the list for being "radically different" than the tablets that came before it, the iPad is ranked at number 25, while the iBook, the first laptop to offer wireless networking, is ranked at number 38.
The product's reveal was a classic example of Steve Jobs' showmanship at its best. While loading a webpage and showing off the computer's display at 1999's MacWorld conference, the Apple co-founder lifted the computer off its table and walked across the stage. The crowd roared in approval. In a gesture, he showed that Wi-Fi was here to stay.
Other smartphones that made the list include the Motorola Droid, credited with popularizing Android, the BlackBerry 6210, and the candy bar-shaped Nokia 3210, the first phone with an internal antenna and built-in games.
The full list, which includes products like Google Glass, Fitbit, Amazon Kindle, Oculus Rift, the Sony Walkman, and more, is available from the
TIME
website.
Apple today seeded the fourth beta of an upcoming OS X 10.11.5 El Capitan update to developers and public beta testers, one week after releasing the
third OS X 10.11.5
beta and more than a month after releasing
OS X 10.11.4
, the fourth update to the El Capitan operating system. OS X 10.11.5 has been in testing
since April 6
.
The fourth beta of OS X 10.11.5 can be downloaded through the software update mechanism in the
Mac App Store
or through the Apple Developer Center (developers only).

OS X 10.11.5 focuses on security enhancements, performance improvements, and bug fixes to address problems that have surfaced since the release of OS X 10.11.4. As with prior betas, the changes appear to be minor in scope, and no obvious outward-facing tweaks have been discovered in the first three OS X 10.11.5 betas.
We'll update this post if any new features are found in the fourth beta.
Apple today released the fourth beta of an upcoming
iOS 9.3.2
update to developers and public beta testers for testing purposes, one week after the release of the
third iOS 9.3.2 beta
and more than a month after the launch of
iOS 9.3
, a significant update that introduced
Night Shift
mode and other feature improvements. iOS 9.3.2 has
been in testing
since April 6.
iOS 9.3.2 beta 4 can be downloaded over-the-air using the beta configuration profile or through the Apple Developer Center.

iOS 9.3.2, as an 9.x.x update, appears to be minor in scale, focusing on bug fixes and performance improvements. iOS 9.3.2 appears to fix
a major Game Center bug
that has plagued some iOS users for months and it introduces support for using Night Shift and Low Power Mode simultaneously.
The first three betas of iOS 9.3.2 have not included any significant outward-facing changes, but we will update this post with any new features found in the fourth beta.

In line with Apple CEO
Tim Cook
's recent comments about "very strong"
iPhone SE demand exceeding supply
, the company has reportedly increased orders for the low-priced 4-inch smartphone in the second quarter of 2016.
DigiTimes
claims that the second-quarter outlook for
iPhone SE
-related chip orders has been revised to more than 5 million units, up from 3.5-4 million, and the upward trend is expected to continue through the third quarter.
In a
related report
, the Taiwanese website notes that Apple has conversely lowered orders for the
iPhone 6s
and iPhone 6s Plus due to declining sales of the flagship handsets. Last week, Apple announced its first-ever
year-over-year decline in iPhone sales
, which dropped to 51.2 million from 61.2 million in the year-ago quarter, and provided third quarter guidance that suggests the decline will continue.
While the lower-priced iPhone SE could help Apple combat its overall decline in smartphone sales, Apple analyst Neil Cybart of Above Avalon
notes
that the device has a lower average selling price (ASP) and smaller profit margins. Those pressures, alongside other
warning signs
, leads him to believe that Apple "has a significant iPhone growth problem on its hands" right now.
When looking at all of these iPhone warning signs, it is becoming clear that Apple has a significant iPhone growth problem on its hands. The combination of a slowing iPhone upgrade rate and declining number of growth catalysts for expanding the iPhone's addressable market will make it very difficult for management to report unit sales growth going forward given its current strategy. In addition, the iPhone SE highlights how any strategy to fix some of these issues will likely end up jeopardizing iPhone ASP and margin trends.
One of Cybart's warning signs is that "India is not the next China," despite being positioned as one of the next big growth markets for iPhone. India has reportedly
rejected Apple's request
to import and sell refurbished iPhones in the country, following a similar proposal rejected in 2015, and its regular-priced iPhones are too expensive to attract significant market share in the region.
Nevertheless, the analyst ensures that the iPhone business is "not imploding," citing industry-leading customer satisfaction rates and loyalty trends. He believes that Apple can pull through this declining iPhone environment with a strategy that involves ditching the "S" model nomenclature, focusing on features that customers truly want, and recognizing the iPhone SE's effect on its broader smartphone lineup.
Amid rumors suggesting Apple is set to ditch the headphone jack in the
iPhone 7
, an image depicting a spare part that could be used in the device has surfaced – headphone jack included.
This morning, French site
Nowhereelse.fr
shared an image of a Lightning cable assembly, apparently destined for the iPhone 7, which differs in design from the same part found in the current
iPhone 6s
.
The assembly part is host to a number of components, including cellular antenna cables and the obligatory Lightning port, but the new design clearly shows a separate white headphone jack on the far left-hand side.

Left: purported iPhone 7 part (Image: Weibo); Right: iPhone 6s part (Image: iFixit)
The image was submitted anonymously via a Weibo account, therefore its validity cannot be confirmed. As
Nowhereelse.fr
notes, it could just as easily depict a part destined for a Chinese counterfeit manufacturer, rather than coming from Apple's official supply chain. Nevertheless, the part should provide some relief for those hoping that Apple's next generation of iPhone does not adopt a one-size-fits-all Lightning solution, which would also make it the sole means of connecting headphones and other audio accessories.
Recent rumors have suggested Apple's upcoming iPhone 7 will feature a
thinner body with no headphone jack
, with Apple instead planning to rely on the Lightning port and Bluetooth as ways to connect headphones to the device. Apple is also rumored to be working on
Lightning-equipped EarPods
to sell alongside the iPhone 7, while a more contentious rumor claims Apple may be planning to replace the headphone jack on the iPhone 7 with a
second speaker for stereo audio
.
Indeed, it remains to be seen if a Lightning-based audio solution would be restricted to Apple's larger iPhone 7 Plus handset, which could mean the leaked image is genuine without necessarily vouchsafing the inclusion of a headphone jack across Apple's upcoming line-up of iPhone devices.