Photos have leaked depicting alleged components destined for the rumored redesigned
MacBook Pro
, giving us a look at the thin body of the device, the space where a rumored OLED touch panel will be positioned, and its possible ports.
Shared by
Cult of Mac
, the photos came from an anonymous source who claimed to work for Apple's manufacturing partner in China.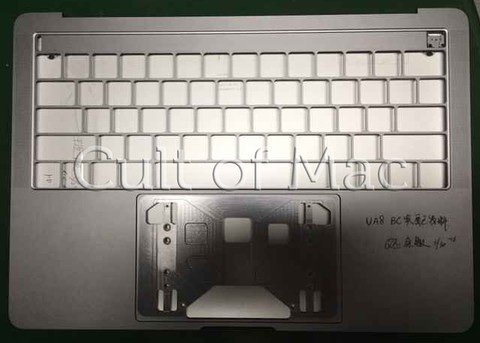 The images feature the body of a what appears to be a MacBook Pro, which, based on size, seems to be the 13-inch model. The trackpad and the keys have not yet been put in place, but noticeably absent is a function row at the top of the keyboard, which rumors say will be replaced with an OLED touch panel.
Size wise, the MacBook model in the photos appears to be slightly thinner than existing MacBook Pros, and in pictures of the sides of the device, a total of four USB-C ports are available, with two on the left side and two on the right side. A headphone jack is also included, as are thin speaker grilles on either side of the keyboard.

Rumors have suggested Apple is working on completely revamped 13 and 15-inch MacBook Pro models with
a thinner and lighter form factor
and a dedicated OLED display touch bar that replaces physical function keys. A dedicated
Touch ID
button is expected to be built into the bar, as is support for USB-C and Thunderbolt 3.
According to KGI Securities analyst
Ming-Chi Kuo
, the new MacBook Pros will feature the "most significant upgrade ever undertaken by Apple," with the machines set to be released during the fourth quarter of 2016. Many were hoping for a
WWDC
launch, which
early rumors hinted at
, but if Kuo's information is accurate, we will need to wait until the fall months to see the launch of the new devices.
Samsung
today announced
that mass production has begun on a new NVMe PCIe solid state drive in a ball grid array package, the first of its kind to be available in large quantities. The SSD, called the PM971-NVMe, is tiny, merging all SSD components into a package that's smaller than a standard U.S. postage stamp.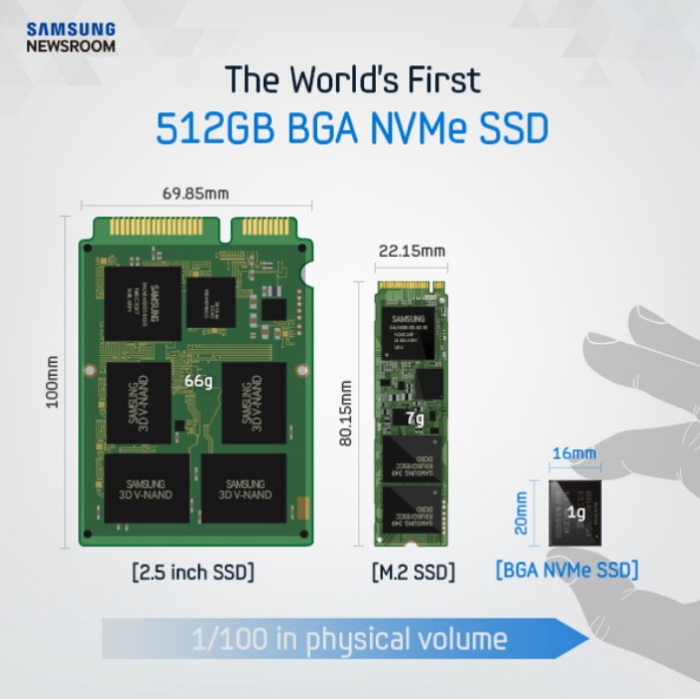 Designed for next-generation PCs and ultra-slim notebooks, the PM971-NVMe measures in at 20mm x 16mm x 1.5mm and weighs approximately a gram. Its volume is about a hundredth of a 2.5-inch SSD or HDD, and it offers performance able to surpass a SATA 6Gb/s interface with sequential read/write speeds of up to 1500MB/s and 900MB/s, respectively.
According to Samsung, it takes 3 seconds to transfer a 5GB-equivalent full-HD movie and is up to 1500 times faster than a standard hard drive when it comes to random read/write input output operations per second (190K and 150K, respectively). Samsung plans to offer the SSD in 128, 256, and 512GB configurations.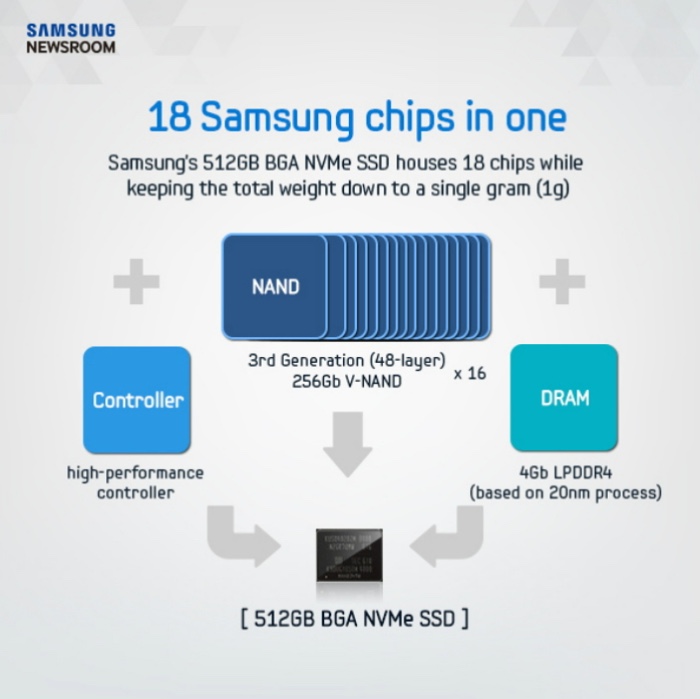 "Samsung's new BGA NVMe SSD triples the performance of a typical SATA SSD, in the smallest form factor available, with storage capacity reaching up to 512GB," said Jung-bae Lee, senior vice president, Memory Product Planning & Application Engineering Team, Samsung Electronics. "The introduction of this small-scale SSD will help global PC companies to make timely launches of slimmer, more stylish computing devices, while offering consumers a more satisfactory computing environment."
Apple has used Samsung SSDs in its Mac machines in the past, and it stands to reason that the company could adopt Samsung's newest technology in the future. There's no guarantee that will happen, but Apple often likes to include cutting-edge technology in its products.
Apple has been using a faster NVM Express interface for the SSDs of its
most recent machines
, starting with the 12-inch
Retina MacBook
. Intel is also developing
next-generation 3D Xpoint SSD technology
that's set to launch in 2016 in its forthcoming Optane solid state drives, another hardware option that may be of interest to Apple.
Thunderbolt Display
stock is limited or unavailable at several Apple Stores in North America, Europe, Australia, and other regions ahead of new product announcements expected at
WWDC 2016
in two weeks.

A spot check of Apple Stores in the U.S., for example, reveals that the Thunderbolt Display is available on a ship-to-store basis only at all or select locations in Albany, Buffalo, Columbus, Detroit, Indianapolis, Memphis, Minneapolis, Philadelphia, Phoenix, Pittsburgh, Raleigh, San Antonio, San Diego, Syracuse, and many other mid-sized cities and their surrounding areas.
Thunderbolt Displays do remain available in some major cities, including most stores in Chicago, Los Angeles, Miami, New York, and San Francisco.
Meanwhile, in Canada, the Thunderbolt Display is only available at more prominent store locations such as the Eaton Centre and Yorkdale in Toronto, Sainte-Catherine in Montréal, and the Pacific Centre in Vancouver. Thunderbolt Display stock in the U.K. is even more scarce, with Apple's web-based Personal Pickup tool showing that Regent Street is the only location with in-store stock within 100 miles of London.
A reliable retail source informed us that the Thunderbolt Display has been out of stock for a month at all central and surrounding London stores, while a tipster claims that the 27-inch monitor has been pulled from sale, with stock "returned to warehouse," at at least one U.K. retail store. A similar tip originating from Australia was received about Thunderbolt Display stock not being replenished.
With WWDC 2016 around the corner, limited in-store availability of the Thunderbolt Display will naturally stir speculation about a possible refresh to the standalone monitor. As always, however, the stock outage could simply amount to regular fluctuations within Apple's inventory channels, or Apple could be making room for
ongoing store renovations
. Rumors about a Thunderbolt Display refresh have slowed since
late 2014
.
AirPort
Extreme and Time Capsule Wi-Fi base stations are also at least temporarily
out of stock at many Apple Stores
, although only at U.S. locations and possibly because of a
recent firmware update
or
FCC compliance
.
Apple began shipping the five-year-old Thunderbolt Display in September 2011. In terms of prospective updates, the 27" Retina 5K
iMac
could be the basis for a corresponding
5K Thunderbolt Display
, which could feature the same 5,120×2,880 pixels resolution, USB-C ports for connecting Thunderbolt 3 peripherals, and possibly an ultra-thin design resembling the latest iMacs.
Only the late 2013
Mac Pro
, late 2014 or newer 27" Retina 5K iMac, and mid 2015 15-inch
MacBook Pro
with AMD Radeon R9 M370X graphics are capable of driving 5K external displays, however, and each setup requires using two Thunderbolt cables per display. The lack of support is due to
bandwidth limitations of the DisplayPort 1.2 and HDMI 1.4 specs
on current Macs.
DisplayPort 1.3 has increased bandwidth, but Skylake-based Macs with Thunderbolt 3 will not support the spec and Intel's next-generation Kaby Lake processors
on track for a late 2016 launch
will not as well. Apple could opt to release a 4K Thunderbolt Display instead, but
supply chain considerations
make this unlikely, so the company's exact plans for the future of its standalone display remain to be seen.

Intel's next-generation Kaby Lake processors are still on track for a late 2016 launch and are set to enter production by the end of this quarter, according to an announcement
made by Intel
at Computex.
Earlier this year, Intel announced it
was no longer adhering
to its "tick-tock" processor release cycle, which saw it alternating between shrinking chip fabrication processes and building new architectures each year. Kaby Lake, rather than being built on a smaller process, will be the third member of the 14-nanometer family after Broadwell and Skylake, and is the successor to Skylake.
Kaby Lake is considered a semi-tock with optimized microarchitecture. It supports Thunderbolt 3 and native USB 3.1, but it will not feature support for DisplayPort 1.3, so Macs with Kaby Lake chips will remain unable to drive 5K displays over a single-stream cable. According to Intel,
Kaby Lake
will feature advancements in performance, battery, and media capabilities.
Intel's last two chip releases were plagued with delay after delay, which is likely the reason why the company decided to move away from its long-running tick-tock policy. Several of Apple's Macs, including the
Retina MacBook
Pro, have been impacted by Intel's chip delays over the last few years with unusual update cycles and long periods of time between updates.
With Kaby Lake chips set to debut in late 2016, it is possible refreshed Macs released late in the year could take advantage of the new processors, depending on when Kaby Lake chips appropriate for each Mac launch.
iMac
s, for example, are likely to be refreshed in the later months of 2016, and recent rumors have also suggested we won't be seeing
a refreshed Retina MacBook Pro
until the fourth calendar quarter of the year.
Intel is also beginning production on entry-level Apollo Lake processors, also set to launch before the end of the year. Apollo Lake is designed for Atom-based notebooks like all-in-one machines and tablet PCs.
In a report corroborating details about Apple moving towards an elongated three-year period between major iPhone refreshes, or a tick-tock-tock cycle, Japanese website
Nikkei
claimed that 2017 models will be equipped with a "high-performance motor" able to "create more complex tactile vibrations."

The report does not provide additional details about the new motor, but it is reasonable to assume that Apple could upgrade the Taptic Engine in the 2017 iPhone. The new motor could allow for improvements to both
3D Touch
and broader haptic feedback when interacting with the smartphone's display.
The so-called
iPhone 8
is expected to have enough major changes, including an
edge-to-edge OLED display
and
glass casing
, that at least one analyst predicts Apple will
skip the iPhone 7s name entirely
as a point of emphasis. The already much rumored device could also have
wireless charging
and
no physical home button
.
If rumors predicting Apple will
integrate Touch ID into the display
on the iPhone 8 prove true, a new Taptic Engine could provide the necessary haptic feedback to simulate pressing the home button, and possibly also for virtual volume, mute, and power buttons made possible by a
curved
or
wraparound display
.
The rest of the report corroborates well-known details about the
iPhone 7
series due in 2016, reiterating that the next-generation smartphones will retain a
similar design as the iPhone 6s
series
sans a 3.5mm headphone jack
.
Water resistance
and
camera
and
battery
improvements should be some of the headline features.
According to supply chain research conducted by an analyst in China, Apple's upcoming
iPhone 7
might finally drop the base 16GB storage model from the lineup when it launches in the fall (via
9to5Mac
). The IHS Technology analyst claims that the new introductory storage level for the iPhone 7 will be 32GB for $199, an option that is currently not available on
iPhone 6s
and iPhone 6s Plus devices.
This change could alter the iPhone line's storage tier offerings from 16GB, 64GB, and 128GB currently available to possibly 32GB, 128GB, and 256GB. Earlier in the year, it was rumored that the iPhone 7 Plus could
gain a high-end 256GB storage capacity
option for users, but that it would be limited to the 5.5-inch version of the device and not available on the smaller smartphone.

Although the removal of the 16GB tier seems inconsequential to those who have long since moved onto higher storage capacity iPhone models, it's no doubt been a suitable enough solution for lower-capacity users who take advantage of Apple's
iCloud
system. Anyone who signs up for iCloud automatically gets 5GB of free storage, but users can
upgrade
to an impressive 50GB/month for $0.99 to massively offset the limitations of a smaller storage iPhone device.
The iPhone 7 and 7 Plus are rumored to include a handful of upgraded specs and features this year, but for the first time in Apple's tick-tock cycle the new devices are believed to keep their designs largely similar to that of the iPhone 6s and 6s Plus. A
new report
out of
Nikkei
today corroborates
previous rumors
that Apple is moving to a three year mega cycle release for the iPhone, "largely due to smartphone functions having little room left for major enhancements," not to mention "a slowing market" in the industry hampering iPhone sales this year.
As such, the iPhone 7 is believed to have a design
largely similar
to the iPhone 6s, with no major visual overhaul expected in this year's device. The biggest differences will come in changes like the
possible
removal of the 3.5mm headphone jack
, introduction of a
Smart Connector
, and a
dual-lens camera
. Similar to the 256GB storage option, there's also potential for some of these features to be
limited to the 5.5-inch iPhone 7 Plus
device.
Developer interest in coding third-party apps for
Apple TV
continues to surge, while interest in the
Apple Watch
has waned since the start of 2016, according to mobile app developer database
Realm
.
Realm hosts a database of apps used by approximately 100,000 developers, and contains details of apps used by around 1 million people, giving it a unique view of which devices capture mobile developers' interest over time.

Speaking to
Business Insider UK
, Realm VP Tim Anglade said that the Apple TV had gained the most interest among developers since the release of the fourth-generation device and the launch of a dedicated
App Store
in October 2015. Meanwhile, developers have cooled their interest in the Apple Watch, viewing it more as a companion to the iPhone, where coding appeal remains high.
"tvOS is a brand new platform so there's a gold rush for it," said Anglade. "[But] on a weekly basis we're seeing very few Watch apps, compared to iOS apps. For every 1,000 new iOS apps being built, there are 10 tvOS apps and maybe 1 Watch app."
Apple doesn't release separate sales figures for the Apple Watch, but market research suggests the device finished
third in the overall wearables market
in the first months of 2016, with 7.5 percent market share. Since the launch of the fourth-generation Apple TV, sales of the set-top box have been
50 percent higher than unit sales in 2014
.
According to Anglade, there's every chance that coders will flock to the next version of the Apple Watch – expected to be unveiled late this year – in the way they did when the device was first launched, so long as the timepiece offers more opportunities for developers to tap into upgrades and Apple opens up the platform to run independent apps.
Developers originally had limited access to Apple Watch features using WatchOS 1, and were unable to access the gyroscope, accelerometer, NFC, built-in speaker and microphone, and the Taptic Engine of the device. That all changed with the launch of
watchOS 2
in September, and as of June 2016, all Apple Watch apps must run natively, rather than rely on the iPhone.
Apple is said to be continuing its work on
various health-related sensors
that did not make it into the original Apple Watch due to performance problems and inconsistent results. These sensors may be incorporated into the second-generation device following further refinement, although details remain sketchy.
"Apple published a road map, to be able run independent apps, and that's a big deal," added Anglade. Apple is expected to demo the next version of watchOS at its
Worldwide Developers Conference
in June. Until then, coders seem satisfied to invest the majority of their time and energy on developing for Apple's other platforms.
Apple and Broadcom have been jointly named as defendants in a legal complaint filed by the California Institute of Technology last week over alleged infringement of its various patented Wi-Fi-related technologies.

Caltech's patents, granted between 2006 and 2012, are highly technical and relate to
IRA
/
LDPC
codes that utilize simpler encoding and decoding circuitry for improved data transmission rates and performance. The technologies are implemented in both the 802.11n and 802.11ac Wi-Fi standards used by many Apple products.
In the court filing with the U.S. District Court for Central California, Caltech accused Apple of selling various iPhone, iPad, Mac, and
Apple Watch
models, along with other Wi-Fi products, that incorporate these IRA/LDPC encoders and/or decoders and thereby infringe upon the four asserted patents in question.
Apple manufactures, uses, imports, offers for sale, and/or sells Wi-Fi products that incorporate IRA/LDPC encoders and/or decoders and infringe the Asserted Patents. Apple products that incorporate IRA/LDPC encoders and/or decoders and infringe the Asserted Patents include, but are not limited to, the following: iPhone SE, iPhone 6s, iPhone 6s Plus, iPhone 6, iPhone 6 Plus, iPhone 5c, iPhone 5s, iPhone 5, iPad Air, iPad Air 2, iPad Pro, iPad Mini 4, iPad Mini 3, iPad Mini 2, MacBook Air [and] Apple Watch.
Apple has at least temporarily
pulled stock of its
AirPort
Extreme and Time Capsule Wi-Fi base stations from its U.S. stores, but it's unclear if the move is related.
Broadcom, as one of Apple's main suppliers of Wi-Fi chips, is also named in the complaint. Apple currently uses Broadcom chips in the Apple Watch, iPhones, and iPads, as well as its line of Macs that support 802.11ac, including the MacBook Air,
Retina MacBook
Pro, and
iMac
.
Apple is one of Broadcom's largest customers. In 2012, 2013 and 2014, sales to Apple represented 14.6%, 13.3% and 14.0% of Broadcom Corp.'s net revenue, respectively. […] During this timeframe, Broadcom's Wi-Fi products that incorporate IRA/LDPC encoders and decoders and infringe the Asserted Patents were incorporated into Apple's key products including iPhones, iPads, and Mac computers. […] Broadcom and Apple are jointly and severally liable for infringement of the Asserted Patents.
Caltech has demanded a jury trial against Apple and Broadcom, along with a preliminary and permanent sales injunction in the U.S. against the aforementioned products. The university also seeks "adequate" damages, and other relief that the court deems "just and equitable," but it did not provide a specific settlement target.
The asserted patents include U.S. Patent
No. 7,116,710
, U.S. Patent
No. 7,421,032
, U.S. Patent
No. 7,916,781
, and U.S. Patent
No. 8,284,833
.
ASUS today at Computex 2016 in Taiwan
announced
a wide range of new products, including the ZenBook 3, its third-generation ultraportable notebook that is thinner, lighter, and faster than Apple's lookalike 12-inch
Retina MacBook
.

The 12.5-inch ZenBook 3 has an ultra-thin 11.9mm aerospace-grade aluminum alloy chassis that weights just 2 pounds and is "50% stronger than the standard alloy" used in competing notebooks. Comparatively, the Retina MacBook is 13.1mm thick and weighs 2.03 pounds.
ZenBook 3's display is crafted from edge-to-edge, scratch-resistant Corning Gorilla Glass 4, with a 1,920x1,080 pixels resolution and wide 72% NTSC color gamut. The notebook has a slim bezel design that provides an 82% screen-to-body ratio for a maximum viewing experience with a minimal footprint.
The Windows-based notebook is powered by up to an Intel Core i7 processor and features 16GB of 2133MHz RAM, up to 1TB of PCIe 3.0-based flash storage, and quad-speaker audio by Harman Kardon. Like the Retina MacBook, the ZenBook 3 has a single USB-C port for charging and connecting peripherals.
ASUS includes a dongle with USB 3.0, USB-C, and HDMI ports in the box, while a larger universal dock is available with additional connectivity options.

ASUS sacrificed a fanless design like the Retina MacBook has in favor of increased performance, but the ZenBook 3 has an innovative cooling system that features the "world's thinnest fan design" at just 3mm. The notebook delivers up to 9 hours of battery life with fast-charging technology for recharging up to 60% capacity in 49 minutes.
ZenBook 3 is available in three spun-metal finishes, Royal Blue, Rose Gold, and Quartz Grey, based on a two-phase anodizing process that creates golden highlights on the diamond-cut edges. Whereas the Retina MacBook's keyboard is always black, the ZenBook 3's keyboard matches the color of each finish.
The full-sized backlit keyboard also has 19.8mm key pitch and a slightly deeper 0.8mm key travel, compared to 0.5mm on the Retina MacBook's ultra-thin butterfly mechanism keyboard that some have contested. Next to the keyboard is a glass trackpad with palm-rejection technology, Smart Gestures, and handwriting support.
An optional built-in fingerprint reader with Windows Hello support enables users to sign in and unlock the ZenBook 3 with one finger tap, in lieu of having to type their password or PIN. Similarly, the
2016 MacBook Pro may feature Touch ID
as Apple works on an
unlocking-via-iPhone feature
for
OS X 10.12
.
ZenBook 3 will be available in the third quarter of 2016, starting at $999 in the U.S. for the base model with an Intel Core i5 processor, 4GB of RAM, and a 256GB SSD. A 512GB SSD model will sell for $1,499, while the top-range Intel Core i7 model with 16GB of RAM and a 1TB SSD will cost $1,999.
ASUS also announced the
Zenbo home robot, the ZenFone 3 Series, the ASUS Transformer 3 Series
, and multiple other new products.
Last week we reported that Apple is said to be
readying an Amazon Echo competitor
that could be used in the home for features like
listening to music, asking for information and getting news headlines
.
The product is thought to include a camera with facial recognition capabilities and said to learn over time about its users, which interact with the device via an enhanced version of
Siri
. Meanwhile, Apple's virtual assistant is expected to be opened up to outside developers via a soon-to-be-released software development kit in order to facilitate this integration.
Now,
Tech Insider
claims that a natural language outfit bought by Apple late last year could play a central part in the company's plans for the upcoming smart home device.

In October 2015, Apple
acquired VocalIQ
, a UK-based startup that had spent the last 10 years researching natural language, belief tracking, decision making, and message generation, in an attempt to develop a next-generation natural language API.
Speculation at the time suggested Apple hoped to use the technology in its
car project, codenamed "Titan"
.
However, according to a source familiar with VocalIQ's technology who spoke to
Tech Insider
, Apple is likely to introduce the API in its Echo competitor because of its ability to go beyond the "session-based" contextual responses touted by the likes of
Viv
. VocalIQ achieves this feat by retaining semantic context between conversations and permanently remembering the preferences of its users.
Apparently the company had been testing VocalIQ against Siri, Google Now, and Cortana, and found it to be vastly superior in dealing with complex natural language queries, such as asking for "a nearby Chinese restaurant with open parking and Wi-Fi that's kid-friendly".
[But] What if you change your mind an hour later? Simply saying something like "Find me a Mexican restaurant instead," will bring you new results, while still taking into account the other parameters like parking and WiFi you mentioned before. Hound, Siri, and any other assistant would make you start the search session over again. But Vocal IQ remembers. That's more human-like than anything available today.

VocalIQ can also filter out extraneous noise to figure out exactly what you're saying, thus making it more accurate than Siri is today. It's able to take in all the noise in an environment — the TV, kids shouting, whatever — and determine with a high probability which sound is actually the user's query. It can even learn to adapt to different accents over time to improve accuracy.
While the report's source doesn't claim to have any hard evidence that Apple plans to include the technology into its upcoming smart device, the possibility is an intriguing one. It also feeds into the expectation that Apple's decision to open up Siri to third-parties indicates that the virtual assistant will receive the necessary enhancements to prevent it from being overtaken by recent advances in competing products.
Business Insider UK
this morning published a detailed interview with someone claiming to be a UK Apple retail employee, which provides an intriguing insight into what it's like to work in an Apple Store.
The interview is unusual because every Apple staffer signs a confidentiality agreement on their first day in the job, which apparently prevents them from speaking publicly or announcing their new employment on social media, and even bans them from taking a selfie wearing their Apple T-shirt.

According to the veteran staffer – who remained anonymous in fear that Apple would pursue a legal action against them – Apple pays about £8 per hour in the UK (around $11.70) and staff receive no bonus incentives for sales, leaving many unable to afford the products they sell.
The worker claims that although positions in the company's stores are highly prized, Apple doesn't promote internally in the UK either, and that staff are prevented from transferring from part-time to full-time employment as a matter of policy.
"We had between five and eight store managers during my time at the store, of varying kinds," says the staffer. "Only one of them had started at Apple, the rest had been recruited from elsewhere – from, say, Dixons or HMV."
They did try to fix that with a 'Lead and Learn' program, where you train on the shop floor by acting as a manager without being a manager. We had some great people on the shop floor, people who had been there for five years, who were selling more than anyone else. But they were still just specialists or experts [two of the lowest ranked positions at Apple].

As far as I'm aware — and I'm still in contact with these people — no-one on this programme has been promoted to manager. There are other jobs in-store that can earn you more money, but they're technical jobs, like working at the Genius Bar, which a lot of people absolutely hated because you're dealing with really angry customers.
According to the worker, Apple Store staff routinely face death threats from unhappy customers, and receive no benefit if they manage to sell an enterprise contract to a business customer worth hundreds of thousands of pounds.
There are some advantages to working at an Apple Store though, says the employee. Staff get a generous discount on Apple products, a 15% discount on AAPL shares, and occasional direct access to CEO
Tim Cook
.
Apple declined to comment when contacted by
Business Insider
. The in-depth interview can be read in full
here
.
Note: Due to the political nature of the discussion regarding this topic, the discussion thread is located in our
Politics, Religion, Social Issues
forum. All forum members and site visitors are welcome to read and follow the thread, but posting is limited to forum members with at least 100 posts.

Apple's rumored product designed to compete with the Amazon Echo could come equipped with a camera and facial recognition capabilities, reports
CNET
. Citing sources with knowledge of Apple's plans,
CNET
says the device would be "self aware," able to detect the people in the room through facial recognition technology.
Once the device determines who is in the room, that information could be used to pull up each person's preferences, "such as the music and lighting they like," allowing for a customized interactive experience for each member of the home. Facial recognition is something Apple has previously expressed interest in, both
through patent filings
and
acquisitions
.
News of Apple's work on an Amazon Echo competitor first surfaced earlier this week, when
The Information
reported such a device
was under development
. The Amazon Echo is an in-home personal assistant device that features a built-in speaker and a robust artificial intelligence system, and a product from Apple would likely be similar, with AI capabilities based on
Siri
along with its own speaker and microphone.
It is not clear what form Apple's in-home hub will take. While
The Information
's report suggested it was a standalone hardware product, a second report from
VentureBeat
has said Apple will built the Echo-like features
into a next-generation Apple TV
.
Apple is laying the groundwork for a robust in-home AI-powered product through its work on Siri, and major Siri improvements could come in
iOS 10
. Apple is said to be preparing to
release a Siri SDK
, which would make the personal assistant available to developers for the first time and greatly increase its functionality.
Today's report is the first to include details on a potential release timeline, suggesting the device could launch at the end of 2016, but 2017 is a more likely target.
CNET
cautions that Apple's plans for a camera could change as it is a potential privacy risk that may not be favorable with consumers. As with all Apple products still under development, there's also a chance Apple could scrap its Echo competitor entirely.