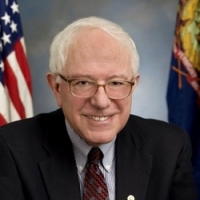 Bernie Sanders, candidate for the 2016 Democratic presidential nomination in the United States, was today queried about Apple in an interview with the
Daily News
, where he commented on the company's manufacturing policies and rumors that Apple dodges taxes.
When asked if Apple is part of corporate America that is "destroying the fabric of our nation," a question inspired by statements made by Sanders' himself, Sanders said he does not believe that to be the case, instead pointing the finger at big banks like JPMorgan Chase and corporations like General Electric. He went on to clarify that he would, however, like Apple to move manufacturing of some devices to the United States and pay a fair share of taxes.
No, Apple is not destroying the fabric of America. But I do wish they'd be manufacturing some of their devices, here, in the United States rather than in China. And I do wish that they would not be trying to avoid paying their fair share of taxes.
Sanders is not the first presidential candidate to comment on Apple's manufacturing policies, with Donald Trump also
claiming
he would force Apple to manufacture its products in the United States.
Though the bulk of Apple products are manufactured overseas, Apple has in fact made an effort to move some production jobs back to the United States, something that Sanders and Trump both appear to be unaware of. Apple's
Mac Pro
line of computers is
assembled by Flextronics
in Austin, Texas, an effort that cost Apple
$100 million
. Many third-party components used in Apple devices are also created by suppliers located in the United