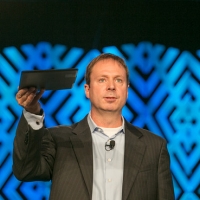 Earlier this year, Intel demonstrated an impressive
wireless cable computer system
made possible with Skylake, Intel's next-generation chip technology (after Broadwell). At a recent venture capital event, the company showed off even more of its upcoming technology, including a face-recognition 3D camera system that aims to do away with passwords and allow for new methods of computer control.
As detailed by
The Wall Street Journal
, Intel's "YAP" concept (which stands for "you are the password"), is designed to recognize a user's voice, face, or fingerprint, to allow biometric access to a device. Kirk Skaugen, in charge of Intel's PC chip business, believes that such technology could be coming to computers as early as next year.
Intel's Kirk Skaugen
Facial recognition capabilities are mainly enabled through new camera technology that's able to create 3D models, which can also be used for other methods of computer control. According to Skaugen, the cameras could track a user's facial expressions and map them to an animated avatar.
Intel's betting big on camera technology able to scan and create 3D models and will create a new 3D camera business. "We are planning to be the number one 3D camera manufacturer," said Skaugen.
Apple itself may be working on similar technology, as in 2013 it
acquired PrimeSense
, a company that specialized in 3D sensing and scanning techniques. Apple has not yet produced a product taking advantage of
PrimeSense technology
, but rumors have suggested its gesture-tracking features could be built into the Apple TV.
Just today a rumor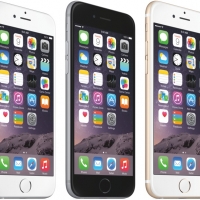 Taiwanese media website
Economic Daily News
[
Google Translate
] (via
GforGames
) is reporting that Apple may be gearing up to introduce a glasses-free 3D display on next year's iPhone. The site also reports that Apple is aiming to create a 3D "hardware and software ecosystem."
Economic Daily News
also mentions that this "naked eye 3D screen" could not be built using the current embedded touch technology Apple has used since the launch of the iPhone 5. The site claims Apple would once again seek the help of touch screen manufacturer TPK to assist in the development of the next generation of iPhone.
This all comes on the heels of the Taiwanese site
claiming
Apple has plans to discontinue the iPad mini in favor of the upcoming release of the still-rumored iPad Pro. Though the validity of that rumor is still in question,
Economic Daily News
has had some hits (
regarding
Apple Watch sizes and release dates) and misses (
claiming
the iPhone 6 Plus would ditch the "iPhone" brand), making it difficult to assess the latest claim's reliability.
Though the story is still firmly speculative, Apple has shown interest in 3D devices for many years now. The company applied for a patent regarding glasses-free
3D stereoscopic displays
over six years ago. The proposed system was intended to solve issues found in previous incarnations of the technology, allowing tracking of the user to ensure proper 3D rendering no matter the location.
Apple later applied for a patent regarding
3D "Hyper Reality" displays
that proposed to change the perspective of objects on a screen in relation to

Increased consumer interest in NFC mobile payments related to Apple's recent launch of its
Apple Pay mobile payment service
appears to be having benefits for other services as well, reports
Ars Technica
. A major beneficiary of this new consumer awareness of mobile transactions is Google Wallet, which reportedly has seen a marked increase in usage over the past few months.
NFC-based mobile payments have had a boost in recent months, possibly thanks to the launch of Apple Pay, which was announced in September. Now, a person with knowledge of the matter tells Ars that Google Wallet, which launched back in 2011 and saw tepid success in the ensuing three years, has had considerable growth in the last couple of months. According to our source, weekly transactions have increased by 50 percent, and in the recent couple of months, new users have nearly doubled compared to the previous month.
Apple launched its mobile payment service in October with the support of major retailers and credit card companies. The service logged over
1 million card activations
in the first three days of usage with overall positive reviews.
The Apple Pay launch was not without controversy with both CVS and Rite Aid
suspending
their mobile payments shortly after the service made its official debut, moves that affected not only Apple Pay but all NFC-based payment services including Google Wallet.
The two pharmacy chains, along with a number of other major retailers, are developing a competing service, CurrentC, which as currently implemented uses QR codes and an app to process transactions. The

French Apple website
iGen.fr
is
reporting
[
Google Translate
] that pricing for the stainless steel Apple Watch may start at $500, while the gold Apple Watches' pricing could start between $4,000 and $5,000.
iGen.fr
has been reliable in the past,
most recently reporting
the dimensions of both the iPhone 6 and 6 Plus.
While Apple had announced that the Apple Watch would start at $350, which was widely assumed to be the price of the aluminum model, and estimates pegged the price of the gold Apple Watch at prices as low as
$1,000
or as high as
$5,000
, there has been little information regarding the pricing of the stainless steel option.
The site's sources also indicate that Apple still aims to release the Apple Watch by Valentine's Day 2015, which somewhat echoes an earlier report that said the company would be "
lucky
" to release the device by that timeframe.
iGen.fr
also mentions that manufacturers and resellers are preparing as if the Watch would release in mid-February 2015. Previously, Apple Senior Vice President of Retail and Online Stores Angela Ahrendts said the Watch would release in
Spring 2015

Following
yesterday's news
that Christian Bale had opted to pull out of Sony's upcoming Steve Jobs biopic penned by Aaron Sorkin,
Variety
has shared news that Michael Fassbender is now in talks to take on the role of Steve Jobs.
According to the site, Fassbender is in "early talks" with director Danny Boyle and Sony executives about possibly starring in the film. Fassbender, while less well known than Christian Bale and previous Jobs candidate
Leonardo DiCaprio
, has been in several high profile movies including
Inglourious Basterds
,
Prometheus
,
12 Years a Slave
, and
The Counselor
. He's perhaps most widely known for his role as Magneto in
X-Men: First Class
and
X-Men: Days of Future Past
.
Aaron Sorkin's upcoming Steve Jobs biopic focuses on three continuous 30-minute scenes that depict three of Jobs' product launches including the debut of the Mac, the introduction of the NeXT Computer, and the release of the iPod.
While it is unclear who will take on the role of Steve Jobs, Seth Rogen is
reportedly in talks
to play Apple co-founder Steve Wozniak. Jessica Chastain, from
The Help
, is also being considered for an unspecified role in the

Law firm Schubert Jonckheer & Kolbe, specializing in class action lawsuits, has
announced
that it has launched an antitrust investigation into CVS and Rite Aid over their decision to stop accepting Apple Pay in their retail stores.
The firm says that it is looking into a potential class action lawsuit that would aim to restore Apple Pay at CVS and Rite Aid stores, and it is currently asking to speak with consumers who may have been affected by the stores' decision to stop offering the payment method.
In light of this situation, Schubert Jonckheer & Kolbe is investigating whether CVS and Rite Aid violated the antitrust laws by banding together with other MCX members in a decision to boycott other payments systems, including Apple Pay. Consumers with phones that support Apple Pay may be able to participate in a class action to restore the service at CVS and Rite Aid retail stores.
Both Rite Aid and CVS
stopped accepting Apple Pay
just over a week ago, disabling the NFC capabilities of their payment terminals to prevent it from being used. Rite Aid and CVS are both members of the Merchant Customer Exchange or MCX, a consortium of retailers developing their own
barcode-based payment system
called CurrentC.
MCX has confirmed that all of its retail members, including CVS and Rite Aid, are subject to
exclusivity agreements
that prevent them from accepting alternate forms of payment, but all MCX members are free to leave the group at any time. Merchants may be reluctant to do so, however, as many have likely invested significant resources into the creation of CurrentC.

The Unicode Consortium has released a
technical report
(
via Emojipedia
) detailing a new method for handling the representation of multi-ethnic groups in emoji. Previous guidelines have stated that emoji people be "as neutral as possible regarding race, ethnicity, and gender". Unless the emoji calls out specific gender or racial cues, then a "generic (inhuman) appearance, such as a yellow/orange color or a silhouette" should be used in its place.
A forthcoming update,
Unicode 8.0
, plans to change all of that. It proposes to introduce a skin-tone modifier which could be added to certain emoji, allowing users to send any emotion using any skin tone. Plans even reach as far as to allow emoji couples to feature individually different skin tones. Planned for release in the middle of next year, Unicode 8.0's skin tone and racial diversity proposals are only proposed drafts at the current stage.
Mockup via Emojipedia
Although the wide acceptance of new emoji is rather slow-going (no major platforms yet support
Unicode 7.0
emoji released earlier this year), Apple has shown
previous interest
in updating the diversity in its emoji lineup. Earlier in the year, Apple's then-vice president of worldwide corporate communications, Katie Cotton, spoke to vocalized support in working with the Unicode Consortium and updating its emoji character offerings.
"Tim forwarded your email to me. We agree with you. Our emoji characters are based on the Unicode standard, which is necessary for them to be displayed properly across many platforms. There needs to be more diversity in the emoji

Microsoft and Dropbox today
announced
a partnership that will bring Dropbox support to Microsoft's suite of Office mobile apps. Microsoft will add this new Dropbox feature in upcoming versions of Word, Excel and PowerPoint for the iPhone and iPad.
The new Dropbox integration would allow Office users to open, edit and share files that are stored in Dropbox. After adding a Dropbox account to an Office app, users will be able browse their Dropbox contents, which appear alongside OneDrive and locally stored files. All mobile edits will be synced to Dropbox automatically with a sharing option available within the Office app.
Over the coming weeks, we're updating Office apps so that they work with Dropbox, too. With the next updates to Word, Excel and PowerPoint on iPhone, iPad and Android Phone you'll be able to connect to your Dropbox account, so you can access, edit and share your Dropbox files right from your Office apps. Once you've added your Dropbox account to Word, Excel or PowerPoint, you can navigate folders and files on Dropbox for viewing and editing in the native Office apps. And accessing Word, PowerPoint and Excel from your Dropbox app is just as easy. Navigate to the file you want, and the Dropbox app will open the Office app you need.
This collaborative effort is only in the beginning stages, with plans to expand Dropbox integration to other Microsoft products over time. After updating its mobile apps in the coming weeks, Microsoft is planning to add Dropbox support to its Office online web apps early next year.

A number of iPhone 6 and 6 Plus owners
have been reporting
an issue with the device that causes it to crash and remain stuck in a boot loop following a restart. The issue appears to primarily affect 128 GB models, particularly those with larger app libraries, and some suggest it may be a hardware problem associated with the increased storage available on that device.
While the exact cause of the issues has not been determined, speculation by industry contacts speaking to
BusinessKorea
(
via G for Games
) suggests the problem may lie in the controller for the TLC (triple-level cell) NAND flash included in the device. This issue reportedly is new to the iPhone as Apple previously has typically used MLC (multi-level cell) NAND flash in its iPhone units. The only recourse for owners experiencing this boot loop is to bring their phone back to Apple and request a replacement.
Some in the industry point out that considering that technical defects mainly occur in the 128GB version of the iPhone 6 Plus, there might be a problem in the controller IC of triple-level cell (TLC) NAND flash. [...]

As numerous reports of low read performance of the Samsung SSD 840 and 840 EVO using TLC NAND flash have surfaced on the Internet, a problem in the controller IC is considered to be the more likely cause of the defects.
The report says Apple could be facing a "huge potential recall" to address the issue, but the claim is purely speculative given that the prevalence of the problem has not been established and an exact cause remains undetermined.
While Apple's iPhone 6 and 6 Plus have

Following yesterday's report that Apple was preparing to hold a new bond sale that includes a component denominated in euros, the company today filed a
prospectus
with the Securities and Exchange Commission outlining its general plans, which include two chunks of debt with staggered maturities.
The Wall Street Journal
has
more details
on the prospectus and how its yields will be the lowest ever for 8-year and 12-year debt:
The iPhone maker is seeking to raise at least €1 billion ($1.2 billion) from two chunks of euro debt maturing in eight and 12 years.

Those would beat the lowest yields ever paid for euro-denominated, corporate bonds of these maturities, according to Dealogic data, reflecting solid confidence that the bonds represent a safe bet. Bankers managing the bond sale suggested the eight-year notes will give investors a yield of roughly 1.1% and the 12-year notes around 1.7%.

Apple spoke with investors on Monday about issuing bonds and will use the proceeds of the sale for general corporate purposes, including share buybacks and dividend payments.
This would mark first time that Apple would begin issuing bonds in euros, with Deutsche Bank and Goldman Sachs arranging the sale. This past April, Apple held a
$12 billion bond sale
, which followed a record
$17 billion sale last year
. Apple's bond offerings are a part of its expanded capital return program, which primarily involves a major stock buyback program and a quarterly dividend that aims to return more than $130 billion to shareholders by the end of 2015.
Update
:
The Wall Street Journal
has revised its

Following this afternoon's release of the first
OS X Yosemite 10.10.1 beta
, Apple has seeded the first iOS 8.1.1 beta to developers. The iOS 8.1.1 beta comes two weeks after the
release of iOS 8.1
, which included support for Apple Pay, SMS Forwarding, and more.
The beta, build 12B432, is available through the iOS Developer Center. Apple has also released a new Apple TV beta.
According to Apple's release notes, iOS 8.1.1 includes bug fixes and increased stability and performance improvements for both the iPad 2 and the iPhone 4s, two of the older devices that support the operating system.
As a minor update , iOS 8.1.1 includes fixes for several bugs, but major new features rumored for iOS 8, like improvements to Maps and split-screen multitasking for the iPad, will be reserved for
major iOS 8 updates
that are also in

Apple acquired Seattle-based cloud networking startup Union Bay Networks sometime in the last couple of months and has opened an office in the city that houses
more than 30 engineers
, reports
GeekWire
. The site uncovered Apple's acquisition and Seattle office after former Union Bay Networks co-founder
Benn Bollay
posted a job opening for a
Systems Software Engineer
that read "Ever wanted to work at Apple, but didn't want to live in Cupertino?"
Apple later confirmed the acquisition of Union Bay Networks to
The Seattle Times
, providing its standard acquisition statement: Apple "buys smaller technology companies from time to time, and we generally do not discuss our purpose or plans."
Union Bay Networks was a stealth startup
focused on
"enabling the next generation of networking for cloud computing and software defined datacenters," and seven out of nine former employees are said to have been hired by Apple, moving to an unknown office location.
Apple's Seattle office is already home to more than 30 employees, and the company is hiring more, posting two
software engineering positions
in the city last week. Both positions mention a focus on the design and development of core infrastructure services, and both mention iCloud, suggesting Seattle is being positioned as the hub for Apple's future cloud development projects.