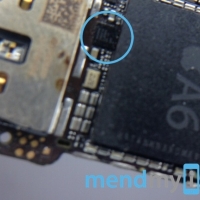 Apple has
warned consumers
against using
third-party power adapters
with their iOS devices as they can cause safety issues such as
burns and electrocutions
, but as it turns out, third-party chargers that have not been approved by Apple may also be responsible for causing damage to one of the chips in the iPhone 5.
According to UK repair company
mendmyi
and first reported by
iMore
, cheap third-party iPhone chargers and USB cables can possibly damage the U2 IC chip on the logic board of the iPhone 5, which might the device to fail to boot up or charge past 1% battery life after the battery drains.
The U2 IC chip controls the charge to the battery, the sleep/wake button, some USB functions, and regulates the charging power to the power IC that actually charges the phone. When damaged, the chip can fail to work properly, which prevents an iPhone 5 from turning back on. While a fresh replacement battery will power the iPhone, once the battery is depleted, the issue resurfaces.
Mendmyi says that it has seen multiple iPhone 5 devices with a damaged U2 IC chip and has narrowed the problem down to third-party chargers and USB cables, which do not properly regulate voltage.
The cause of this component becoming faulty is really quite simple -- third party chargers and USB leads!

The original Apple chargers and USB leads regulate the voltage and current to a level that protects your valuable iPhone and prevents it from damage.

Charging your iPhone using a third party charger or USB lead that does not regulate this as much allows for larger variables in voltage and