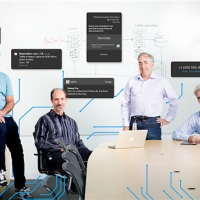 Steven Levy has published an
in-depth article
about Apple's artificial intelligence and machine learning efforts, after meeting with senior executives Craig Federighi,
Eddy Cue
,
Phil Schiller
, and two
Siri
scientists at the company's headquarters.
Apple provided Levy with a closer look at how machine learning is deeply integrated into Apple software and services, led by Siri, which the article reveals has been powered by a neural-net based system since 2014. Apple said the backend change greatly improved the personal assistant's accuracy.
"This was one of those things where the jump was so significant that you do the test again to make sure that somebody didn't drop a decimal place," says Eddy Cue, Apple's senior vice president of internet software and services.
Alex Acero, who leads the Siri speech team at Apple, said Siri's error rate has been lowered by more than a factor of two in many cases.
"The error rate has been cut by a factor of two in all the languages, more than a factor of two in many cases," says Acero. "That's mostly due to deep learning and the way we have optimized it — not just the algorithm itself but in the context of the whole end-to-end product."
Acero told Levy he was able to work directly with Apple's silicon design team and the engineers who write the firmware for iOS devices to maximize performance of the neural network, and Federighi added that Apple building both hardware and software gives it an "incredible advantage" in the space.
"It's not just the silicon," adds Federighi. "It's how many microphones we put on the device, where we place